A2A Simulations today took to their Facebook page to announce the release of their rendition of the Comanche 250 for Microsoft Flight Simulator. The aircraft rendition is based on a real-world aircraft owned by Scott Gentile, the president of A2A Simulations. The rendition is also their first-ever product offering for the platform.
Table of Contents
Key features of the rendition
A2A Simulations state on its website that the rendition features a brand new external aerodynamics engine built with Accu-Sim 2.0 'Merlin' technology. The Comanche 250 for MSFS has remarkable performance accuracy based on a real-world aircraft, N6229P, owned by A2A Simulations itself. The aircraft rendition also features unparalleled aircraft feel, handling characteristics, and trim behavior based on extensive flight model testing. Furthermore, the rendition features a complete physics-based per-cylinder simulation of the Lycoming O-540-A internal combustion engine.
Further features also include dynamic ground physics, an advanced turbulence system, subtle wing flex simulation, and a physics-driven sound environment that feature hundreds of dynamic sound effects. The aircraft also features beautifully rendered external and internal modeling and texturing with subtle wear effects, dynamic registration decals, and advanced animations. It also features an interactive walkaround with many moving parts that can be grabbed, manipulated, and inspected. A full list of the features of this rendition is available to view on the product page.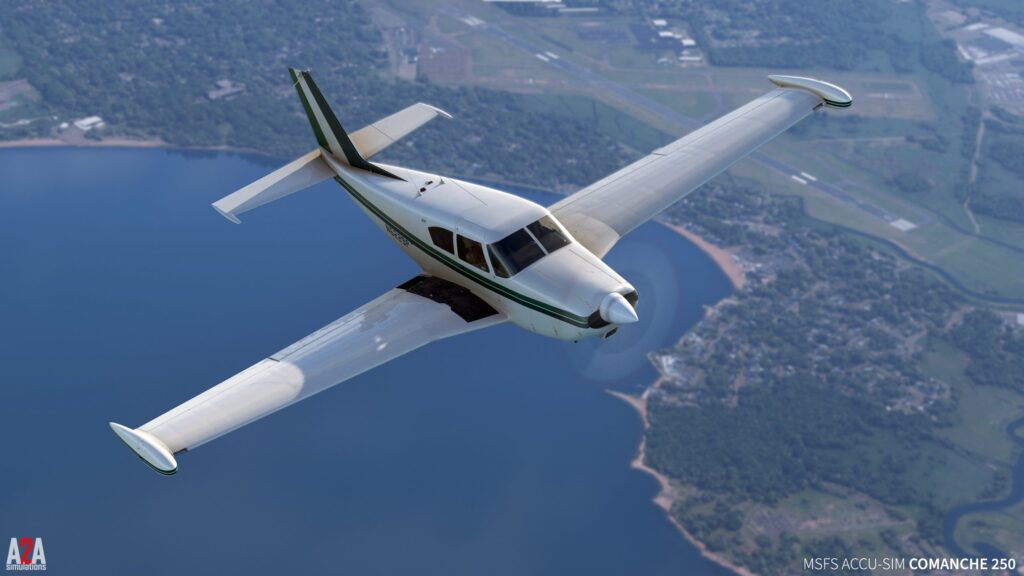 About the Comanche 250
The Piper PA-24 Comanche is an American single-engine, low-wing, all-metal monoplane of semi-monocoque construction. It features a tricycle retractable landing gear, seating for four to six passengers, and a range of about 1,000 nautical miles. The first production aircraft, powered by a 180-hp engine first flew in October 1957. In 1958, it was joined by the higher-powered PA-24-250 with a 250-hp Lycoming O-540-A engine, the model on which A2A Simulations' rendition is based. Early Comanche 250 aircraft had manually operated flaps; electrically actuated flaps were made standard in 1962.
Where can you get your own copy?
A2A Simulations' Accu-Sim Comanche 250 is available for purchase on the A2A Simulations store and retails for USD 49.99 and earns you 50 A2A Flying Hours. The general aviation aircraft had been in the works for about three years and has finally been released. For further reading do check out our coverage of other A2A Simulations news, announcements, and releases or our coverage of other MSFS news and announcements.