Yesterday, via their Discord server aRk0 announced a new update for the popular flight tracker Volanta. Update 1.6 brings many new exciting features and improved functionalities.
Table of Contents
Volanta Update 1.6 in General
This new update is bringing many exciting features that are going to improve both the overall experience of using Volanta, as well as flying.
Mainly, there is an ability to filter flights shown on the map, new map settings panel design, and improved downloading of airport data is included, too.
Speaking of NOTAMS, the Volanta app is now going to show you closed airports in tooltips and information cards. Furthermore, the airports now have their correct local time and country information assigned.
However, there is also a bit of controversial change to the app, and based on where you, as a virtual pilot are flying, you are going to get product recommendations for your origin and destination.
Lastly, people who speak traditional Chinese and Romanian are definitely going to be happy with this update, as Volanta can now be translated into these two languages as well.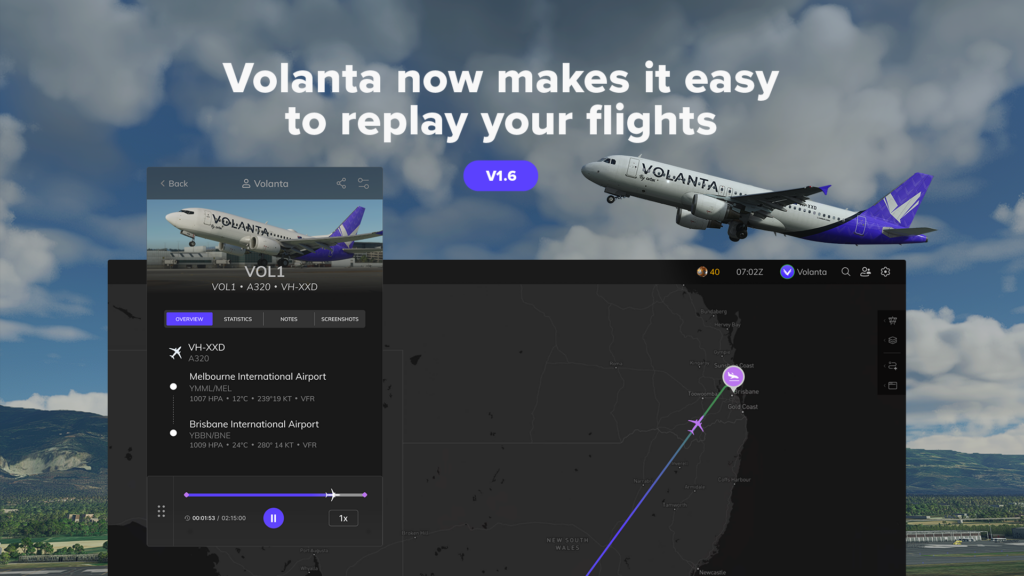 Replay Mode
The most notable feature for everyone is definitely Replay Mode. Which now allows you to replay your past flights. The flights can be replayed at various speeds with an intuitive timeline, which marks key events for you to find them easier.
However, this replay function is only working in the app and is not functioning like an in-sim replay tool like X-Plane users have.
Bug Fixes
The team also made some improvements to the application itself. Tooltips are no longer scrolling together with the application, and FSS controller labels have been fixed, too.
Furthermore, controller tooltips will function even when an approach ring is present in the same location, which is definitely a pleasant change for many.
There are also changes to screenshots, which can now be seen on the map and Volanta Premium users can sync their profiles with Orbxdirect.
The update is now available for everyone to enjoy. To install it, simply start your Volanta app and it should update automatically to the update 1.6. If you would like to read more about Volanta, make sure to check out their previous update which we have covered here.