BMWorld has once again teamed up with AmSim to create their rendition of San Diego International Airport for Microsoft Flight Simulator. This developer duo continues to amaze us after creating eight airports in total, such as Montréal-Trudeau (CYUL), Memphis (KMEM) or Phoenix Sky Harbour (KPHX).
Table of Contents
About San Diego International Airport
San Diego International Airport (KSAN/SAN) is an international airport situated roughly three miles from downtown San Diego. The close proximity of city skyscrapers makes landings on runway 24 not only breathtaking for passengers but also for aviation enthusiasts. Located in California near the Mexico border, this airport is a popular travel destination, not only in real life but also within flight simulator networks.
With an average of 550 daily operations, it holds the distinction of being the busiest single-runway airport in the United States. Serving as a hub for Southwest Airlines and a focus city for Alaska Airlines, it provides connections to nearly every corner of the United States.
Add-On Features
The developers have paid meticulous attention to detail in handcrafting every aspect of this airport. We will have access to a detailed interior of the terminal, modeled surrounding buildings, animated jetways, and animated people to bring the airport to life. This also includes the construction of the T1 terminal which is due to open in 2025.
Highly detailed ground texture perfectly pairs with custom ground markings and custom animated runway lights. It is worth mentioning that this add-on airport also includes a lite version of North Island Naval Airway Station (KZNY), making it an excellent choice for all milsim enthusiasts. For those who love true-to-life operations, each parking spot has an assigned airline code to it.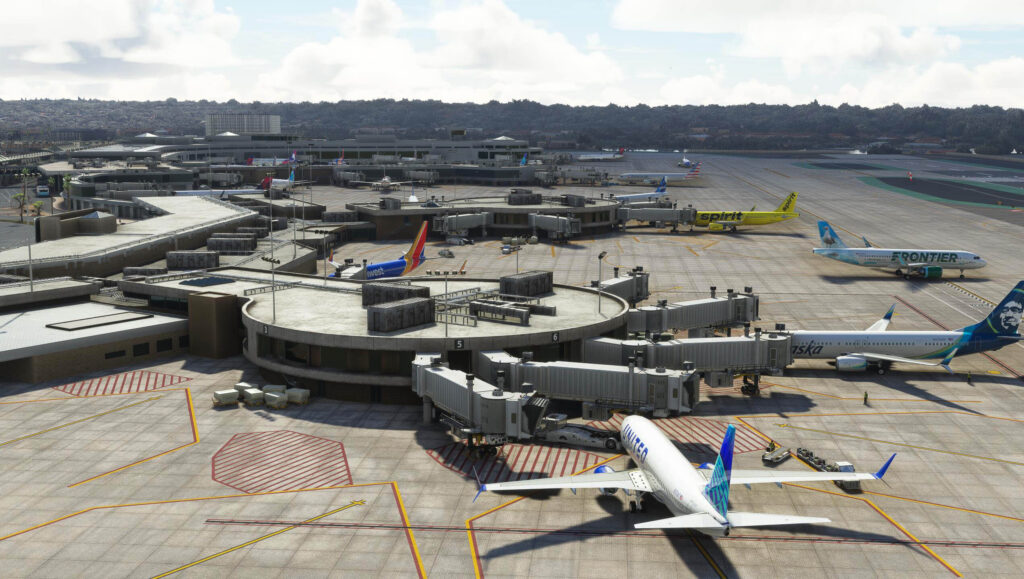 Closing Notes
BMWorld and AmSim's San Diego Airport is available to purchase on the Orbx store and iniBuilds store for USD 19.15 or EUR 18.06 exclusive of any taxes. For further reading do check out our coverage of other flight sim-related news, announcements, and releases right here on FSNews.