Boundless Simulations took to their Facebook page to announce the release of their rendition of Dublin Airport (EIDW) for X-Plane 12. The rendition, originally developed and released for X-Plane 11 in May 2022, has been overhauled and updated for the latest X-Plane platform.
Boundless states that the scenery has an updated airport layout alongside the new northern runway 10L/28R. Further updates include optional animated ground traffic, overhauled ground textures, extra 4K photorealistic building textures and improved performance.
Moreover, key features of the original X-Plane 11 release which made the rendition awe-inspiring and stunning have been carried over. These include fully custom terminals, airport buildings, nearby buildings, farms, warehouses and business parks, custom 4K PBR SAM jetways, HD forests and vegetation, 3D trees and volumetric grass, fully accurate ground markings and partially modeled terminal interiors.
Dublin Airport is an international airport serving Dublin and is located 4 miles north of Dublin and 2 miles south of the town of Swords. It is the 12th busiest airport in Europe and has an extensive short and medium-haul network. It serves as the primary hub for Ireland's flag carrier, Aer Lingus. Dublin Airport, alongside Shannon Airport, is one of only two airports in Europe having U.S. border preclearance services.
Dublin is known for its many landmarks and monuments dating back hundreds of years. The oldest is Dublin Castle, which was first founded as a major defensive work on the orders of England's King John in 1204. The city also has many green spaces around the city and public parks include Phoenix Park, Herbert Park, St. Stephen's Green and Bull Island.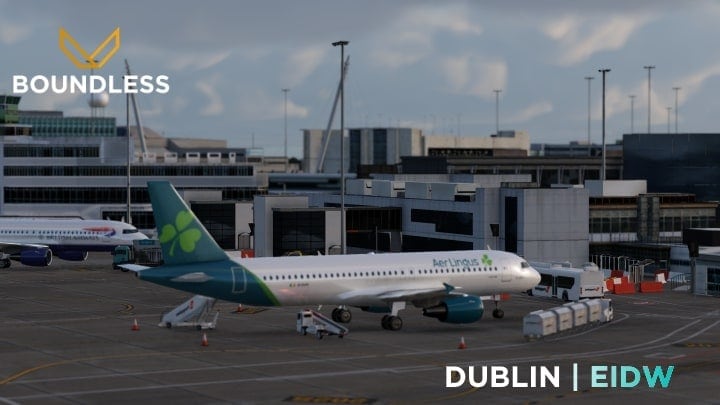 Boundless Simulations' Dublin Airport rendition retails for £20.99 and is currently on sale for £15.74, a discount of 25%. The rendition can be bought here, on the Boundless Simulations website. Do read our review of the X-Plane 11 version of the rendition here.
Key features also include:
Up-to-date HD ortho imagery
Optional animated ground traffic
Custom HD PBR vehicles (airside and landside)
Fully custom dynamic lighting reflecting real-world lighting tones
4K PBR ground textures – including reflective puddles and 'wet look' areas of aprons
Fully accurate ground markings – including accurately modeled cracks/wear & tear
Thousands of accurately placed objects and textures
Full Traffic Global compatibility
Fully accurate airport layout referenced from the latest charts
Optional HD PBR static aircraft
New Northern Runway