Earlier this week we reported on a developer boycott of popular Microsoft Flight Simulator add-on distributor Flightsim.to.  
Last week, the website unveiled plans for a Premium Membership which would allow for faster downloads and ad-free browsing. Additionally, a new Creators Program would allow for revenue sharing between Flightsim.to and developers for popular add-ons.
The Boycott
The announcement lead to a swath of developers studying the site's terms of service over concerns about the tax implications of such a revenue-sharing agreement. The key sticking point that emerged from these discussions was the inability for users to delete their add-ons without the express approval of Flightsim.to. Under the terms of service: 
(4.3) Licenses you are granting us: By submitting or posting User Content to the Service (either directly or through a Third Party Service) you grant this Site a royalty-free, perpetual, irrevocable, non-exclusive, sublicensable, assignable, unrestricted, worldwide license to use the User Content, together with all consents or waivers (if any) necessary to distribute, publicly perform, publicly display, transmit, communicate to the public and modify the User Content, by any means and in all media formats and channels now known or hereafter devised in perpetuity, and to advertise and promote such use, without further notice to, or permission from, you or any other person, and without compensation or reference to you or any other person.
Many developers argued that this could leave them open to potential legal action in the event they needed to delete their add-ons in response to a copyright claim. Others expressed more general concern over the loss of control of their intellectual property. Developers and observers alike accused Flightsim.to of launching a power grab over developers' work with several notable developers calling for a boycott of the site.
Flightsim.to responded to these accusations saying that the policy against deletion of popular mods was intended to ensure that users could build on each others mods without fear that their own work would be lost if a dependency was deleted. They noted that other popular mod sites had similar policies in place. Moreover, this was not a new policy. As we previously reported, language blocking the deletion of some add-ons was present in the terms of service as early as April of 2021.
Despite this stance, the site announced that it would allow all creators to delete their mods before March 5th of 2023.
The site would create further controversy when it was accused of re-uploading deleted files under its own name despite the announcement. A post on the flightsim subreddit would highlight the case of the ATR 72-600 Community Version by user kychungdotcom which now appeared with Flightsim.to as the author. However, some comments were quick to point out that this listing had been this way since at least June of 2022, long before the current controversy began.  
Flightsim.to Opens Discussion
On February 20th, Flightsim.to Tweeted an announcement that it would be opening up a discussion on Discord to discuss changes to its content deletion policy. 
The proposed changes include allowing deletion of all files immediately, with specific exceptions for libraries which would remain up for 60 days, standalone aircraft which would remain for 30 days, files with over 100K downloads which would stay for 7 days, and featured files which would remain up for 30 days. It should be noted that this is just a proposal. A finalized terms of service would require input from lawyers before being implemented.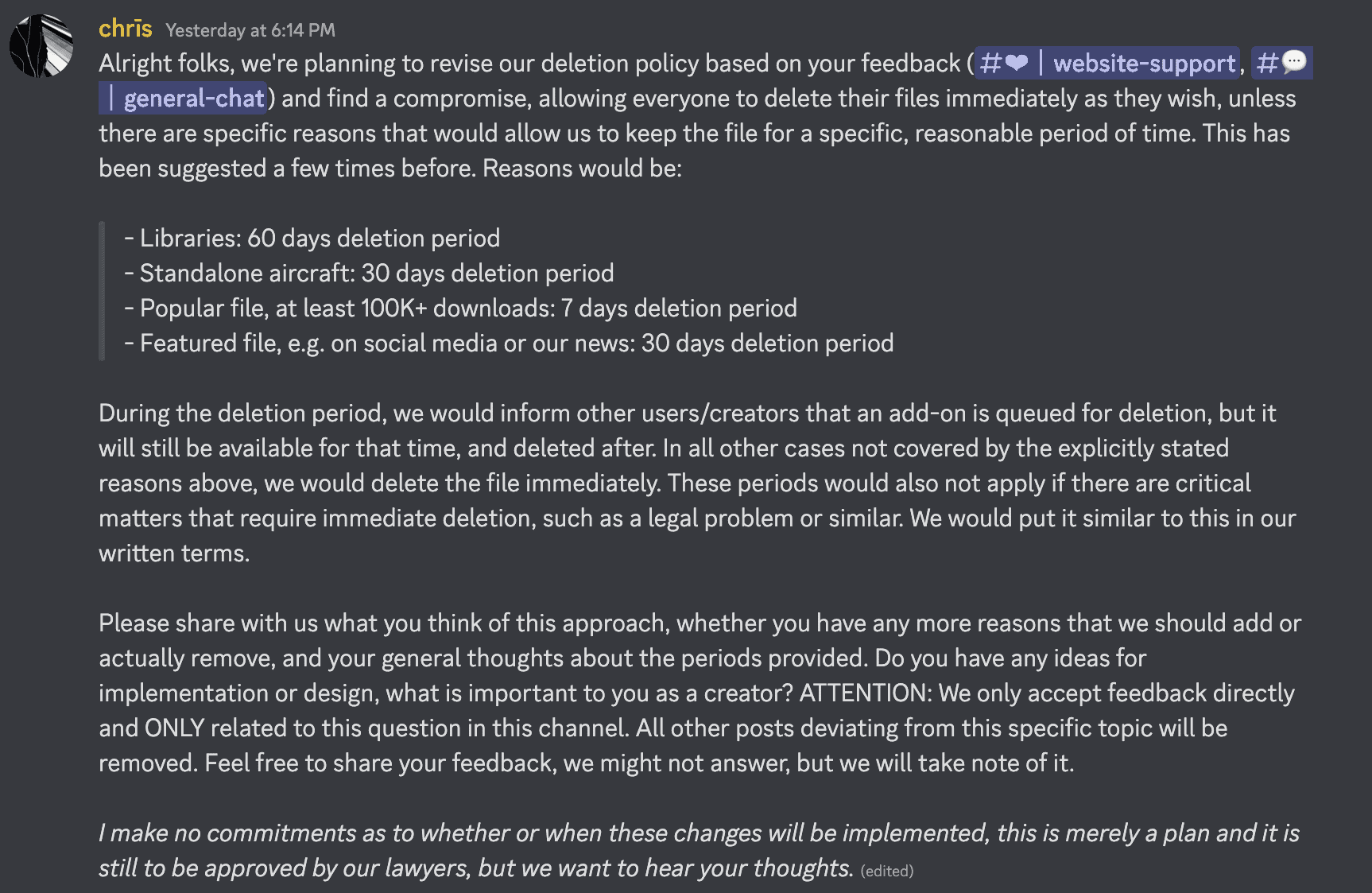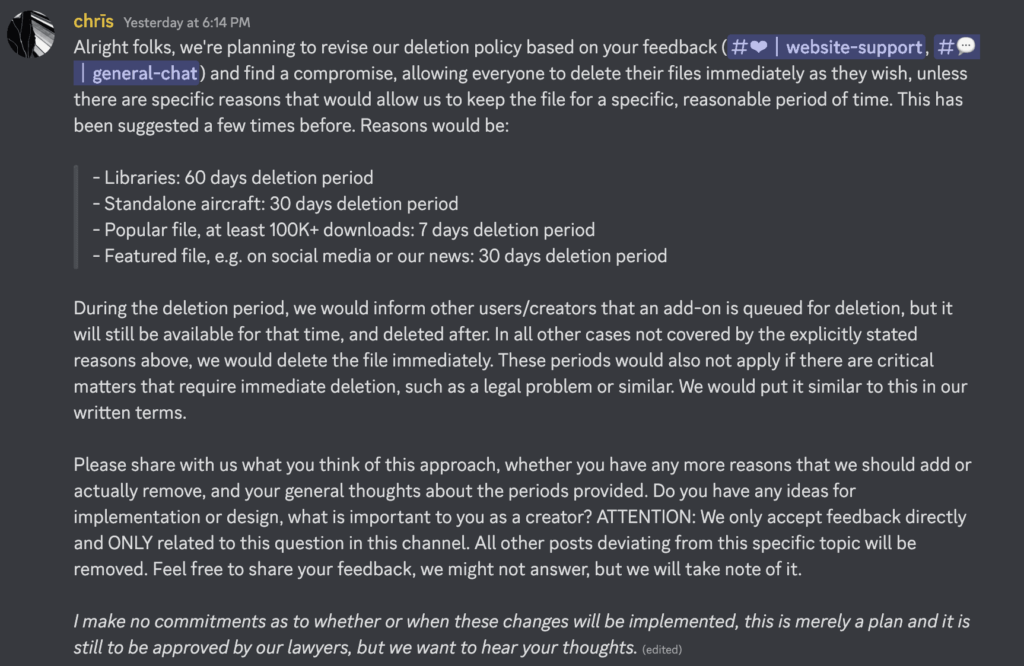 The plan has thus far been met with positive feedback from developers who appear to be willing to compromise with the site over the terms. On Twitter and Reddit, the announcement has been met with continued hostility from users.