Honeycomb Aeronautical packed several massive announcements into a single 20-minute block today at FSExpo 2023 in Houston, Texas. "Some say that we take too long to make products," admitted Nicki Repenning, ex-Saitek employee and Founder & CEO of Honeycomb Aeronautical – before dazzling audiences at FSExpo with the surprise announcement of the Honeycomb Delta displays, new accessories, and updates to the entire Honeycomb product line.
Brand-new, reconfigurable Honeycomb Delta flight displays
The Honeycomb Delta Flight Displays are a series of reconfigurable, 1080p touchscreen displays designed for flight simulation. Wirelessly connecting to your PC, you can put together combinations of the upcoming 12″ and 7″ multitouch displays to build out your "cockpit" with immersive, flexible displays. Honeycomb stated that they would be compatible with any standard airplane in X-Plane, Microsoft Flight Simulator, and DCS World, with a "Certified for Delta" program in the works to help add-on developers ensure compatibility with their aircraft.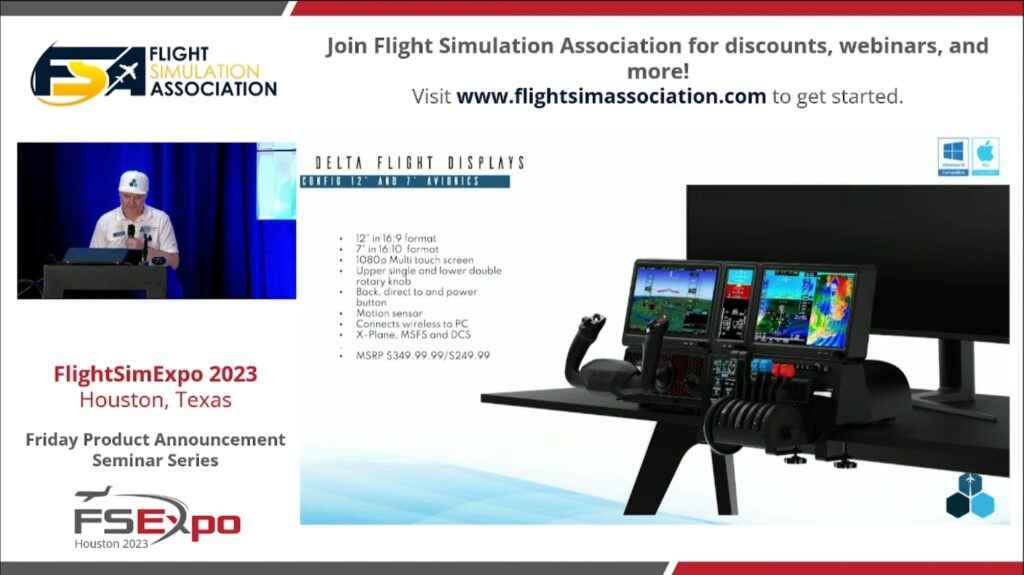 Each Honeycomb Delta screen has a motion sensor and rotary knob. The motion sensor can be used to trigger hidden functions of the Honeycomb Delta. For example, during the presentation, Repenning showcased a 737 autopilot being automatically displayed when the sensor detected motion, and hiding again when motion stopped. The rotary knob, on the other hand, is dynamically bound to any rotary knob in the simulator – automatically switching function when a knob is selected by the mouse.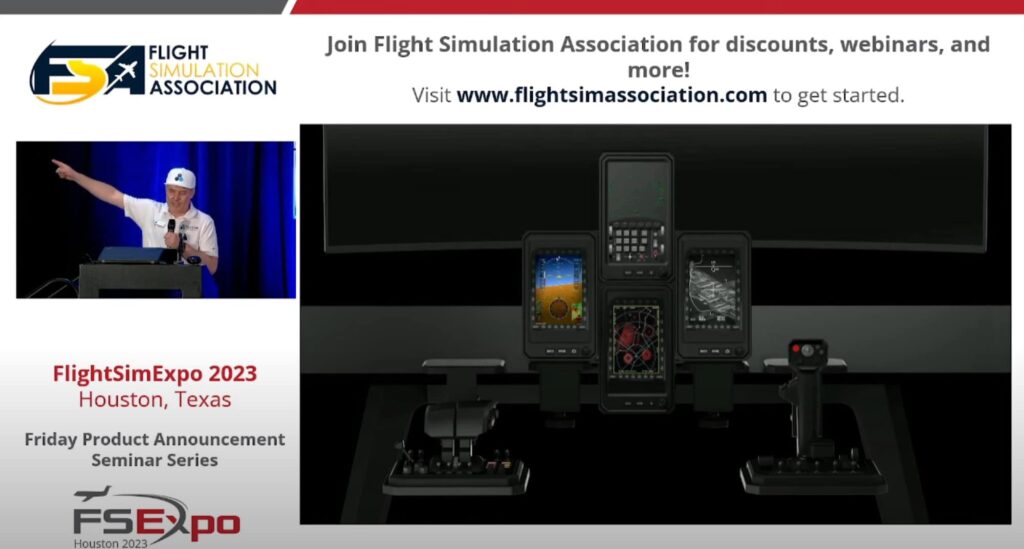 Honeycomb has worked with its software partner Sim Innovations to create plug-and-play software for the Honeycomb Delta screens. Each screen looks to be available separately and can be mixed and matched to your desired cockpit configuration. There was no release date announced for the Honeycomb Delta screens, but the 12″ screen will be released for $349.99, and the 7″ screen will be available for $249.99.
Honeycomb Alpha Flight Controls Pro & Lite
It's official: the original Honeycomb Alpha yoke is discontinued. In its place are two updated versions of the popular yoke: The Honeycomb Alpha Pro and Honeycomb Alpha Lite. The Honeycomb Alpha Lite, announced Repenning, is a cost-reduced Honeycomb Alpha for people who want a less expensive yoke with the same quality that Honeycomb has become known for. It has the "Exact same quality and feel" of the original Alpha yoke – internally, it is the same product but with the Hall-effect sensors replaced with high-quality potentiometers, as well as the extra buttons removed. The Honeycomb Alpha Lite will be compatible with Xbox and PC available for $199.99.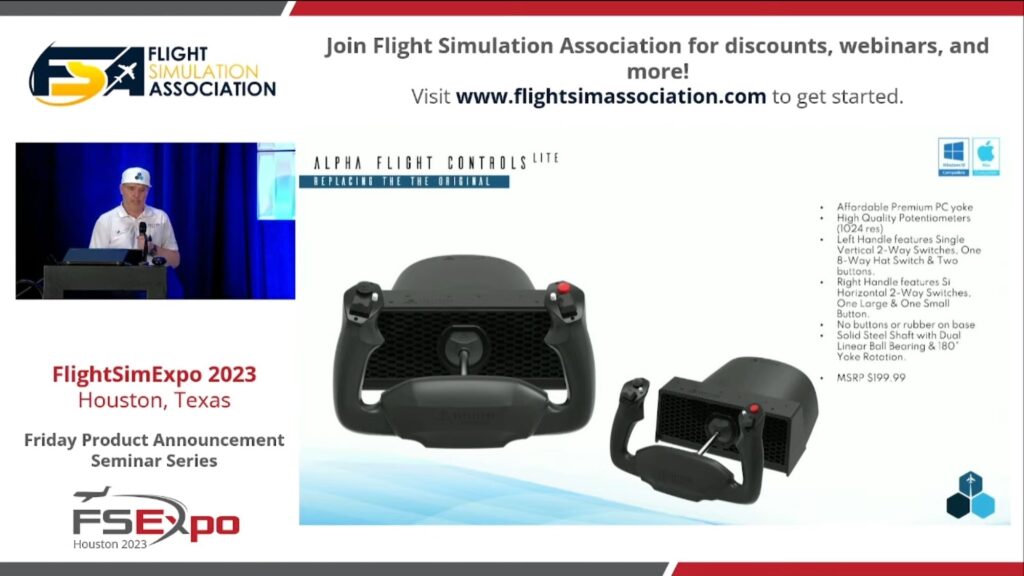 For sim pilots looking for a high-quality yoke, the Honeycomb Alpha Pro yoke will feature 16,096-position hall-effect sensors and the same switch and button layout as the existing Alpha. Essentially a relaunch of the original Honeycomb Alpha, but with the improvements from later iterations such as the XPC, the Honeycomb Alpha Pro will be compatible with both PC and Xbox and retail for $299.99. No release timeline was announced for either yoke.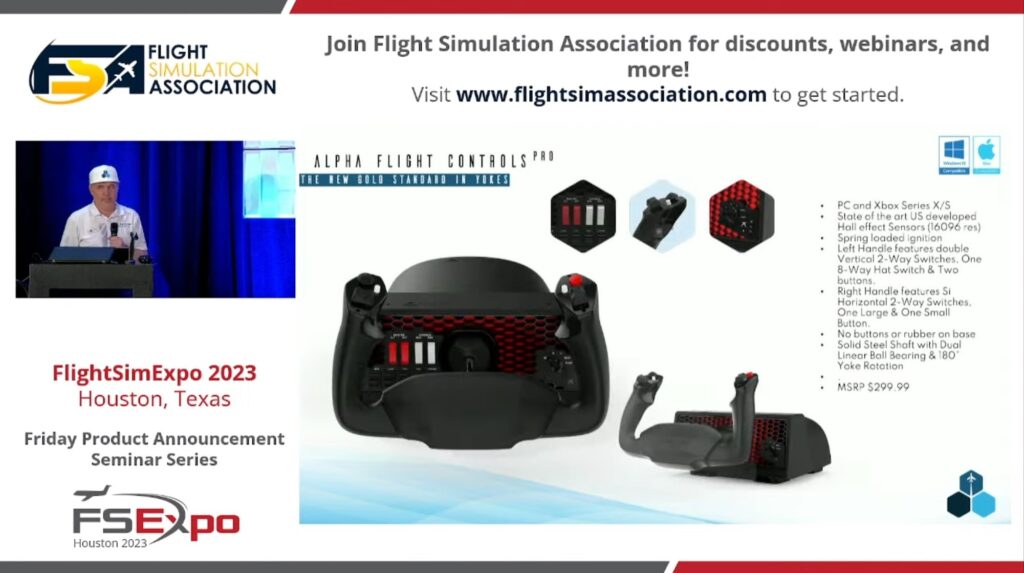 New Boeing & Airbus flap lever accessories & new Xbox hub
For airliner pilots, the Honeycomb Bravo throttle quadrant will receive the new Boeing and Airbus Flap Accessory package. The kit will include flap detents and levers accurately modeling all Boeing and Airbus jet aircraft, with the exception of the Airbus A380 and Boeing 787-10, due to their unique flap configurations. They will release in "2 to 3 months," and be priced at $29.99, or $69.99 if bundled with the Airbus throttle pack – which itself will get an accompanying price reduction to $49.99.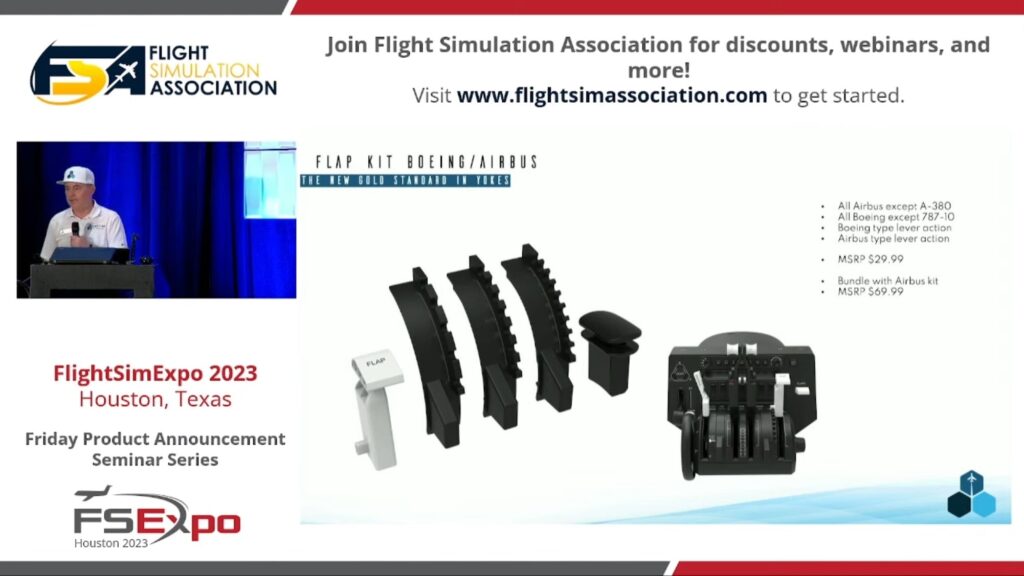 Also announced was the new Honeycomb Xbox Hub. This $39.99 accessory is designed to connect any Honeycomb product (that is not already Xbox compatible) to the Xbox Series X or Series S. In an effort to provide cost-conscious customers with more flight simulation solutions, Honeycomb dropped a surprise feature: the new Xbox hub will also allow you to connect the Logitech Throttle Quadrant and Rudder Pedals and make them compatible with Xbox. No release timeline was announced for the Honeycomb Xbox Hub.
The last new product announced is the Honeycomb Powered USB Hub. That might not sound like a big deal, but for some, the process of finding a USB hub that will properly power all their flight sim accessories is an annoying task. Honeycomb's hub will connect to the computer by USB-C, and have 6 USB-A ports all powered by a 30 watt laptop power supply. Repenning stated that it has been tested with "All major flight sim hardware products currently on the market." No release timeline was announced, but it will be available for $49.99.
Honeycomb Charlie delayed again & Tango Foxtrot put on hold
Honeycomb's FSExpo announcement included updates to their already-announced and upcoming products, and unfortunately, many of those are delayed or put on hold. The Honeycomb Charlie Rudder Pedals, hotly-anticipated for years, have been once again delayed. According to Repenning, this most recent delay is due to a supplier issue with the American-made hall-effect sensors used in the Honeycomb Charlies. A "Best-case" would result in a 2-3 month delay, but Repenning stated that the more reasonable scenario was late 2023 or Q1 '24. "I'd rather disappoint you with delivery time than on product quality," he said apologetically. Customers who have pre-ordered the Honeycomb Charlies have the option to cancel for a full refund or receive a free Honeycomb Aeronautical hat as an apology if they elect to keep their pre-order.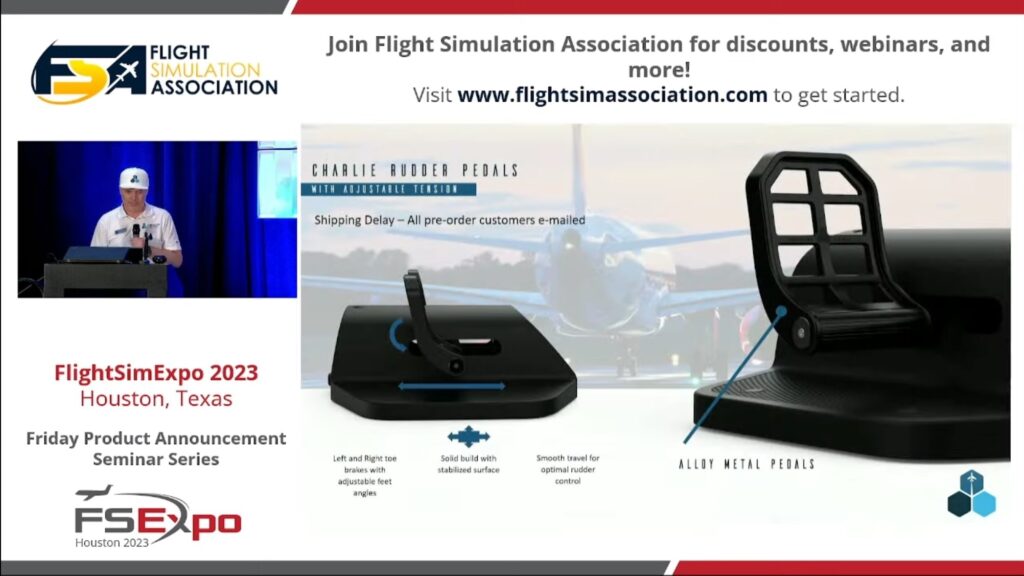 Equally disappointing, the Honeycomb Tango Foxtrot HOTAS was put on hold. Honeycomb was light on the details in their presentation, but they stated that the decision was in part due to the post-COVID consumer electronics market crash. There was no date stated as to when we can expect the Tango Foxtrot; however, it was showcased in the Honeycomb Delta screen reveal so it seems clear that they have not completely abandoned the HOTAS.
The Honeycomb Lima Flight Chair will be shipping to customers in October. The Lima is a chair designed for flight simulation, with a flight deck-inspired design and individually-locking wheels. It is furnished with Alcantara-style fabric and will be available for $299.99.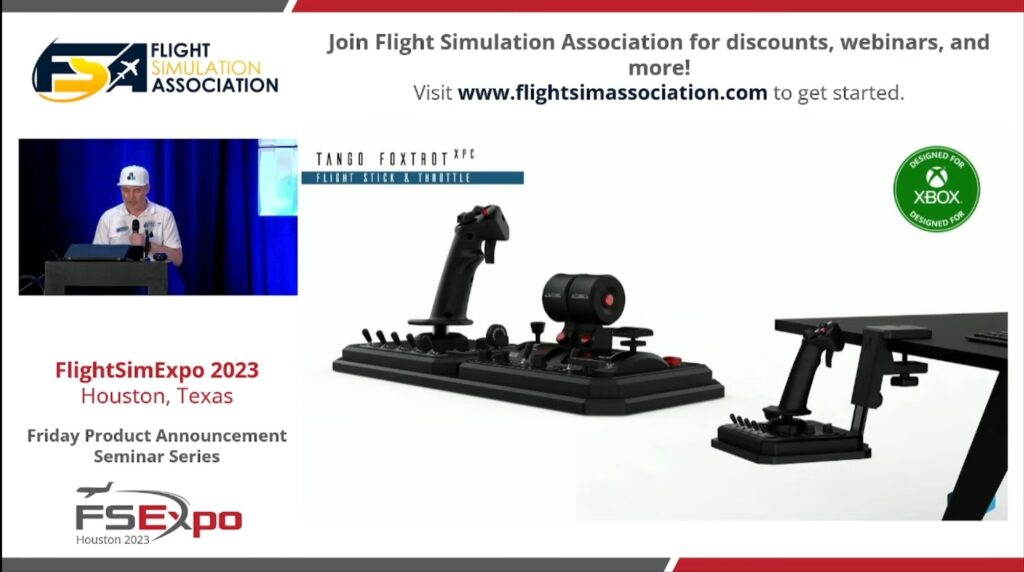 Honeycomb/Corsair Partnership and Honeycomb Academy
Closing out Honeycomb's spot at FSExpo 2023 was the announcement of a PC partnership with Origin PC, Corsair's boutique PC brand, as well as a Flight Sim Academy designed to get kids interested in aviation via flight simulation. The Corsair/Origin PC partnership is intended to provide simmers with "turnkey PC solutions" that are spec'd out for flight simulation. They look like they will be branded with Honeycomb branding, and Honeycomb stated that they would have some type of software tweaking to be ready for flight simulation out-of-the-box. No concrete pricing or release timeline was announced.
Finally (Whew – a ton of information in this one!), Honeycomb Aeronautical announced the Flight Sim Academy: an educational STEM program designed to get kids interested in education via flight simulation. This will be a completely free program for teachers and institutions, entirely funded by Honeycomb, and the company aims to open at least 30 locations in the next 5 years. Their ambitious plans call for reaching 400 STEM programs annually and starting over 100 new ones per year. Honeycomb plans to offer a "Next-Gen" aviation education facility with curriculum materials from aviation staples such as Newton, AOPA, and Gleim, using their simulator products.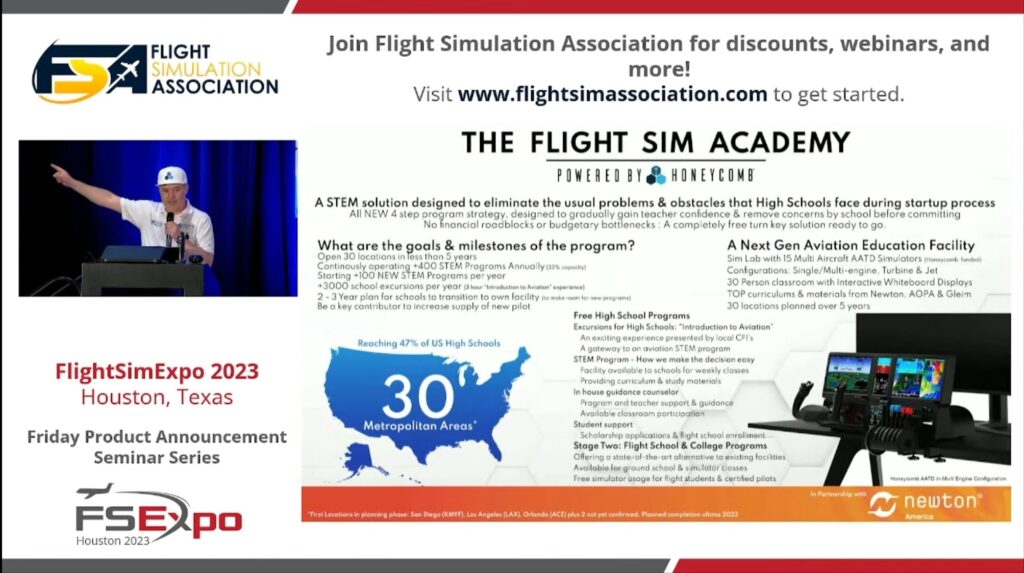 That's all for the first day of FSExpo 2023, but stay tuned to FSNews for more event coverage as it progresses through the weekend. If you want to read more news from FSExpo 2023, you can check out our dedicated page to the event by clicking here.