There is a new kid on the block for flight simulator hardware: miniCOCKPIT. Their first product, a replica of the iconic Airbus FCU, has recently been launched on Kickstarter, anticipating a launch later this year. While the company has sponsored posts with FSNews in the past, we are genuinely interested in the process of bringing a new product to market in this niche and competitive cottage industry. miniCOCKPIT founders Chit Lau and Geoffrey Wu were kind enough to sit down with us at our own behest to answer some questions about the miniFCU, developing for a constantly evolving sim environment, using the simulator for training, and more.
Legacy of Dragonair
Chit and Geoffrey are both Airbus captains who once flew for the Hong Kong-based airline Cathay Dragon (Formerly Dragonair). When that airline ceased operations in 2020 due to the effects of the COVID-19 pandemic, the two sought a way to remain connected to the aviation industry, both to keep their skills sharp and continue to share their love of the skies with others, even as the world closed off. To that end, they founded Aerospace-TS (Touch Simulator), a fixed-base simulator venue in Hong Kong based on Cathay Dragon's first A321Neo B-HPB, sadly delivered in late 2020, just before the airline's demise.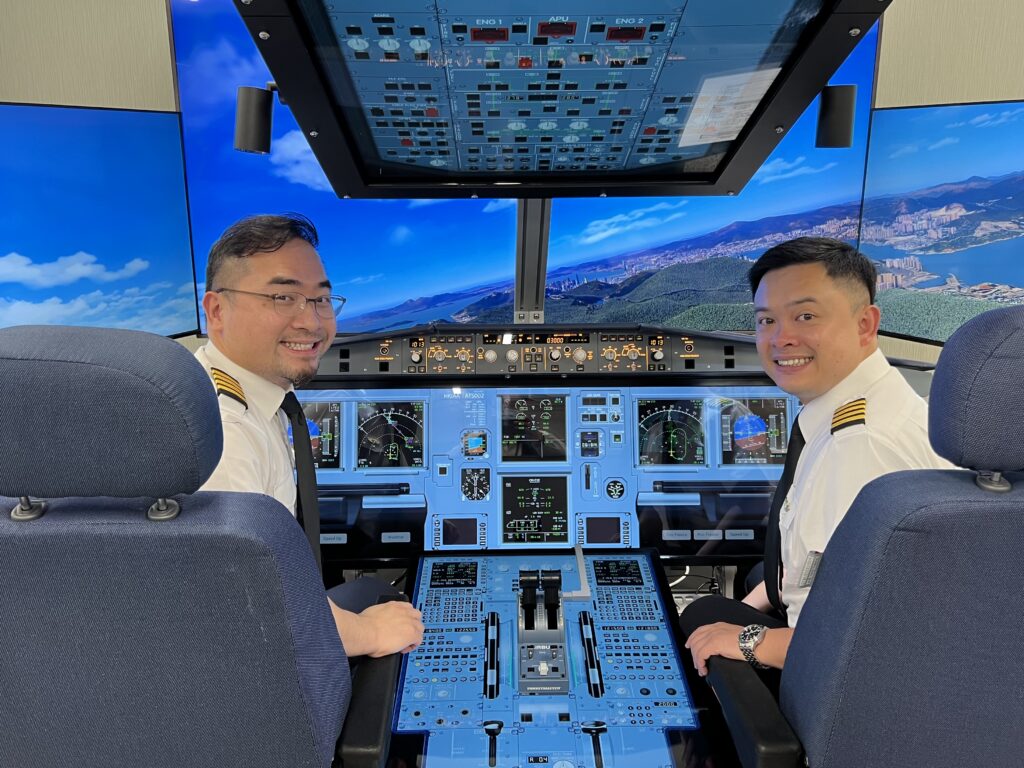 As they both return to flying while the airline industry recovers from the pandemic, the mission of the full-size simulator is coming to a close. However, the lessons learned from Aerospace-TS persist in the miniCOCKPIT brand. "Forming a strong community and building an attractive website will help formulate a strong brand," said Chit, and indeed the miniFCU, miniCOCKPIT's first product, has been preceded by a hail of marketing and community-building across social media ahead of their Kickstarter launch. But ultimately, said Chit, "the most important part" is to provide a high-quality product or experience – while maintaining professionalism and being transparent in your communications with customers.
miniCOCKPIT's big gamble
"We have dedicated ourselves from day one to promote civil aviation through innovative flight simulation products," explained Chit. The two founders have spent ample time and effort ensuring no corners were cut to bring the miniFCU to market, but there are still challenges to overcome. Rather than a one-off simulator, the miniFCU will be mass-produced, and that, says Chit, requires a "big gamble" in investment. "Kickstarter helps offset [this] commercial risk," he said, "by demonstrating the need and supplying necessary funding, so we don't have to sell our houses to initiate a project at this scale."
But miniCOCKPIT is certainly confident in the success of their "big gamble." So confident, in fact, that they invested in the injection-mold tooling more than a month before the Kickstarter went live. Fortunately, the response to the Kickstarter campaign has been overwhelming, exceeding expectations by wide margins. Their initial goal was achieved in under a minute, and the project has currently (as of June 22, 2023) raised over half a million dollars from more than 3,500 individual backers. "There is great potential within the global sim population," said Chit, "We are deeply grateful for the incredible support from our backers."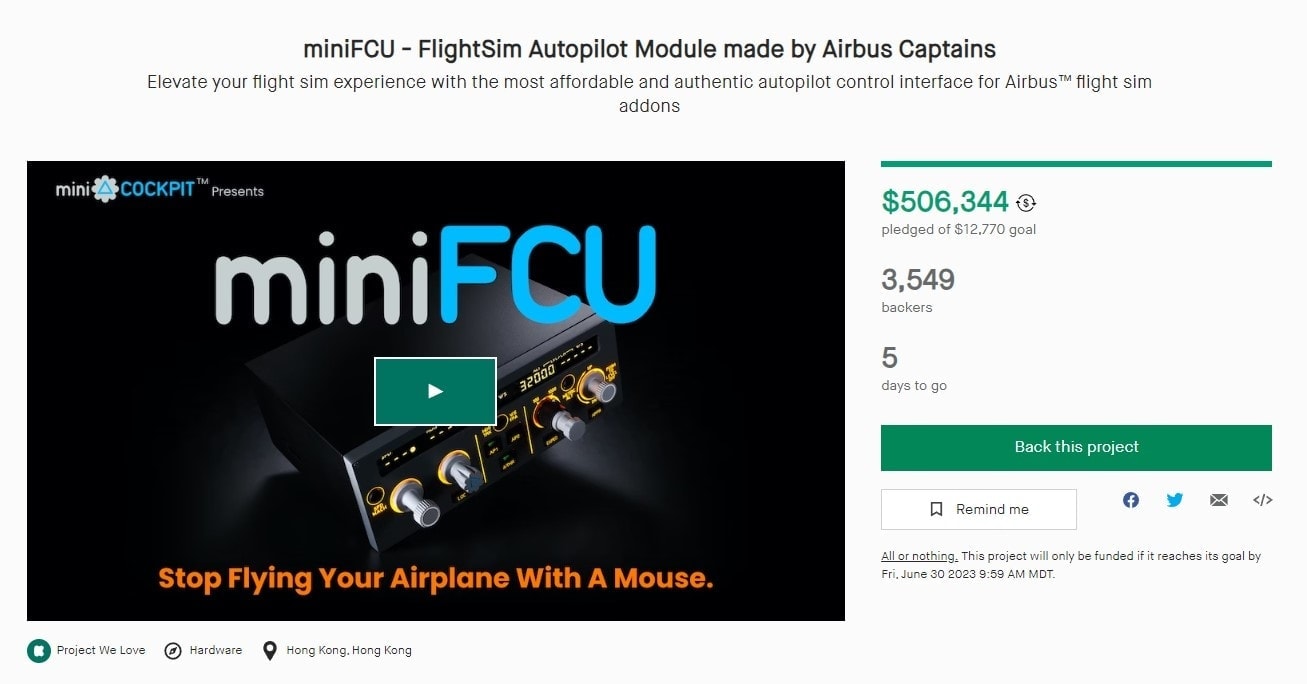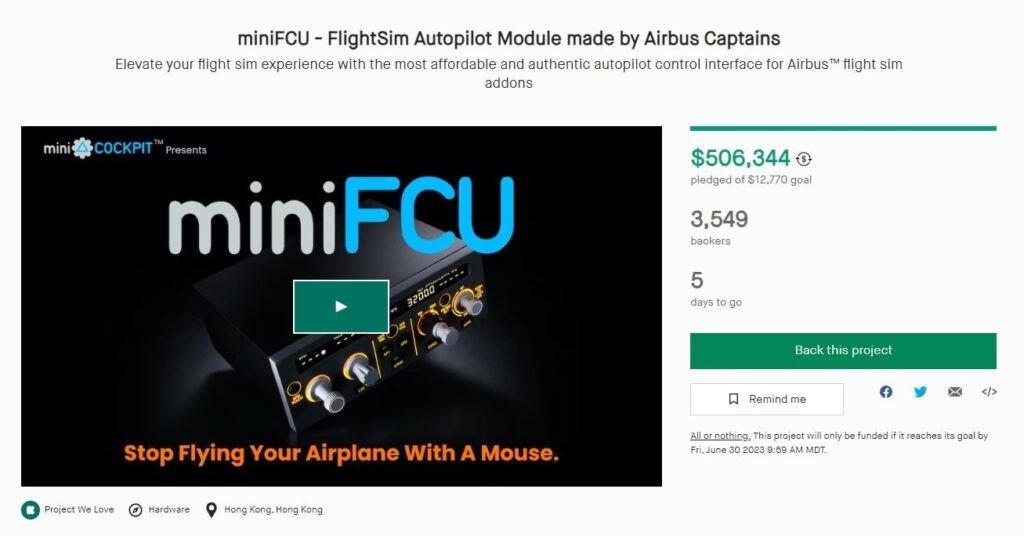 From a home simmer's perspective, it is easy to see why the response to the miniFCU launch has been so overwhelmingly positive. The "ultimate dream" of many a flight simulator enthusiast is to build our own personal cockpit and get lost in the immersive fantasy of captaining an advanced aircraft across the world. This "boondoggle" (as my fiance puts it) is often prohibitively expensive, both in money and physical "simpit" space, and very few in the hobby get to realize this dream. There are plenty of off-the-shelf solutions for the simmer who wants a yoke, a throttle, a sidestick, pedals, and more – but these are but the very basic elements of a cockpit. In an Airbus, the pilot might manipulate those controls only a small fraction of the actual flight.
As sim aircraft get better and better at representing the automation of modern aircraft (such as the Airbus), hardware has barely kept up. There is a vibrant DIY community dedicated to helping those with the skills and patience to assemble their own accessories – but if Microsoft Flight Simulator's smash success has taught us anything, it is that many simmers appreciate when the simming experience gets a little more streamlined. This is where miniCOCKPIT sees an opportunity with the miniFCU: produce a plug-and-play, accurate, and affordable FCU to enable a more immersive experience in the vibrant market of high-fidelity Airbus aircraft available for home simulators today. To that end, the dramatic increase in the popularity of flight simulation has bolstered their confidence to mass-produce the miniFCU, to bring the costs down.
An opportunity
Clearly, the Kickstarter success has vindicated miniCOCKPIT's predictions – there is definitely a market for a niche hardware product like this. But that begs the question then – why haven't established brands, such as Thrustmaster or Logitech, produced something similar already? Surely a company with such resources could both afford to gamble on niche hardware and use its established production pipeline to bring the costs even lower? The answer, according to Geoffrey Wu, is that an accessory like the miniFCU is significantly harder to develop than it might seem at first glance.
"You may notice most of [those companies] produce INPUT-only hardware," Geoffrey told me,
"While getting inputs to the computer as [a] gaming device is easy, getting OUTPUT from the
sim is a totally different level." Indeed, some of the only mass-market flight simulator hardware available that fit that bill are some of Logitech's flight panel/autopilot accessories – and they haven't seen any major revisions since their introduction. Keeping the product focused on their expertise, said Geoffrey, ensures the quality as well.
"It takes meticulous development with expert knowledge to achieve a high standard of a product such as the miniFCU. You may be able to create something similar, but to mimic every single detail down to microscopic scales requires someone with extensive knowledge about the aircraft." Geoffrey and Chit believe that their type-expertise and focus on the Airbus product will result in a higher-quality accessory – and they believe they can do it faster than what a major company could achieve.
The technical task
As every add-on developer learns at some point, it is far easier said than done to develop something to the exacting standards of modern-day flight simmers. Hardware projects are even more difficult, and eventually, a developer must "lock in" the hardware for production – and needs to be confident that no more iteration will be needed after that point. As a realistic hardware add-on, miniCOCKPIT must develop its product keeping in mind the software that the simmer will be using – or rather, which particular simulator, and version of the Airbus aircraft, they will be flying.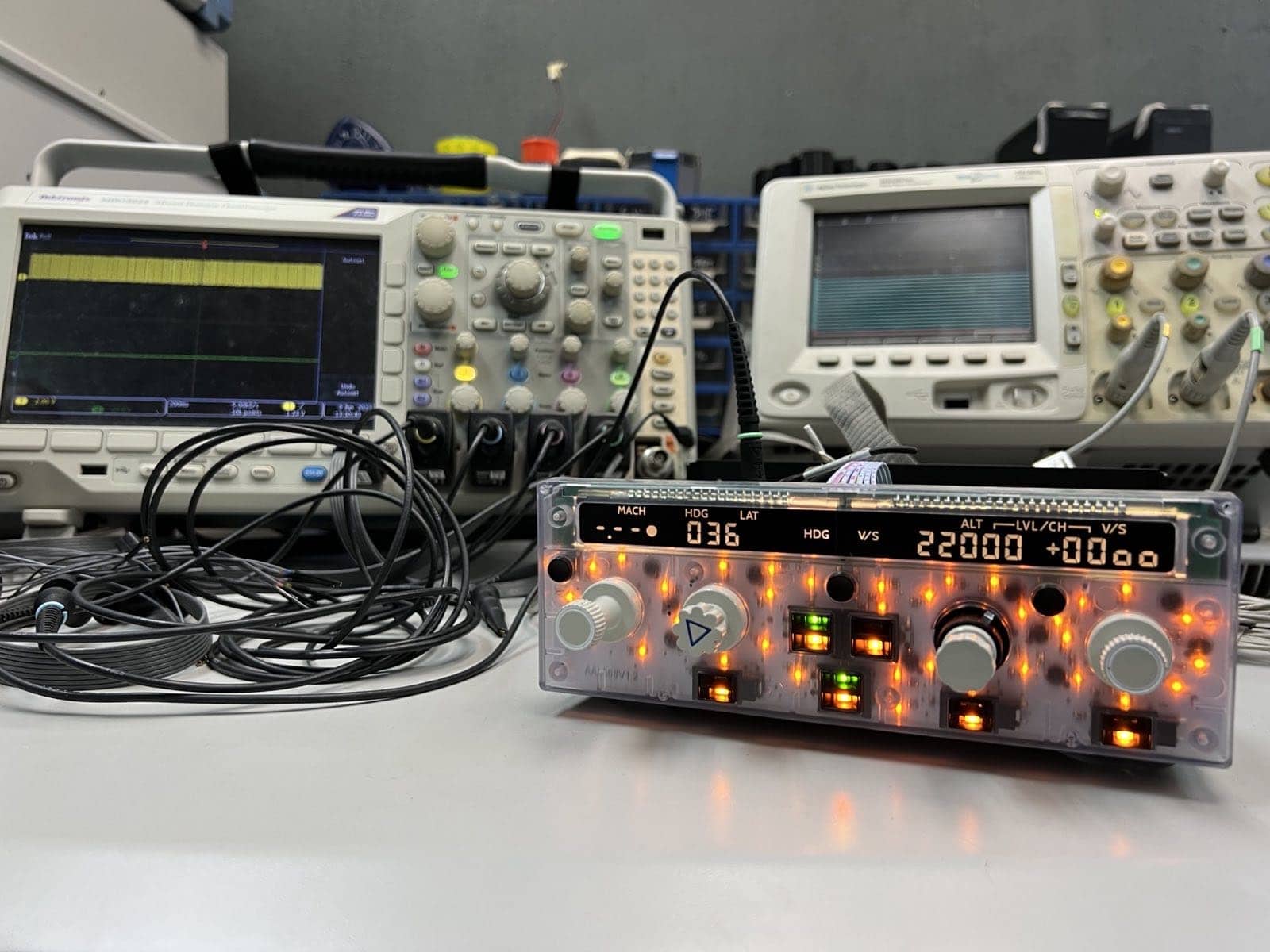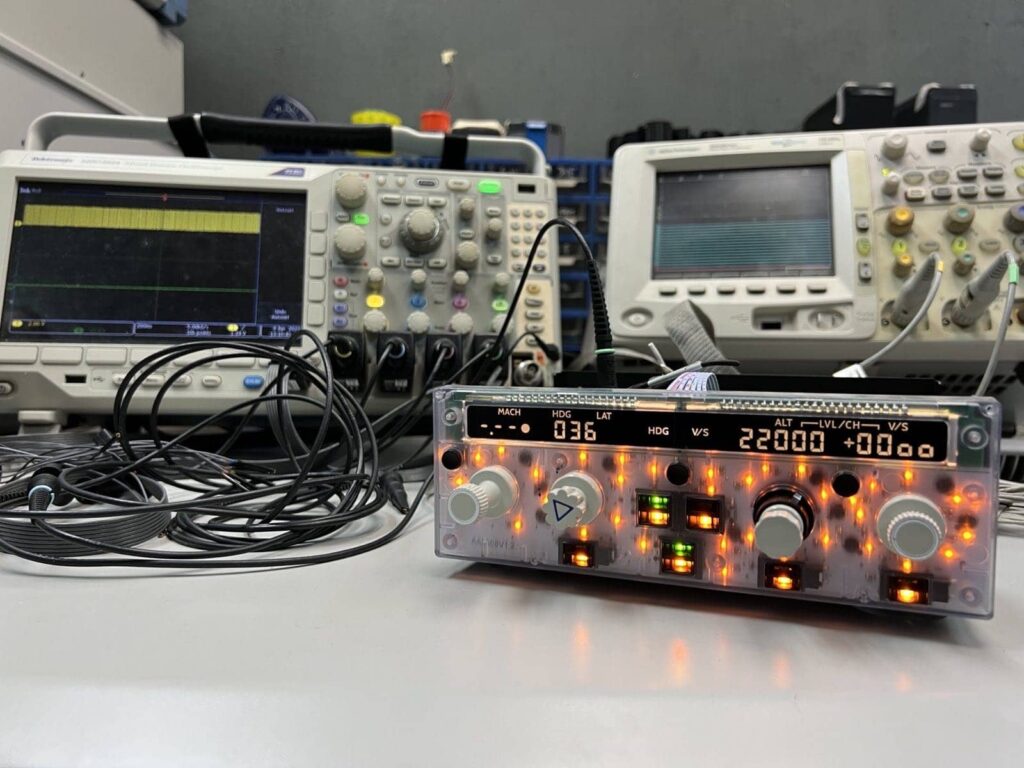 Turns out, ensuring compatibility is easier said than done. For one, high-fidelity Airbus aircraft aren't exclusive to one simulator – and Geoffrey told us that Microsoft Flight Simulator in particular can be a tricky beast for which to build hardware. "When it comes to developer friendliness, X-Plane almost wins hands down," he said. "[X-Plane] is very open, and its clearly documented API [gives us] the tools to monitor necessary datasets." MSFS, by contrast, is constantly changing and Microsoft has made a choice to more tightly constrain its API and development structure. "Development [in MSFS] is more indirect and resource-heavy," said Geoffrey, "It requires more optimisation [sic] for the supporting plug-in."
And then there's the question of individual aircraft, all coded by different teams with differing philosophies as to how their operations work behind the scenes. No one will buy a hardware product that only works with (sometimes lackluster) aircraft in the base sim, and it can be a herculean task keeping up with the changes that other developers make. "With so many new add-ons being introduced to the market each day, it certainly poses a challenge to make the hardware compatible," Chit told us. "We need to use our manpower carefully to make sure the biggest names are properly supported first."
Currently, the miniFCU promises full compatibility with 11 Airbus aircraft across MSFS and X-Plane, with another partially supported (more on that in a moment). Mobiflight will be supported, and the team is finally talking to SPAD.neXt to bring wide compatibility to their miniFCU. But miniCOCKPIT wants to foster even better connections – and therefore compatibility – with add-on developers through their Official Collaborator program. Customers might buy the miniFCU because their favorite Airbus supports it – and vice-versa, might choose to buy another Airbus (different variant, or in another sim for example) because it's compatible with the hardware they want or already own. Official Collaborators provide miniCOCKPIT with beta access to their products and updates in return for test units of the miniFCU, so that both parties can work together to ensure compatibility.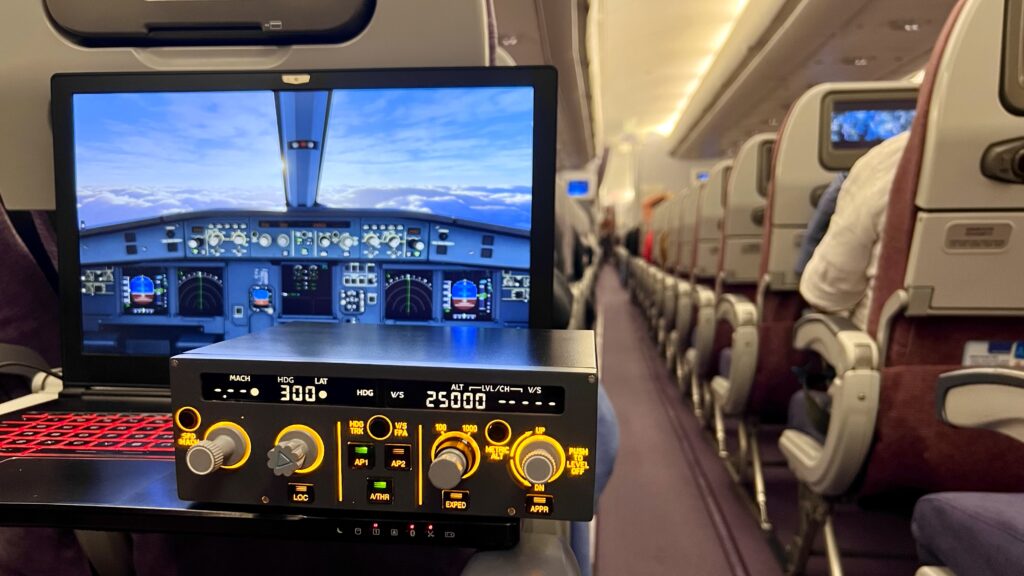 Sometimes, however, compatibility is far from assured even when the developers all want to work together – like in the case of the popular MSFS Airbus add-on the Fenix A320CEO. Widely regarded as the best Airbus for MSFS, it's a natural fit for the miniFCU, but according to Chit, this simply isn't currently possible. "Inside [Fenix's] Terms and Conditions it was specifically mentioned that only basic control hardwares [sic] are supported. […] Users are forbidden to use the [Fenix] with any home cockpit activity." By their analysis, the miniFCU falls under this realm of "home cockpit" hardware.
While they respect Fenix's stance, Geoffrey told us that they are able to work around this T&C prohibition, working with their own designs and workarounds published by Fenix themselves. "For the partial support to work, we will need to make some fundamental changes on the PCB design as well as hardware upgrades," he said. While the team initially thought that this would increase cost, they have been able to engineer this partial support without altering the BOM. "75% [of our backers] are happy to accept [a partial solution], and that's what we are able to deliver without infringing Fenix's T&Cs." This partial solution, we are told, will allow the knobs and buttons to control the Fenix, but no changes will be reflected on the miniFCU's bespoke LCD screen. Whether that tradeoff is acceptable or not is up to the consumer.
The importance of realism
One word often comes up in the discussion of flight simulator experiences: immersion. Being immersed in the simulator means it delivers an experience that transports you to another place and effectively places you in the role of the pilot in command. We sim pilots often spare no expense (even when we probably should) to make our own setups as immersive as possible, which often demands significant hardware investment.
While many of us simply sim to experience something new, the miniCOCKPIT team – both active Airbus captains – maintain that the modern home simulators that they developed the miniFCU for actually help them remain proficient and confident in their aircraft. Geoffrey stated, "Every time we fly to a new place, we always use our favourite add-on to do a virtual pre-trip to look at the ground features, terrain, try the instrument approaches, etc. so we will be confident bringing passengers to a place even for the first time."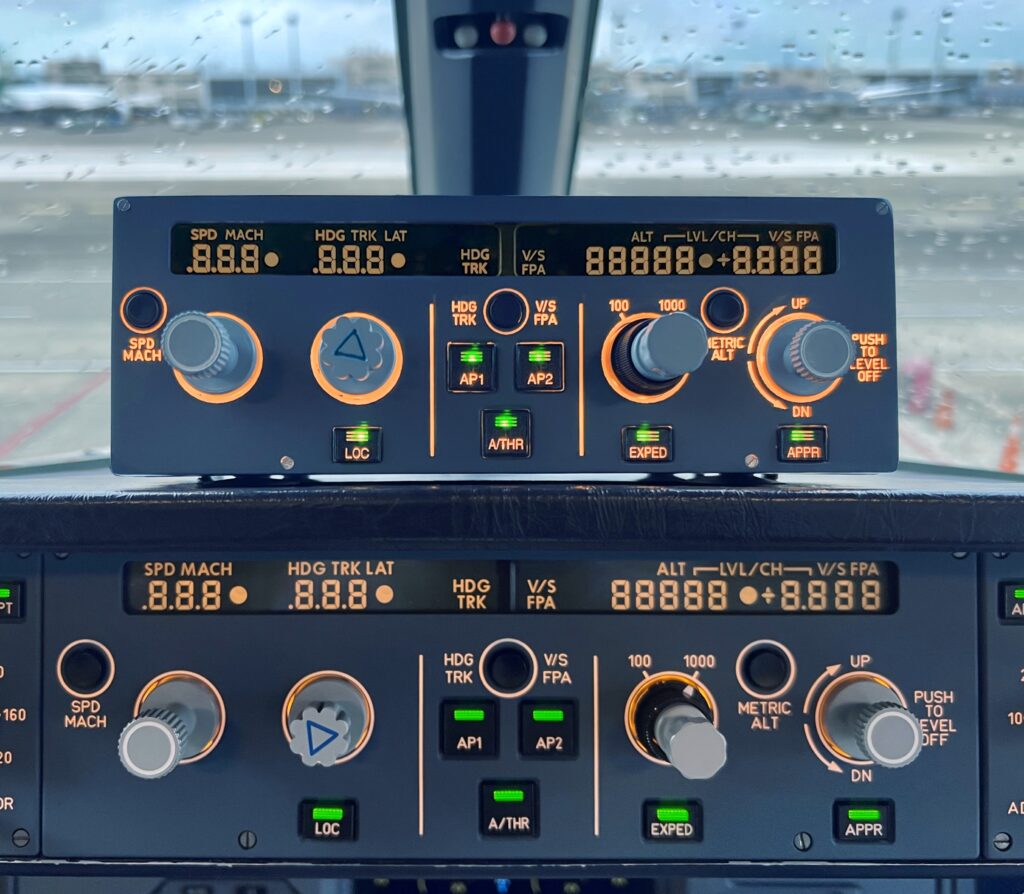 The current simulators are so good, he said, that they are even able to practice proficiency checks at home before their exams. "The quality of commercial add-ons nowadays are pretty much the same as the real simulators we use for our exams – to the degree that we can actually practice multiple failures using them!" While neither Geoffrey nor Chit used the oft-mocked term "study level," the implication is clear: the closer the sim is to reality, the greater benefit it can have not just for our own amateur immersion, but for those who ply the skies every day. By striving to deliver the most accurate representation of the Airbus FCU possible, Chit and Geoffrey are attempting to create something with value for every sim pilot.
Mini Cockpit, big ambition
While it won't be until November that miniCOCKPIT expects to have the first miniFCUs shipping to backers, the team has already started looking ahead to the next chapter in the fledgling company's story. At the time of writing, over 3,500 people have backed miniFCU's Kickstarter, bringing them close to their stretch goal of the miniEFIS. They continue to post educational blog posts that any Airbus sim pilot could learn from, and they look ahead to future projects, and maybe, in the future: retail. "It all depends on the commercial incentive," said the minCOCKPIT team, but bringing specialized, high-quality flight sim gear to retail alongside the established names is definitely in their plans.
Until then, Chit Lau and Geoffrey Wu plan to keep developing, keep flying, and of course – keep simming. "We find helicopter simming in VR a great fun to experience, you know, normally we fly above the troposphere and seldom get to see the Earth from a lower perspective. The immersion in VR is simply unbeatable." Potentially, then, we get to see a miniCOLLECTIVE in the future? If so, we would expect it to be developed with the same eye for detail that can only come from founders with a true passion for aviation – whether or not it remains dependent on immersion to take us to the sky.