In late May of 2023, I finally did it: I made the jump to real-life airplanes. I have been flying virtual ones on an almost daily basis since Microsoft Flight Simulator's 2020 release, and if the FAA counted home sim time, I would be flying airliners by now. As they say: "The best time to pursue your dreams is right now" – so here I am, in a Cessna 172 like thousands before me.
The hot topic in online flight simulation discourse is the term "Study Level:" the theoretical ability of a simulator or aircraft add-on to be able to replicate real-world procedures well enough to use them for real-world study. As I go from zero hours in my logbook to a new career in aviation, I thought it would be useful to chronicle my experience with how the simulator is (and is not) helping me in my journey.
While in some ways I am having a similar experience to others, I think there are some items in this comparison between sim and real life that are overlooked. This is the first in a multi-part series describing those similarities and differences as I encounter them in training. I will be looking to answer some specific questions I had before starting my lessons:
How close is MSFS vs. reality?
What procedures can I effectively practice and see tangible real-world improvement?
Can my home simulator help me save money on flight training?

Table of Contents
Sim Setup
Much like in my reviews, I think it is important that I detail my sim setup so that my experience can be compared to your own. As you'll see later on, some aspects of the hardware and software I use make a big difference. I run MSFS on a PC equipped with a Ryzen 5800X3D, RTX 3080, and 64GB of RAM. Up until now, I flew in the Cessna 172SP included with the Deluxe & Premium Deluxe (Steam gauge variant) versions of MSFS.
My sim peripherals for these "training" flights were a Honeycomb Alpha yoke & Bravo throttle quadrant, with Thrustmaster TFRP rudder pedals. I also recently incorporated a Tobii Eye Tracker 5 into my setup. My primary monitor is a 49″ curved ultrawide with a couple of smaller monitors tacked on for chat and tools.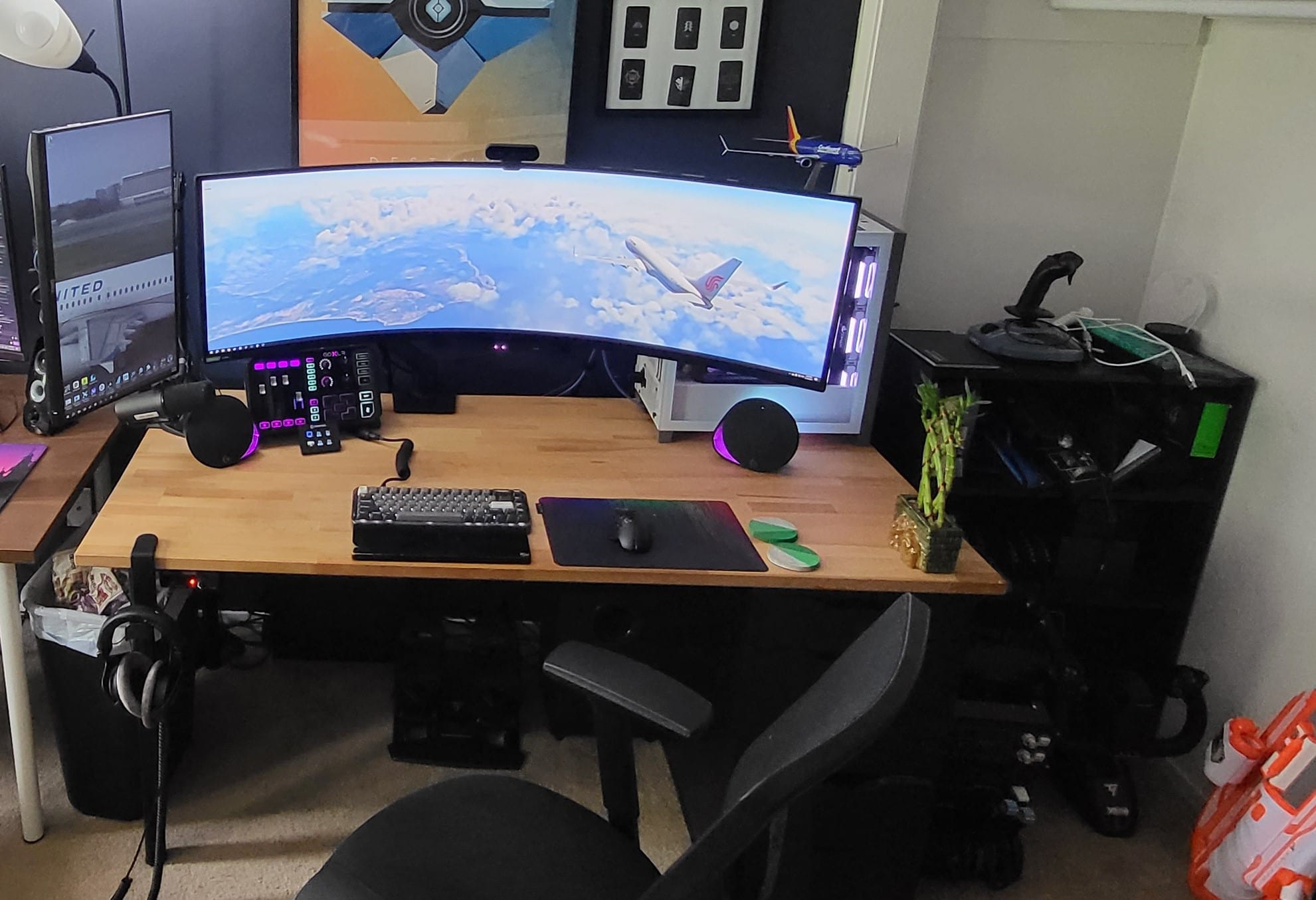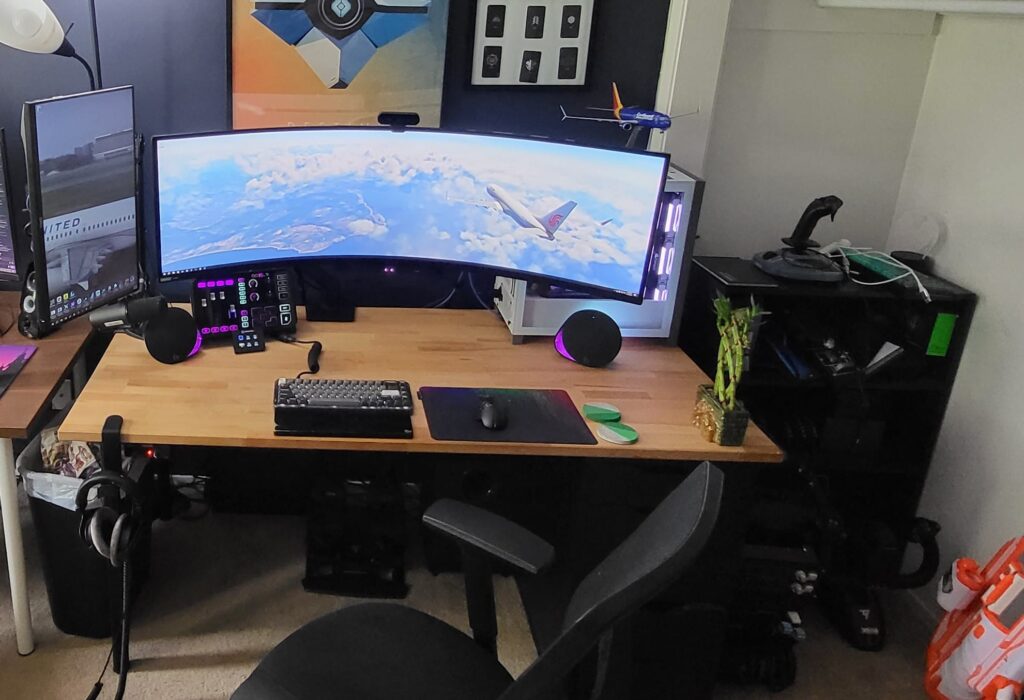 MSFS vs. reality
My home airport is KCFO – Colorado Air and Space Port – about 6 miles to the southeast of Denver International Airport. There are no available scenery products for this airport so, for the time being, I am stuck with the auto-generated default. The runways and major taxiways are all in the right place, but there are no parking spots, or marked taxiways, back into the forest of hangars that my flight school calls home. I must start from the ramp every time.
When I ignore the bare-bones autogen buildings and the few trees that aren't where they are supposed to be, the accuracy with which MSFS has reproduced my local environment is pretty stunning. I can use the same visual points of reference that I do in the aircraft for navigation, and crucially, for navigating the complex Bravo airspace of Denver International Airport. In particular, there is a property line and a road that delineate the "hole" in the Bravo shelf we sit underneath, and I can reference these in the sim's pattern just as in real life.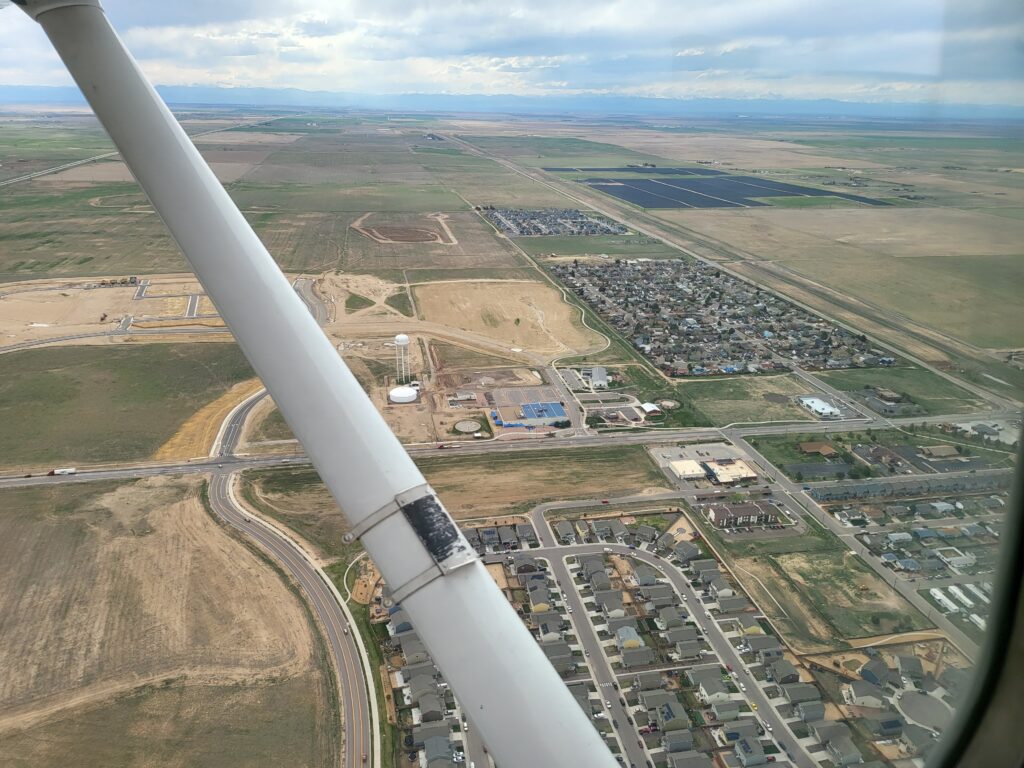 Microsoft Flight Simulator has a long way to go when it comes to reproducing challenging conditions. While the sim can deliver both low & unlimited visibility, storms, and unlimited visibility, I find that MSFS' weather engine is less capable of replicating those days where the weather is above marginal, but not good. 4-6 mile visibility and low cloud ceilings are difficult to represent, and the clouds themselves feel far less dense in MSFS vs. reality. The ceilings in MSFS always have about a 3-500′ "grey zone" where the clouds fade in and out, but visibility is still good. Similarly dense real-life ceilings are much more clearly defined.
During the smoky days of early June, the horizon was pretty much invisible. Obscured by a constant gradient of smoke, we found it difficult to properly establish reference points on the aircraft for things like banks, climbs, and descents. Attempting to set the weather in MSFS to something similar, it was far easier to discern the horizon – thanks in part to MSFS' persistent horizon-line bug that has gone unaddressed since the release.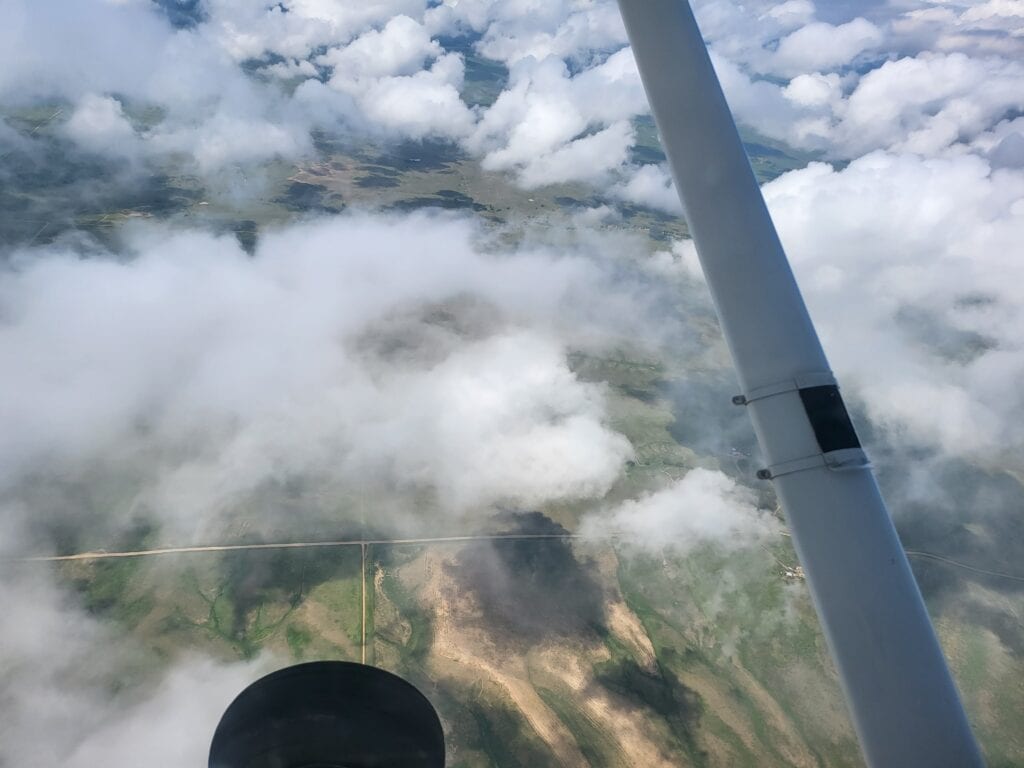 The default Cessna 172SP
As stated in the introduction, I have been flying the default Cessna Skyhawk 172SP (Steam gauges) included with the Deluxe & Premium Deluxe versions of MSFS. According to this comprehensive list, this aircraft does not include any of the soft-body, CFD, or new propeller physics in MSFS as of Sim Update 9. I chose to use this aircraft over aircraft that do have these enhancements because the classic C172 is most similar to the aircraft I am flying: a 2005 Cessna 172S, with a fuel-injected Lycoming IO-360 engine at 180HP. And honestly, I was curious: how well did the out-of-the-box aircraft match the real thing?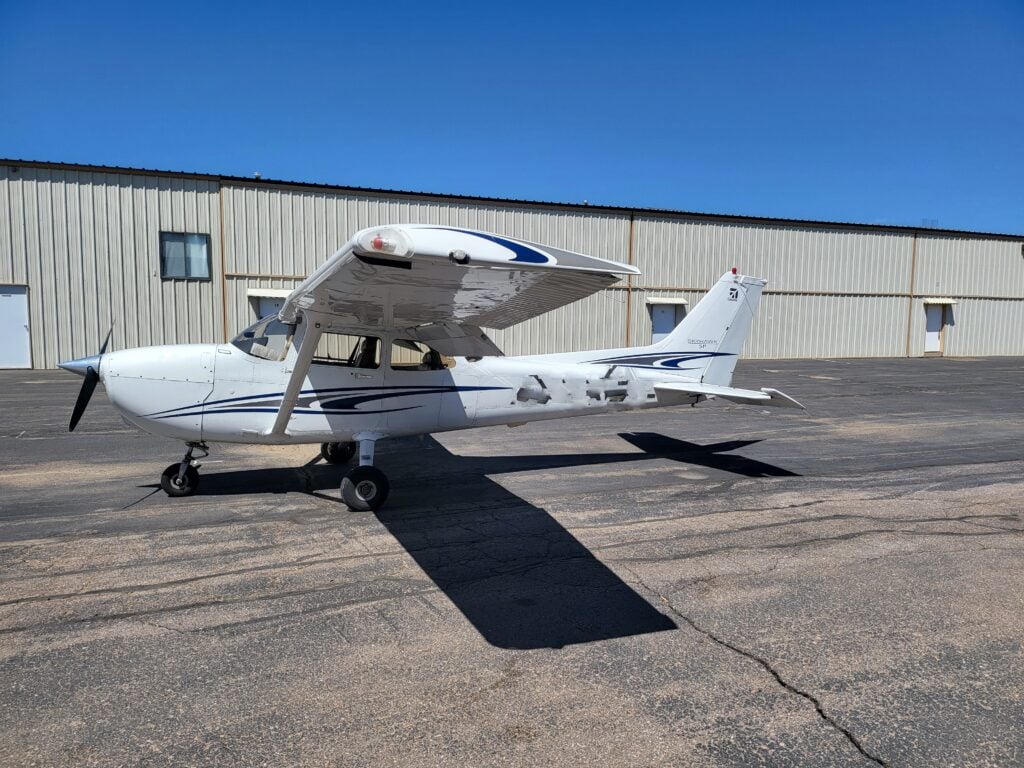 The answer, perhaps surprisingly, is: quite well. Where performance is concerned, the MSFS Cessna 172 Classic hit all the same numbers I was seeing in the real aircraft. When adding the weights of my instructor and myself, climb and cruise performance was just about spot-on in similar conditions. I found that takeoff and landing distances felt roughly similar, and the power settings I was using in the sim also matched the real-life aircraft, with some allowances for changing conditions and the peculiarities of the individual engine.

The one major item that was not accurately reproduced in-sim by the default Cessna 172SP Classic was stall characteristics. While the stall speeds (Both clean and in landing configuration) were the same, the MSFS C172SP has a nasty habit of dropping the left wing in both a power-off and power-on stall, no matter how perfectly coordinated I managed to be. The Cessna 172 is well-liked as a trainer in part due to its forgiving stall characteristics, but MSFS' recreation has missed the mark entirely. I was unable to practice any stall/recovery procedures in the sim without developing a nasty spin. On the other hand, spin recovery works as I was taught. I suppose it could be argued that mentally, I am more prepared for a spin if it does occur.
What I learned from my "lessons"
I decided to structure my sim "lessons" much the same as my real-life ones: have a plan for each, and follow all the proper procedures in-sim that I would during an actual flight. This included following all of the school-provided procedures and checklists, giving myself verbal briefings in my office, and yes, wrangling the default MSFS ATC (if only VATSIM coverage in the Denver area was more consistent!). I treated every sim "lesson" as if it were real, attempting to follow the FAA Airman Certification Standards and recording each one with replay software to analyze later.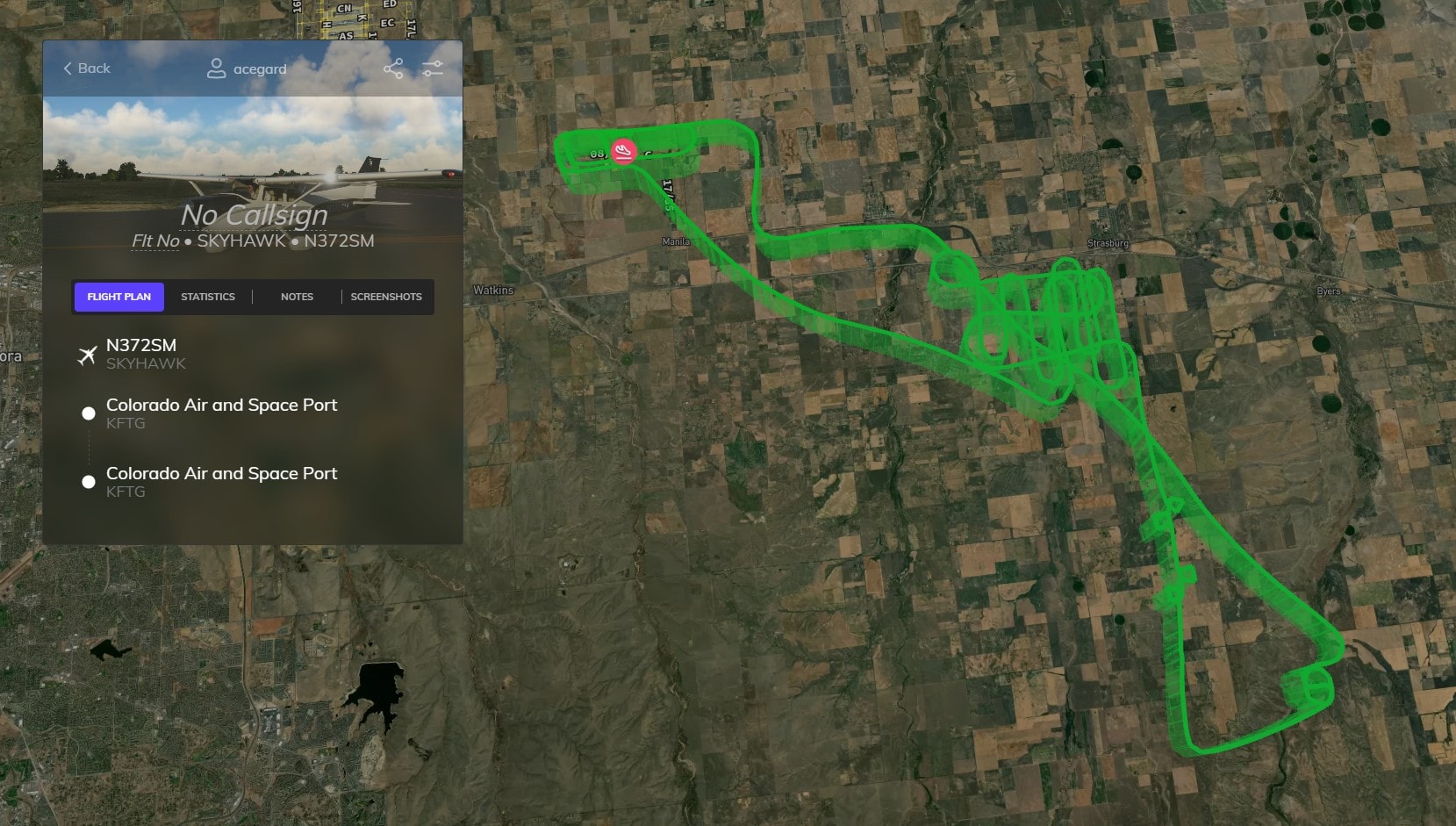 So far, MSFS has been very successful in helping me practice coordination. Though the magnitude of the inputs differs from real life, the method is the same. The sim "lessons" are helping me internalize working each separate hand, my feet, and my eyes simultaneously to keep the airplane trimmed and coordinated. For example, I fly twice a week (on weekends), and after a Sunday lesson early on in which I had a particularly tough time remembering to use the rudder in my turns, I spent a few hours in-sim over the course of the next week just flying simple maneuvers: straight-and-level and turns (with climbs and descents), really focusing on keeping that altitude steady and ball centered.
When I returned the next Saturday, I found that I was no longer thinking every time I made a turn. The coordination was becoming instinctual. I find this applicable as I practice crosswind landings as well: again, while the magnitude of the inputs is different from real life, I am still slipping and maintaining my slip to flare and touchdown in the exact manner that I was taught. The default Cessna 172SP Classic is doing a great job of responding to those inputs in a believable manner, and I can feel the moments where it clicks: where a sim session has helped to fix or reinforce something I was struggling with in the aircraft.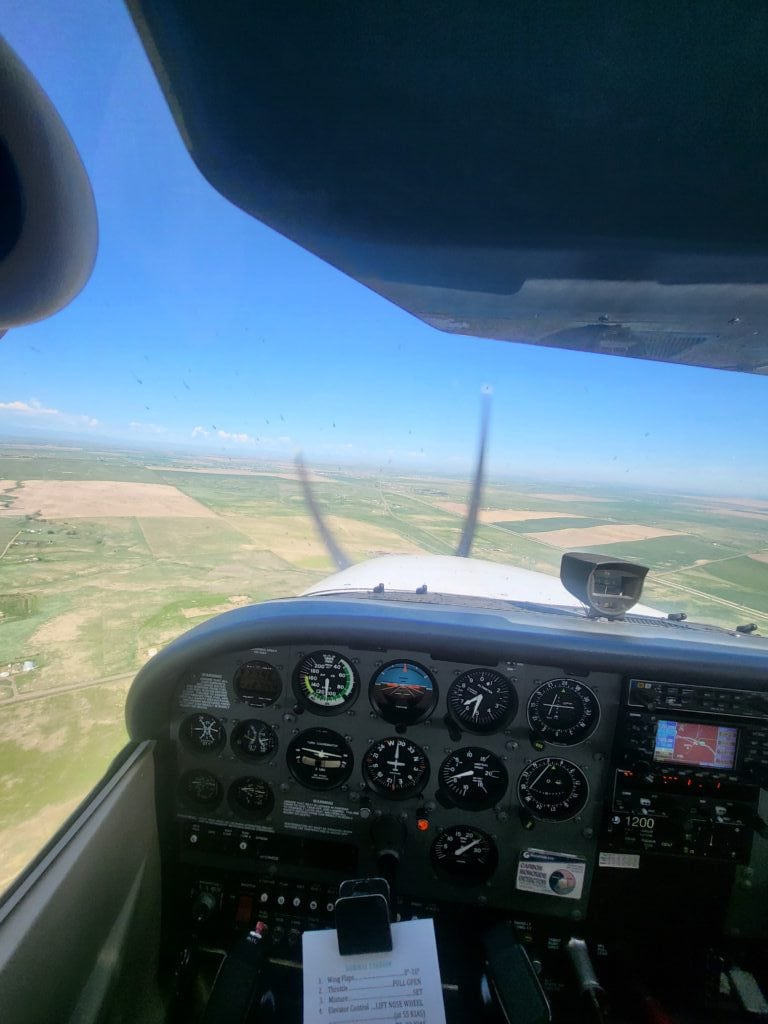 MSFS in general, not just the Cessna 172SP Classic, has been an excellent teacher of Garmin avionics. With the Working Title improvements to the GNS430 & GNS530, I was immediately familiar with the basics of these systems. Since my trainer has a GNS430, we wasted no time learning this for basic navigation. Although it is, of course, different to interact with my fingers rather than the mouse, I found myself right at home here.
I also have to give a special shout-out to VATSIM for teaching me how to communicate on the radio. While the VATSIM sessions I have done in the past have been entirely IFR, they still taught me things like the 5Ws (Who you are calling, Who you are, Where you are, What ATIS you have, and What you want to do), phraseology, and confidence. From day one, I was able to handle radio communications with no issues whatsoever. In fact, I was significantly more nervous upon first contact with a VATSIM controller in MSFS vs. reality with the KCFO Tower.
The sim will teach hubris
I went into this endeavor with the notion that, while I didn't know everything, I would naturally adapt my sim skills to flying a real airplane, and that I somehow understood better how the airplane would behave. Critically, I also anticipated that, because I theoretically understood certain concepts (like how to read instruments, for example), I would be able to anticipate and respond to unusual or emergency situations with cool, collected knowledge and execution.
In truth, I am humbled every day by the magnitude of the task before me. Much is made about how you get no feedback from your home sim controls, and this is true – but what is overlooked is how much more difficult it is to take in and process the deluge of information pouring forth from the instruments and your senses. In the simulator, everything I need to see is in a neat little panel in front of me, and my "seating position" is adjusted for the best view of everything I need. I'm easily able to scan the instruments, and even with perfectly recreated sounds, I'm still comfortable and stable in my office.
But now I'm in an airplane, it's shaking and rattling, and my seat only adjusts in discrete, uncomfortable increments. We're practicing steep turns, and I'm pressed against my seat, my window aimed at the ground, and I'm disoriented and scared. I know where to look to get my airspeed, my altitude, my rate of descent, and bank angle, but it's all changing rapidly. I theoretically know what to do to fix what I am seeing but my brain isn't working fast enough and communicating with my body to do it. I am thoroughly behind the airplane, and immensely grateful for the highly-experienced person in the right seat.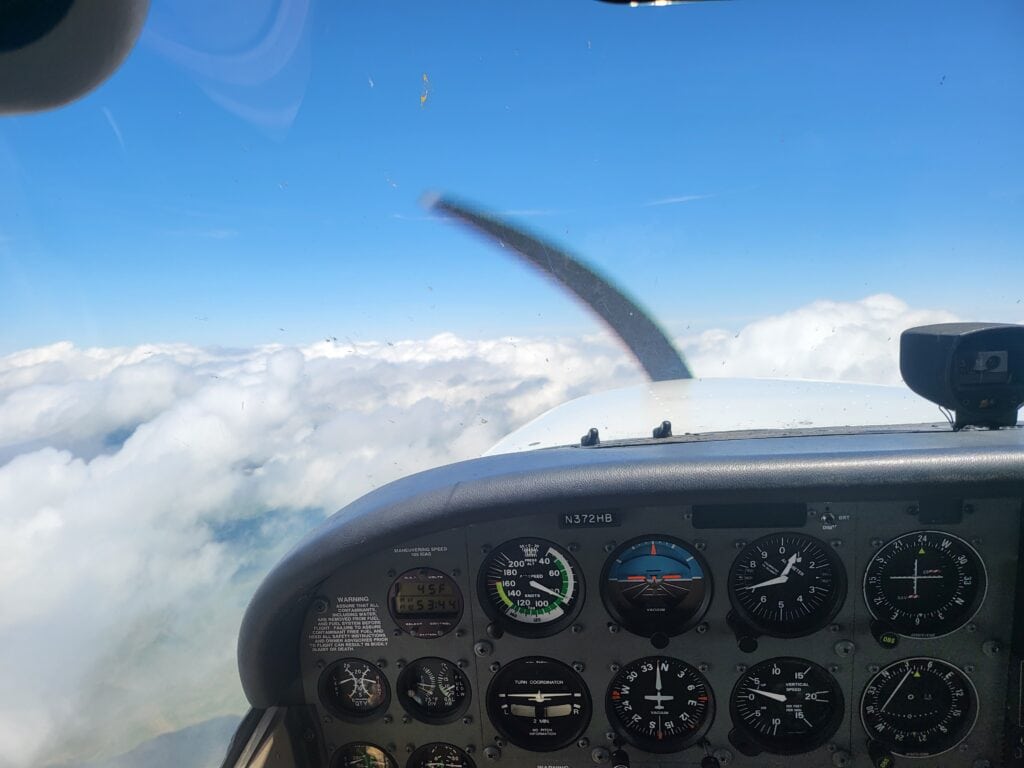 This is just one of many humbling experiences that I have every single day I climb aboard. While I can use MSFS to practice certain things, it is important to not be too wrapped up in the similarities and forget that it is a home sim. It just cannot replicate that information overload and stress. The FAA describes one of the five Hazardous Attitudes to aviators as "Macho:" the tendency to be overconfident, to exhibit the "right stuff" and push boundaries to prove to yourself or others that "you can do it."
If you are using a sim to study in any way for real-world flight, recognize this trap and do not fall for it. Develop good habits – not just the old sim-to-pilot standby of "look out of the airplane more." Perform go-arounds when your approach is unstabilized. The standards in MSFS vs. reality can easily become lax, so hold yourself to the same standards as the instructor and the examiner would. Recognize that the simulator cannot simulate the consequences of failure.
Next stop: Cross-country!
I flew an airplane by myself on July 2, 2023. I forgot to close the window, and my landings were far from perfect. My intercom failed on my (final) final approach, and I had to remember to Aviate, Navigate, then Communicate and bring it home. It was far from a perfect experience, yet I will remember it fondly forever.
Let's recap, check in with the questions I posed at the beginning, and make a plan for the next article in this series:
How close is MSFS vs. reality?
Microsoft Flight Simulator does an excellent overall job of replicating real-world flight. This is not news. I was impressed by the default Cessna 172SP Classic's accuracy to my own aircraft, but there are definitely areas where it could improve. For next time, I plan to pick up the WB-Sim Cessna 172SP Classic improvement mod, which adds CFD, Soft-Body, improved propeller physics, and more to my chosen aircraft, and I am excited to see if it brings the deficiencies noted earlier back in line with reality. I might also dabble in scenery modding and correct a few inaccuracies around my home airport.
What procedures can I effectively practice and see tangible real-world improvement?
I was able to practice, and see a tangible improvement in my real-world flying to, almost every basic maneuver laid out in the Airman Certification Standards. The exceptions are stalls (as noted above) and turns around a point. So far, it has been much more difficult to judge good reference & flyover points than it is in real aircraft. The next segment of my education revolves around navigation, planning, and cross-country, so next time, I plan to replicate all these procedures as well and see if the sim can help me plan and fly unfamiliar routes.
Can my home simulator help me save money on flight training?
I flew solo after 19.4 hours of dual instruction. This is roughly half of the 40 required hours to get your U.S. Private Pilot's Certificate, but of course, the average is much higher. "Average time-to-solo" numbers seem harder to come by and are based more on anecdotal evidence than statistical fact. From my (brief) research, it seems like most students progressing steadily through a Part 61 or Part 141 program fly their first solo at approximately 12-23 hours, which would put my numbers so far (and therefore cost) on the higher side of average. None of the sources I found included ground (instructor-only, e.g., "classroom") time though, which I have spent very little time on so far – thanks in part to the simulator, my theoretical knowledge is already progressing well. In future articles, I plan to keep a close eye on these numbers, especially as I approach the final check ride.
Thank you for joining me on this journey to earn my wings. As a flight sim enthusiast and lifelong avgeek, I have a new drive and purpose and I couldn't be happier. The next phase in my instruction is cross-country flight, and I plan to write at least two more installments in this series: Once after my solo cross-country, and another after my check ride. If there is anything specific about the sim-to-pilot experience, or MSFS vs. reality that you would like to see "tested," ask away in the comments or tag me in our FSNews Discord server.