Petersburg James A. Johnson Airport (PAPG) is officially available for Microsoft Flight Simulator, courtesy of Northern Sky Studio.
Table of Contents
Petersburg Airport by Northern Sky Studio
Petersburg James A. Johnson Airport is the newest of many Alaskan developments from Northern Sky Studio. The airport has been developed with outstanding quality, both internally and externally. On the outside, it appears that the modelling is highly detailed, even including small objects such as bins, posts, vehicles and tanks. Each object also has accurate texturing, of which the attention to detail is particularly evident. Custom signs have been adopted for immersion, including Alaska Airlines signs and even advertising boards for Alaska Seaplanes.
Whilst the building models and textures are particularly captivating, it is somewhat difficult to not focus on the snow-topped ground textures in the winter, before they become a green Alaskan field in the summer. The airport also features a completely modelled interior, featuring Alaska Airlines services, signs, advertisements and 3D people.
The developer has made attention to detail a priority for both the interior and exterior of the airport. However, users also have the opportunity to move away from the airport and admire the work that has taken place in modelling the town and harbour areas.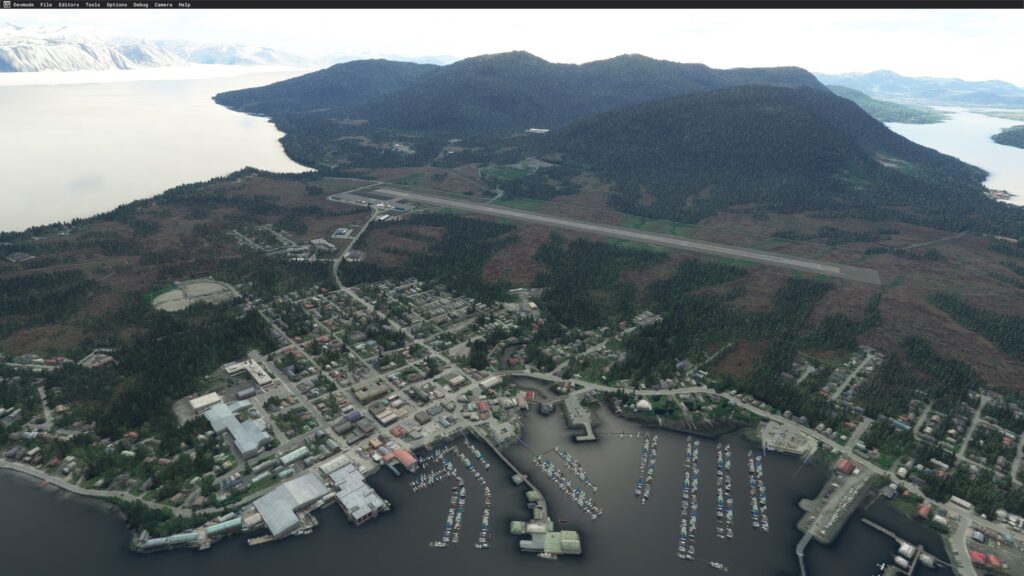 Advertised Key Features
The most detailed replica of airport buildings and vehicles
Custom surroundings
All materials created for full PBR
Shading and occlusion (texture baking) effects on all airport buildings
High-resolution building textures
Use of native, highly efficient gITF models
Custom orthophoto for the airport and surrounding areas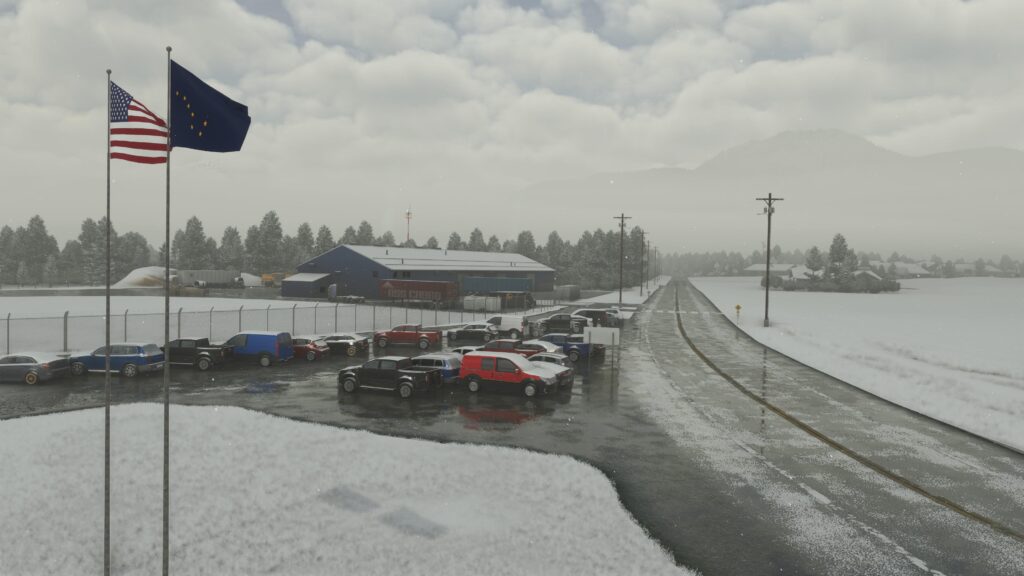 About Petersburg James A. Johnson Airport (PAPG)
Located on Mitkof Island, Petersburg Airport services a population of just 3,000 people. Despite the small population, the airport is heavily used, as flying and sailing are the only two transport options for reaching the town. Although Alaska Airlines does transport tourists to Petersburg, commercial flights only account for 10% of all flights into the airport. Alaskan bush pilots are common, along with seaplane operators and air taxis.
Located on Alaska's panhandle, Petersburg is part of the Milk Run; the daily circuit flown by Alaska Airlines to connect towns in Southeast Alaska. The purpose of this circuit is to connect towns that may have restricted transport options.
Operated daily by a 737-700, Alaska Airlines divides the Milk Run into two routes. Flight 65 travels from Seattle and stops in Ketchikan, Wrangell, Petersburg and Juneau, before landing in Anchorage. Flight 66 travels from Anchorage and stops in Cordova, Yakutat and Juneau, before arriving in Seattle.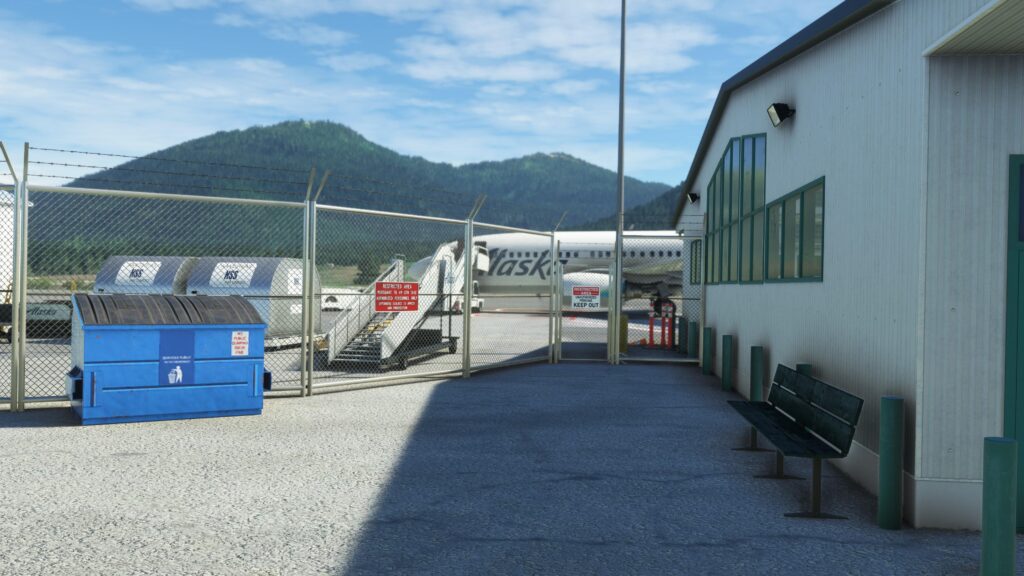 About Northern Sky Studio
Founded in 2017, Northern Sky Studio is a developer that most flight simulator users would be familiar with, especially those who spend time navigating the Alaskan skies. The developer initially became established with a focus on X-Plane 11 but has since made their new products available for both MSFS and X-Plane 12.
With a true focus on detail, Northern Sky Studio has developed several high-quality products for the flight simulation community. These products are predominantly spread across Alaskan and Hawaiian airports, which were arguably underrepresented in flight simulators. Alaskan developments include Juneau, Ketchikan, Wrangell and Stika, whilst Hawaiian developments include Kahului, Hana, Molokai and Kapalua.
The developments from Northern Sky Studio are available through Simmarket and the Orbx store for MSFS and X-Plane. For X-Plane users, the products are also available through the X-Plane.org store.
Release Details and Pricing Arrangements
For those looking to purchase this product, it is now available on Simmarket for €13.00. Alternatively, Orbx has also made the product available through the Orbx store for $18.00 AUD (€10.70). For more updates on this and many more MSFS products, be sure to stay updated via FSNews.