Welcome to Simcident Report, where we take a look at noteworthy, dramatic, and historic events in flight simming. Today we bring you a story at the intersection of real world aviation and flight simming. The story of Meigs Field.
In November of 2022, Microsoft Flight Simulator (2020) received one of its biggest content updates to date, bringing helicopters, gliders, historic aircraft, missions and scenarios from past games, and more hand modeled famous airports into the sim. Among the new content, much to the delight of old school flight sim fans, was a small general aviation airport situated on the shore of Lake Michigan near downtown Chicago called Meigs Field.
But why is the inclusion of Meigs Field in FS2020 such a big deal for fans?
To understand that, we must look at the history of the so called "Coolest Little Airport on the Planet," the fight to save it from closure, and how flight sim fans ended up so invested in a small Chicago airport.
Learning to Fly
The real Meigs Field operated from 1948 to 2003. Situated on a small man made island called Northerly Island, its location near downtown made it a convenient option for aviators and business leaders in the Chicago area. Throughout its history, the airport was variously used for scheduled passenger service, organ donation flights, training, historic aircraft, corporate jets, and VIPs such as President John F. Kennedy. The airport served as a general aviation reliever airport, keeping small aircraft away from the busy O'Hare and Midway airports which served most commercial traffic for the city.
Meigs Field would become famous outside of Chicago largely due to its inclusion as the default starting airport in 1982's Microsoft Flight Simulator. The airport served as Microsoft Flight Simulator's default airport for every version of the sim between 1982 and 2002, ensuring that hundreds of thousands of virtual pilots would become intimately familiar with Chicago's Meigs Field and the downtown area.
Meigs made perfect sense as a default starting location. It's small size meant it was well suited for beginners and smaller planes, and it's location on Chicago's Lakefront meant that new players would immediately be treated to sweeping views of the recognizable landmarks of the Chicago skyline.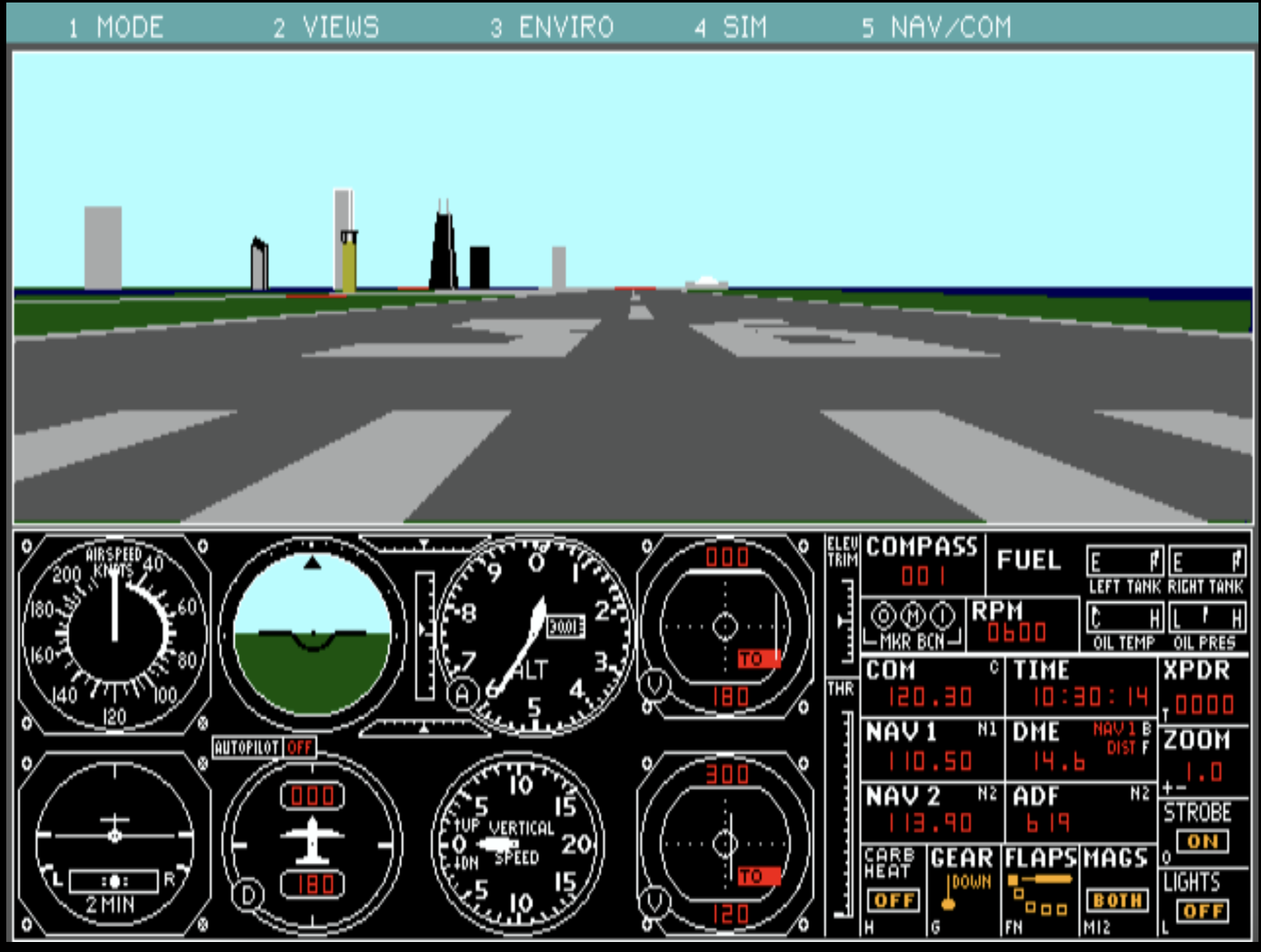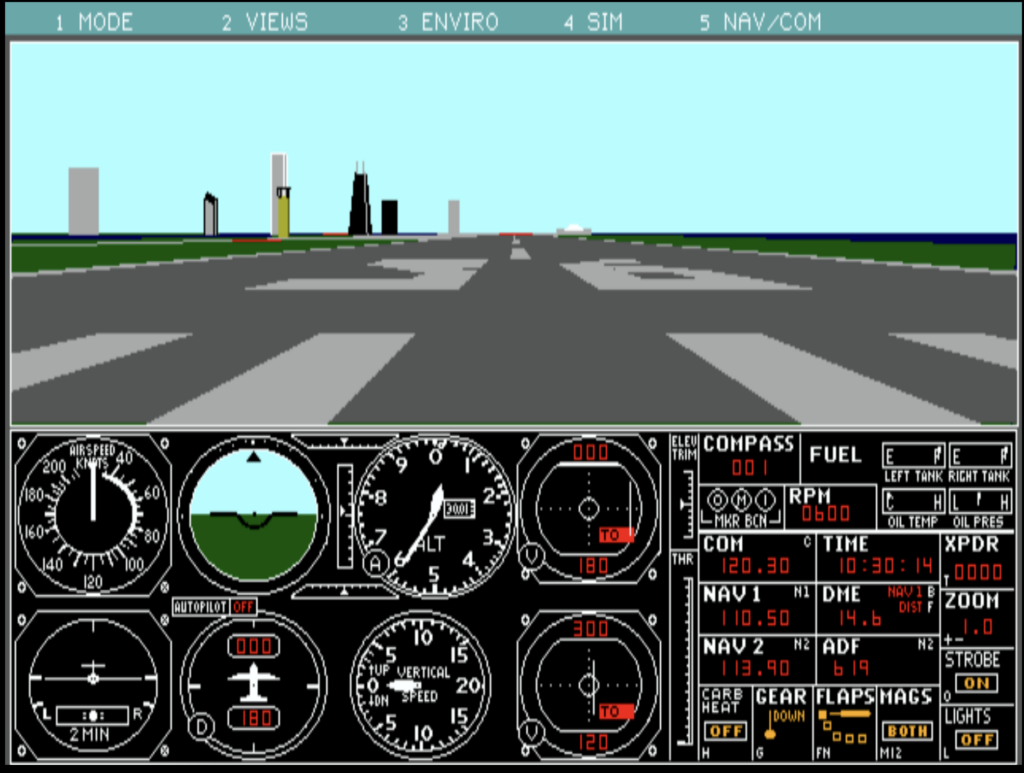 For nearly 20 years, every new player would begin their flight sim journey in the same way. With clear skis in a Cessna 172 ready for takeoff on runway 36 at Meigs Field.
While the real Meigs Field never saw anything larger than a single 727 that was to be ferried to a local museum, virtual Meigs Field played host to all types and sizes of aircraft. Chances are, if it existed in flight sim in the 1990s to early 2000s, it's been to Meigs Field.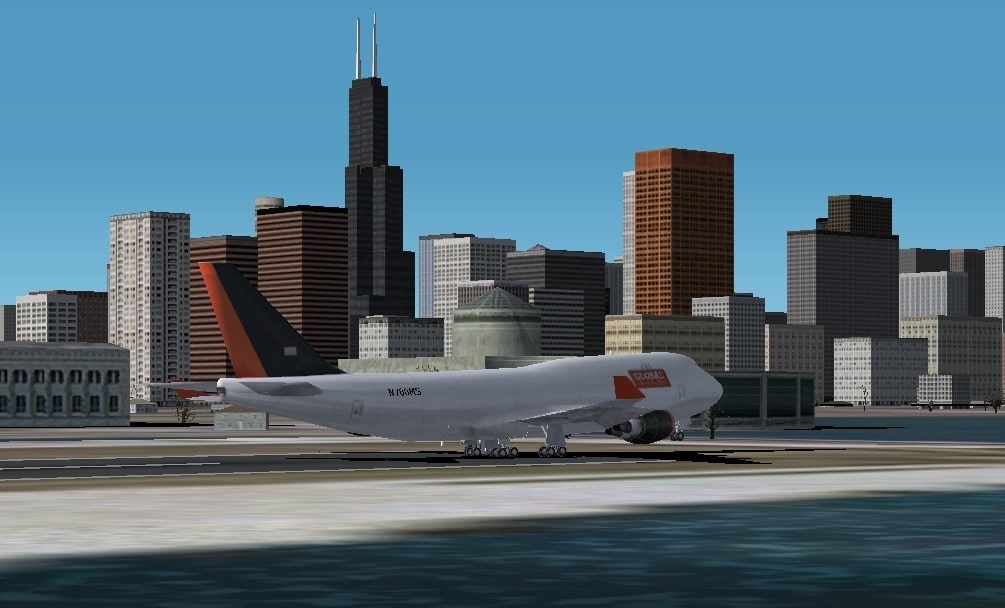 While Meigs Field was well known to Chicagoans, Microsoft Flight Simulator turned Meigs into an aviation icon. However, the good times wouldn't last. Forces far outside the control of flight simmers were gathering, and they had different plans for flight sim's most famous airport.
Cloudy Skies
Talk of closing Meigs Field began in 1980s, when Chicago Mayor Jane Byrne expressed a desire to turn the lakefront airport into a park. However, closing Meigs Field wasn't that simple. Under a grant agreement that the city of Chicago had with the FAA, the field needed to remain open and operational for as long as the airport held the lease on Northerly Island.
In wasn't until 1996, that Byrne's successor Richard M. Daley found a way out of the city's agreement with the FAA. Northerly Island was owned by the Chicago Park District and leased to the Chicago Department of Aviation who operated the airport, so when the lease on the land was set to expire in 1996, Daley instructed the Park District not to renew it. This freed the city of any obligation to the FAA. The airport was closed to traffic in October of 1996 and plans were underway to turn the site into a park.
However, local opposition to the plan was taking hold, led primarily by the Aircraft Owners and Pilots Association (AOPA), The Friends of Meigs Field, and various Chicago area businesses. Meigs, it was argued, was of vital importance to the City of Chicago due to its status as a reliever airport as well as providing a base for medical and search and rescue helicopters. The AOPA and others filed suit against Chicago and the State of Illinois to stop the closure of the airport.
These arguments were enough to sway the Illinois State Legislature to take action. They voted in December of 1996 in favor of a state takeover of Meigs Field to preserve its status as an airport.
This put Mayor Daley in a tough spot. Not only would his plans for a park be put on hold, but he was now at risk of losing control of Northerly Island completely. So he did what any good Chicago politician would do, and struck a backroom deal with Illinois Governor Jim Edgar. Daley agreed to keep the airport open until 2002, and in return Edgar would quietly kill the legislation which would have transferred the airport to state control.
Meigs Field Is Saved!
Thanks to the efforts of local pilots and the Friends of Meigs Field, the airport would reopen in January of 1997. The airport continued operations as usual and would be featured as the default starting airport in both Microsoft Flight Simulator 1998, 2000, and 2002. In 1999 the City of Chicago would declare an official Meigs Field Day celebrating the airports 50th anniversary.
Mayor Daley finally relented in his fight to close Meigs Field. Daley entered into a handshake agreement with Illinois governor George Ryan, in which Ryan agreed to support the expansion of Chicago's O'Hare airport in exchange to Daley agreeing for keeping Meigs Field open until at least 2006, later revised to 2026.
Of course, a handshake agreement wasn't enough. Saving Meigs for good would require Congressional action to formalize the deal, ensuring any future Chicago Mayor or Illinois Governor couldn't simply back out. However, despite lobbying efforts by the Friends of Meigs Field and the AOPA, the legislation that would have sealed the deal stalled in Congress.
Governor Ryan did not seek reelection in 2002 due to his previous involvement in a bribery scandal involving the illegal sale of government licenses. He was succeeded by former Illinois Congressman Rod Blagojevich, a co-sponsor of the legislation to save Meigs Field.
Although the the status of Meigs wasn't set in stone, things appeared to be going to plan for the AOPA and the Friends of Meigs Field. The airport was open and had gained some powerful allies in government. Any attempt to close the airport would likely be met with fierce resistance.
I mean, what was Mayor Daley supposed to do? Launch a clandestine operation to illegally bulldoze an active runway in the middle of the night?
The Clandestine Operation to Illegally Bulldoze An Active Runway in the Middle Of the Night
On the night of March 30, 2003, a secret plot masterminded by Chicago Transit Authority President Frank Kruesi, a close Daley ally, was set in motion.
A convoy of vehicles approached Meigs Field under the cover of darkness lead by Daley's budget director John Harris. The Chicago Police blocked the road leading to the airport, while a Chicago Fire Truck pointed a powerful spotlight at a live webcam overlooking the airport. With the airport secure, construction equipment from the Chicago Transit Authority was wheeled out onto the runway. Nobody needed to see what was about to happen.
Local news crews hearing of the commotion were soon on the scene. Friends of Meigs Field president Steve Whitney was close behind.
In the light of the morning, it was clear what had happened. The construction crew had gouged large Xs into the runway, rendering it unusable. No notice was given to pilots or the FAA. Sixteen aircraft were trapped on the ramp. Meigs Field had been destroyed.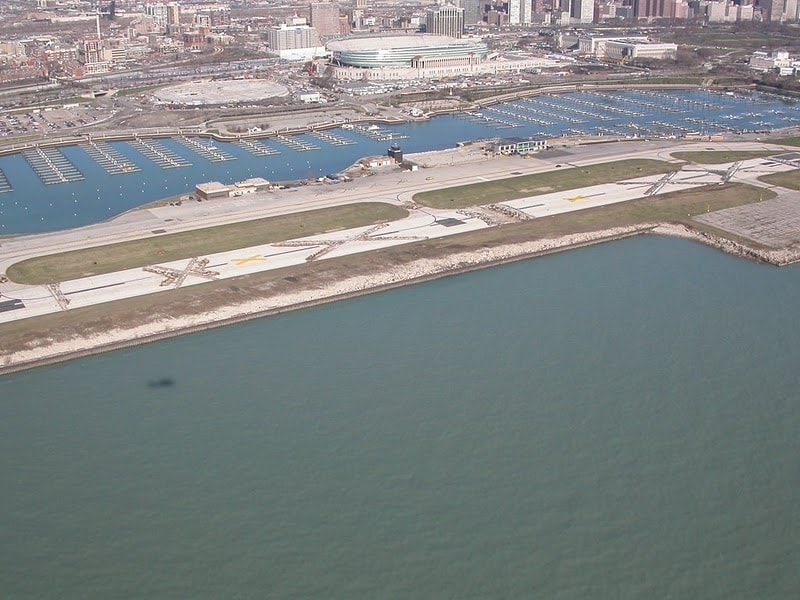 On March 31st, Mayor Daley held a press conference. He admitted that he had ordered the overnight destruction of Meigs citing concerns with terrorists using the airport's close proximity to downtown Chicago as a means to launch a surprise attack. Daley admitted to not being bothered by silly things like "informal agreements" or "federal law" by stating "To do this any other way would have been needlessly contentious."
You Maniacs! You Blew it Up!
Daley's comments were criticized by pilots and aviation enthusiasts who cited the fact that the US Department of Homeland Security didn't consider general aviation or Meigs Field to be a terrorist threat. Plus, other airports such as Chicago Midway serviced much larger planes nearly as close to downtown.
Some argued that by closing Meigs Field, Daley has actually made Chicago's skies less safe, because traffic in the downtown and lakefront areas was no longer controlled by Meigs Tower. The Friends of Meigs field would highlight an incident which occurred just days prior where Meigs Tower had averted a collision between two small aircraft in the busy lakefront VFR corridor.
While the Friends of Meigs Field and AOPA feverishly worked through the courts to stop further destruction of the airport, officials and pilots alike expressed their feelings on Meigs Field's closure.
A group of local pilots called Tuskegee Airmen Incorporated expressed dismay at their closure of their home airport; saying that it would put an end to their Young Eagles Program, which offered airplane rides to 7-17 year old schoolchildren in the Chicago area to foster an interest in aviation.
Daley was criticized in the media and by other politicians for his arrogance and flagrant abuse of power.
But hey, this is Simcident Report. How did flight simmers react?
Virtual Mourning Meets Real Action
Across the forums Daley's actions were harshly criticized as simmers mourned the loss of their iconic airport. Many threads and screenshots were posted in memoriam of "the coolest little airport on the planet."
It's hard to say exactly how much a group of flight simmers complaining on the internet actually had an affect on the fight to save Meigs Field, but it was enough for people to take notice. Even before Daley's deal with Governor Ryan, Friends of Meigs Field president Steve Whitney commented that he believed Flight Simulator fans would visit Chicago to see Meigs Field. "You can't pay for good PR like this. You couldn't possibly generate that kind of enthusiasm. That's not at the top of the list for keeping Meigs Field open, but it's not nothing. Meigs Field is clearly, without question, the best-known single-runway airport in the world."
The AOPA and Friends of Meigs Field had found an unlikely ally in their fight against Daley, in the form of thousands of people who had never been to Chicago and weren't even pilots.
Donations began to pour in support of The Meigs Field Defense Fund and online polls on the airport's destruction were dominated by angry simmers.
The donations to the Meigs Field Defense Fund by both real and virtual pilots enabled the AOPA and Friends of Meigs Field to fight back against Mayor Daley and the City of Chicago. The organizations experienced a temporary victory when the Cook County Circuit Court issued a temporary restraining order baring the city of Chicago from further demolition of the airport. The group also attempted to offer a compromise dubbed the "Parks and Planes" plan where Meigs Field would be reduced in size and surrounded by an aviation themed park with a new museum.
The matter dragged on in the courts for several months before it was ultimately ruled that the City of Chicago was allowed to officially close the airport.
The Last Laugh?
Although officially closed, March of 2003 was not the last time the airport was used by pilots. The aircraft that had been trapped on the tarmac when the runway was destroyed were given special permission by the FAA to take off without tower clearance from the field's remaining taxiway.
Two final landings at Meigs Field would happen in July of 2003. On July 12th a helicopter made an emergency landing at the destroyed airport after suffering a bird strike. On July 28th, Meigs saved another life when a Piper PA-12 made an emergency landing on the grass next to the destroyed runway after experiencing engine trouble. Mayor Delay reacted with anger at the landings insisting that the pilots were trying to embarrass him, but the FAA ruled that the pilots had acted appropriately in both emergencies.
So the pilots of Chicago ultimately did have the last laugh at Daley's expense… if you can call a series of terrifying emergency landings a laugh.
Facing the Consequences, Or Lack-thereof
In the wake of the destruction of Meigs Field, the FAA imposed the maximum fine for closing an airport with an instrumented approach without the required 30 days notice. This came out to $1,100 per day for a whopping $33,000. In addition to the fine, the city was forced to pay around $500,000 in legal fees, as well as repay an additional $1 million in FAA grants that it had improperly used to demolish the airport.
The AOPA and Friends of Meigs Field didn't give up the fight after losing the airport and successfully lobbied congress to include the "Meigs Field Legacy provision" in a reauthorization bill for the FAA. The provision raised the fine for closing a runway with a charted instrumented approach without the required 30 days notice from $1,100 per day to $10,000 per day.
The Ghost of Meigs
What happened to Northerly Island?
Daley's grand plan for a park which at one point included plans for playgrounds, botanical gardens, a lagoon, a snorkeling bay and a stargazing hill was slow to take shape. For years the park remained largely a barren patch of grass with a few walking paths.
In 2005, part of the former Meigs Field became a 30,000 seat open air concert pavilion known as Huntington Bank Pavilion. Despite being intended as a temporary venue, it has been open for over 17 years.
While Daley's act of illegally destroying Meigs Field drew wide condemnation from commentators inside and outside of Chicago. In the years since, the reaction from the wider public has been a bit more mixed.
For many of those in Chicago, Meigs Field represented a valuable piece of lakefront city property sectioned off for the exclusive use of the 1%. Even among pilots, Meigs Field had a reputation of being a particularly expensive and exclusive place to land or store an aircraft. Northerly Island Park, it was argued, could be truly enjoyed by all Chicagoans. In the eyes of many, Daley took on the image of a sort of reverse cartoon villain, by destroying a facility for the rich to build a community park for everyone.
During the parks grand opening in 2015 Illinois Senator Dick Durbin recalled Meigs Field as the place where small planes shuttled politicians between Chicago and the state Capitol in Springfield. "It was Springfield's personal airport, It is now being put to great use."
Chicago Mayor Rahm Emanuel who succeeded Daley after his retirement in 2011 held a similar sentiment. "Meigs Field is no longer here. Northerly Island will be a part of the city in a way that everybody can experience. The plan developed for this was the right thing to do and now, we're realizing that plan." Emanuel would add "I'll leave it to others to make that judgment [of whether the end justified the means]. I think it was the right thing to do . . ."
As of 2022, Northerly island is finally taking shape as the natural oasis along the lakefront it was intended to be.
Your Daley Dose of Corruption
Ultimately, while nobody was charged with any crimes related to the destruction of Meigs Field, a number of high profile figures involved in the airport's destruction would end up in prison anyway.
Governor George Ryan whose handshake deal with Daley would have kept Meigs Field open was sentenced to 6 and a half years in prison for his involvement in the illegal sale of city licenses and contracts. His successor, Rod Blagojevich, who also supported keeping Meigs Field open, would be convicted of attempting to sell the US Senate seat vacated by Barrack Obama after the later was elected President of the United States in 2008. He was sentenced to 14 years in prison.


Frank Kruesi, Chicago Transit Authority president and architect of the midnight raid against Meigs Field would retire in 2007. He would later downplay his role in the Meigs Field Massacre saying "I was involved with meetings, but others were, too. Who was involved and to what extent, when and so forth, the answer to that is, let it work itself out within the courts." He somehow escaped Illinois Politics without going to prison.
John Harris who lead the convoy of vehicles into Meigs on the other hand, was reportedly so proud of his role in the closure that a picture of him standing on the destroyed runway hung in his office for years afterwards. He would later end up embroiled in Governor Rob Blagojevich's Senate seat sale scandal for which he would serve 10 days in prison, a lenient sentence given due to his testimony against the former governor.
Mayor Daley would leave office in 2011 ending a 22 year run as mayor, the longest in Chicago's history. He would leave behind a controversial legacy beyond his closure of Meigs Field. He was credited with a period of rapid expansion of Chicago's downtown, an increase in benefits for city workers, and a number of major parks expansions. On the other hand, he was roundly criticized for his increasing privatization of city services, rampant police brutality, and a budget policy which favored short term cash over long term stability. When he left office The City of Chicago was on the verge of insolvency.
Meigs Field Forever
Although the real airport is long gone, in the virtual world, Meigs Field managed to live on. In Microsoft Flight Simulator 2004 the airport remained open, although no longer as the default starting location. That honor would go to Seattle-Tacoma International Airport not far from Microsoft's Redmond headquarters. In 2006's Microsoft Flight Simulator X, Meigs Field was finally removed from the sim. The default flight was moved again to Friday Harbor Airport on San Juan Island in Washington state.
For those feeling nostalgic (or perhaps spiteful against Mayor Daley) Meigs Field could be restored to it's former glory with any number of payware and freeware add-ons for FSX, P3D, and FS2020.
Meigs Field would be officially reintroduced to Microsoft Flight Simulator with the release of the 40th Anniversary update in November of 2022, opening up the coolest little airport on the planet to a whole new generation of simmers.
Just keep an eye out for suspicious convoys of construction equipment…