X-Plane developer X-Crafts have released their highly anticipated Embraer Regional Jet Family for X-Plane 11 and 12, including E170, E175, E190, and E195 derivatives of the plane.
The Embraer E-Jets family is a famous regional jet with flight simmers and Airlines. With over 1,500 models produced, this jet is known for its excellent short-range and regional hop capabilities. This release fills the market for E-Jets in the X-Plane world following the tumultuous release of the FlightSim Studio E-Jets for MSFS, which shares the 3D model with the X-Crafts version.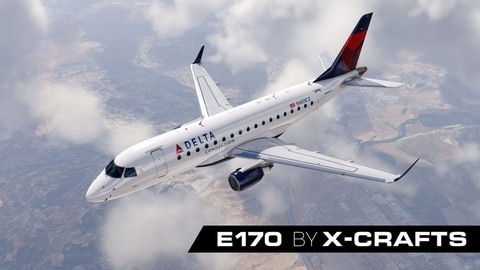 X-Crafts tout their product as the new standard for regional jets in commercial flight simulation, adding that 16 real E-Jet pilots were involved throughout the nine years of development that went into the E-Jets addon. This release promises to significantly improve upon their 2.5 version, which was recently made free. The developers have also announced that the package will be updated to include the Embraer Lineage 1000, a private jet version of the E-Jet family, which owners will receive for free.
Features included in the X-Crafts E-Jets Package:
Systems and Avionics Modeling:
The systems have been developed using input from the E-Jet pilots to recreate as close to a one-to-one product as possible. The release includes a purpose-built LNAV and VNAV for the custom autopilot developed for the E-Jets package.
The Avionics are modeled with a one-to-one resolution and includes many of the menu displays frequently used E-Jet pilots, such as a high-resolution NAV map, Vertical Situation Display, and a suite of synoptic/systems displays for monitoring aircraft systems.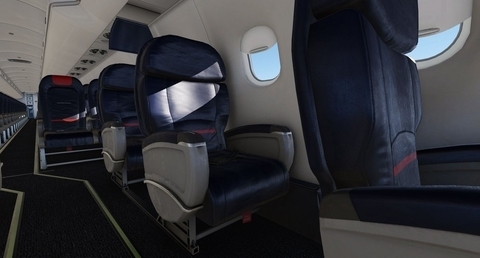 Flight Management System (FMS) and Electronic Flight Bag (EFB):
The FMS was developed with input from real-world E-Jet pilots to create a system that should feel much like the FMS on the actual plane. All FMS functionality and a detailed suite of manuals are included for those wishing to have a greater understanding of systems.
The product includes a custom EFB which allows pilots control over doors & ground services, weight & balances with Simbrief data import, takeoff & landing performance calculations, and a checklist.
3D and Physics Modeling:
The developers state that the modeling of the E-Jets took over 2000 hours, with a near-perfect replication of the interior and exterior of the aircraft. Using color and 3D scans to verify dimensions, developers state that real-world pilots feel "at home" in the X-Crafts' E-Jet cockpit.
X-Aerodynamics worked on the flight model, a well-known industry standard for flight dynamics in X-Plane. The result was tested by real E-Jet pilots, and the model has been optimized for both X-Plane 11 and 12.
The entire E-Jets family is available through X-plane.org for $134.95 (€124.10). However, each aircraft derivative is available individually for $74.95 (€68.92) for purchase at x-plane.org's Embraer category.