Fenix Simulations took to their blog earlier today to further detail the performance improvements that we can expect following the release of Phase 1 ("Block 1") of the V2 update of their rendition of the Airbus A320.
Table of Contents
A320 V2 performance improvements
Aamir Thacker, the lead developer at Fenix Simulations, explains that rectifying the arguably poor performance of their A320 on customers' PC took thousands of hours of work across various departments. In order to fix the lackluster performance of their aircraft rendition, the team at Fenix Sim committed to a total rebuild of their display rendering pipeline. Along with auditing the V1 model and systems code, the team managed to "squeeze out every last drop of FPS and VRAM efficiency" that was logically possible. Aamir then provided some benchmarks from beta team members across various hardware configurations to provide us with a clear picture of what we can expect.
The first system benchmarks we see is a system running an Intel i7-8700K processor and an AMD RX6800 graphics card rendering at 1080p resolution in DX11 mode. The V2 version runs at a frame rate of 29 FPS whereas the older V1 version ran at 22 FPS. A performance increase of about 32%. For further comparison, PMDG's B738 rendition runs at a frame rate of 27 FPS on the same setup.
Another system on which the product is benchmarked is a setup running an Intel i9-13900K processor paired with the NVIDIA RTX4090 graphics unit. The Fenix A320 V2 runs at a frame rate of 85 FPS compared to V1's 75 FPS, an increase of about 13%. For reference, the PMDG B738 runs at about 80FPS. Moreover, a lot of systems with varying processors and graphics units were benchmarked and almost every time a significant performance increase can be observed.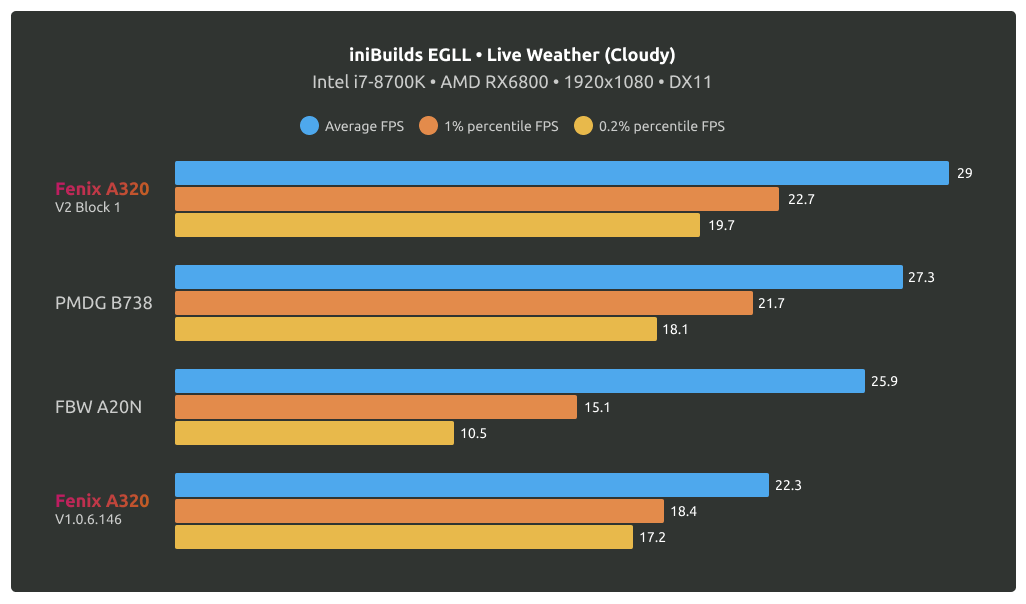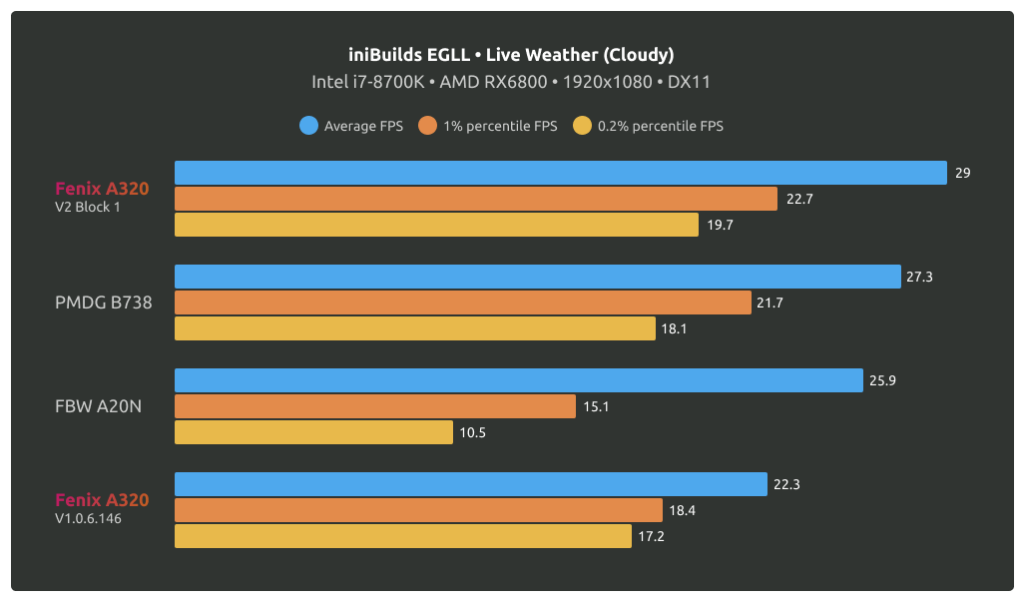 A couple more tidbits from Fenix Sim
Aamir also shares that despite shipping EFB v1 with Block 1, little improvements to the tablet have been made, some of which had been requested for a while, and others that are functionality improvements. For example, the EFB now has the new Navigraph mapping tiles in the "MAP" section of the Navigraph app which looks very appealing to the eye.
Another highly requested feature was the 180 single-class passenger layout, which at the moment can't be supported in tandem with the 162-passenger layout. Currently, V2 Block 1 has the updated 180PAX layout but an option to switch between the two will be implemented in the future.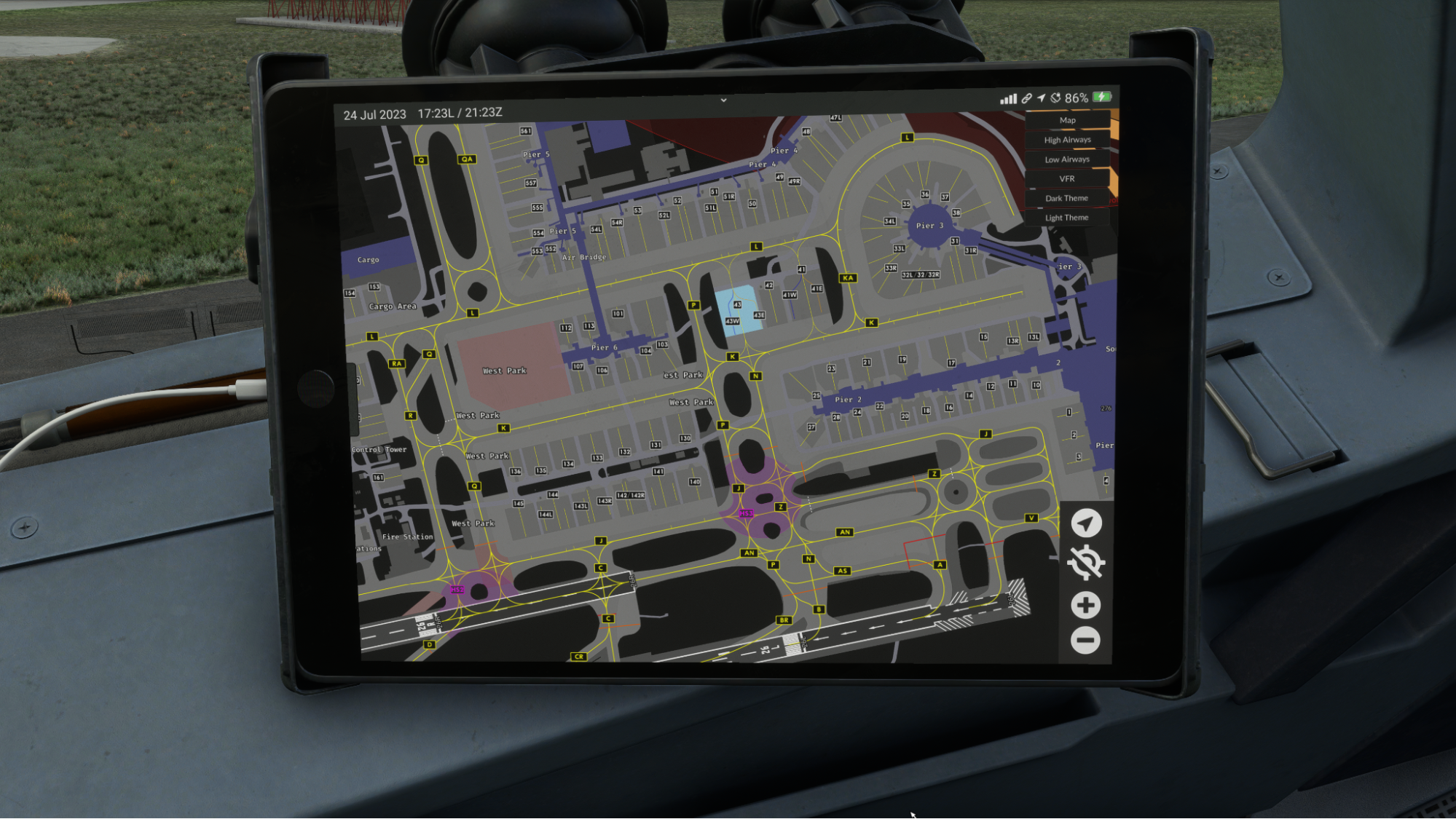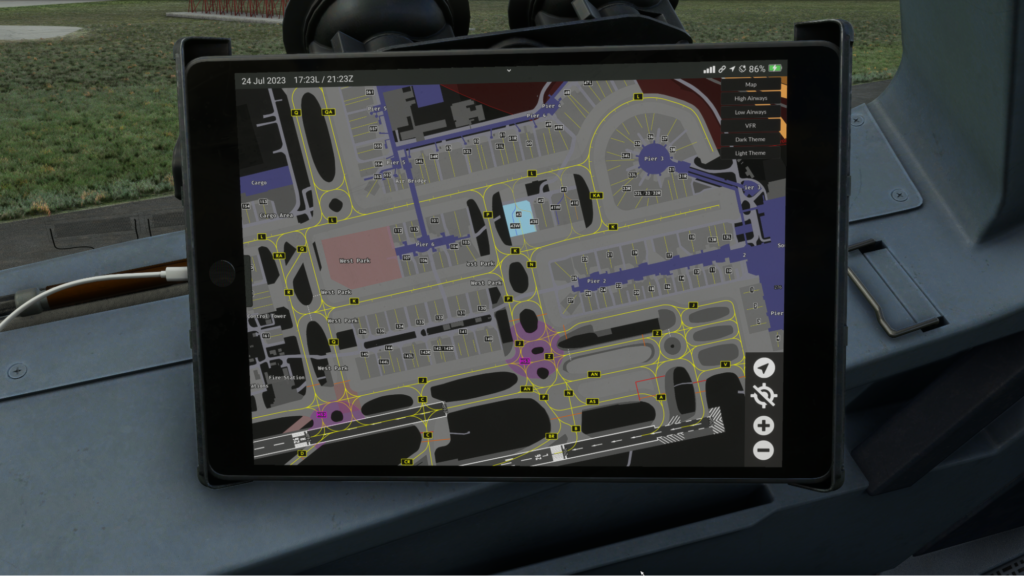 Overall another very exciting update from the folks over at Fenix Simulations after yesterday's surprising and frankly sensational announcement. I for one cannot wait to try out the new performance gains, better visual model, and the IAE engines which hopefully will be in our hands come the end of September. For further reading do check out our coverage of other MSFS news, announcements, releases, and reviews.