The controversy surrounding Flightsim.to's Creators Program and the site's deletion policy rollout appears to be coming to a conclusion.
As we reported previously, Flightsim.to caused a stir in the freeware add-on development community when several high-profile developers launched a boycott of the site after it was discovered that the site's terms of service included a clause that would prevent developers from deleting their creations. This lead to the heated discussion within the community in which Flightsim.to was accused of attempting to steal the developer's copyrighted work.  
Flightsim.to responded to the controversy, pointing out that a version of this clause had been present in the site's terms since nearly the beginning. A fact that we confirmed using the Wayback Machine. Flightsim.to would argue that the policy was necessary to prevent the deletion of popular add-ons that other members of the community had come to rely on.  
Despite this stance, Flightsim.to appeared willing to offer a compromise with the development community, first announcing that it would give developers until March 5th of 2023 to delete their mods from the site. This was followed up a few days later with an open Discord discussion on potential changes to the controversial terms of service which we reported on here.
The Changes
The new terms of service focus on greater rights for developers, reiterating that Flightsim.to claimed no ownership over uploaded creations, and adding a new clear policy for deleting add-ons from the site.
According to the official announcement page, the new policy will allow developers unrestricted access to delete their add-ons with some exceptions which require a waiting and notice period for the community.
Libraries: 90 days
Standalone Aircraft: 45 days
Popular or Trending User Content: 14 days

Files with about 25,000 downloads or more, including files which have seen more than 1,000 unique downloads within the last 24 hours

Featured User Content: 60 days

User Content that has been shared, advertised, promoted, highlighted or otherwise featured by the Site on social media, news or similar media channels

Community Request Fulfillments: 30 days

Files which have been assigned to a request or created in response to a request published on the Website's Requests section
The page also notes that any ratings, comments, pictures uploaded by others, and the page for the add-on itself will not be deleted and remain the property of Flightsim.to. 
Developers React
Reaction from the freeware developer community has been mixed.
On the Flightsim.to Discord, the majority of developers involved in the discussion of the new terms have expressed their support for the new deletion policy with many stating they have reversed their decision to delete or archive add-ons. 
Elsewhere, notable developers have welcomed the change such as Emerald Scenery Design who said in a statement on their Facebook page:
I have decided that .to seems to be on a good path to satisfying the majority of us, and as I don't want to cause any further confusion on my stance with .to moving forward, I have taken the "archived" flag off of all ESD addons uploaded on .to. This is all done under good faith that .to will honor their end and push forward with their revised policies.
However, not everyone is so willing to give Flightsim.to another chance, instead opting to upload exclusively to other platforms.
Global AI Ship Traffic Developer KL791 would state on the FSDeveloper forum:
I will not go back at this point. Trust is gone. If some time far out in the future things has changed dramatically. Maybe.

For now I can see that both Flightsim.com and Flyawaysimulation.com are taking the opportunity to improve their sites proposing more control to developers, and fundamentally I believe competition is good and we had come to a point where fs.to had become so dominant that it was bound to go wrong.
Other developers have taken matters into their own hands in the name of maintaining control over their work such as WildLynxPilot who announced the launch of their flight sim add-on site.
I removed all my sceneries from flightsim.to and constructed an own, small site for them. You can find all my sceneries at https://fsaddons.fi from now on.
GotFriends, who had been extremely vocal in their support of the developer boycott despite their payware distribution relationship with Flightsim.to, revealed that the site officially terminated their contract as a payware partner. 
At Got Friends, we are saddened by Flightsim.to's recent actions. Because of this, they have fully lost our trust. Our termination, by their decision, has left us searching for alternative distribution. We are currently working on expanding our official website to include all of our freeware products alongside our payware store.

If you have purchased our aircraft on Flightsim.to, rest assured that we are able to update those products on Flightsim.to. You will always receive updates from our team on that platform and your purchase will stay valid. If you are one of the users affected by Flightsim.to's policies and have lost the ability to access your purchases, please contact us so we can add those products to your account using our official website. We want to make it clear that nobody will lose any of their Got Friends purchases on Flightsim.to due to this unfortunate situation. 
GotFriends has begun distributing its freeware on their own website.
Continued Controversy
Although the developers have largely settled down, Flightsim.to has managed to generate further controversy from the flight sim user base for what has been seen as its attempts to shift blame away from itself and onto the developers. In a lengthy statement on Twitter, the site decried the vocal minority who was attempting to defame the site with false and unjustifiable claims. The statement would go on to reiterate the previous stance that other popular add-on sites had similar perpetual license policies in place and includes a handy chart comparing Flightsim.to to other sites.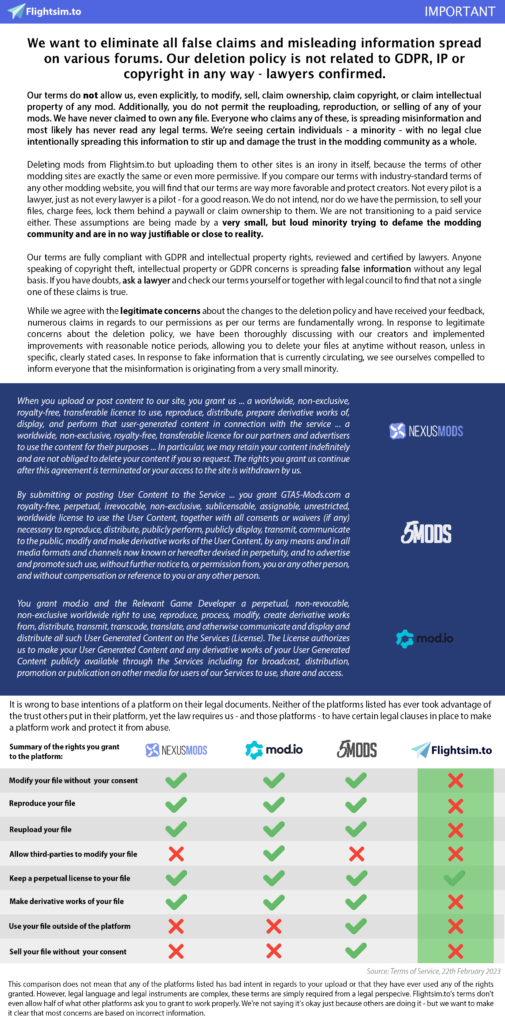 The statement has been met with a largely negative response from users on Twitter and Reddit.