This is the story of SATCO, flight sims premier multiplayer ATC network, and how it was torn apart by secretive deals, internal power struggles, and accusations of theft and fraud. The collapse of which, would lead to the rise of two of the most popular competing ATC networks, VATSIM and IVAO.
Welcome to Simcident Report, where we take a look at noteworthy, dramatic, and historic events in flight swimming.
Table of Contents
The Rise of Virtual ATC
In the summer of 1997, the world of virtual aviation was changed forever, thanks to a man named Jason Grooms and two pieces of software he developed called ProController and SquawkBox for users of Microsoft Flight Simulator for Windows 95.
ProController was a virtual radar program that could simulate the view of an air traffic controller while SquawkBox would allow pilots to communicate with controllers via text-based chat. A server-side program developed by Marty Bochane called FSD Server, would allow for real-time signaling and communication between virtual pilots and virtual ATC from anywhere in the world.
The software caught the attention of Tom Allensworth and his website, AVSIM, which soon began hosting what would be the first dedicated ATC multiplayer server. Interest in the software grew and soon afterward a management organization called SATCO, spearheaded by sim enthusiast Randy Whistler, was formed to facilitate a network of community-run ATC servers.
SquawkBox and ProController would soon be awarded the coveted Best Freeware Award as part of AVSIM's 1997 Best of the Year Awards. The website would write:
Without a doubt in our mind, Jason's SB/PC system has advanced the realism of flight simulation far beyond that which we could have reasonably expected from a single individual. Prior to July of 1997, we were saddled with limited alternatives in the realtime ATC environment, and those that were available had monthly costs that were prohibitive for most online simulation pilots.

Jason's programs opened the doors for thousands of pilots to participate in real-time ATC, which they might not have otherwise been able to partake in. Further, and maybe more importantly, Jason's program provided the pilot with the alternative of seeing ATC from the other side of the coin; that of the controller. This has provided users with the benefit of seeing real-life ATC in a different light, and one which all have benefitted from. The importance of the education that most have gained while using this system is immeasurable and will be long-lasting.
The world of flight simming had entered a new golden age of cooperation and teamwork. SATCO would soon expand to almost half a dozen servers within their SATNET. These servers were located around the world and in total played host to hundreds of users. A robust and dedicated community working together to provide ATC services to all!

But hey, this is flight simming. So… how long did it all take to fall apart?
And Now There's Two of Them
On December 16th of 1998, a new network would rise to challenge the fledgling SATCO, the International Virtual Aviation Organization, or IVAO. The group was formed by a contingent of European SATCO users such as Morten Hansen who were unhappy with the direction of the organization and the rules governing pilots and controllers.
The exact details of this disagreement are scarce, and as far as I can tell have either never been publicly addressed or have been lost to time. SATCO board member Harvey Stein would state years later:
When Satco was formed, it was the only online organization of its kind in the world. A gentleman named Morten Hansen was the European director for Satco Europe. I will not get into any details but Morten and Randy Whistler, the Executive Director of Satco had some differences in ideas for Satco and Satco Europe. Morten and Randy decided to part company and Morten formed IVAO.
Both IVAO and SATCO would use the same combination of ProController and SquawkBox for operations. For many, in the early years, the organizations were practically interchangeable with the primary difference being policies on training and qualifications for pilots and controllers. The European-centric IVAO was seen as the more relaxed but less realistic of the two. The North American-centric SATCO on the other hand was seen as stricter but more realistic. Both gave players the chance to fly in a more cooperative and realistic manner and were well-liked by players and controllers alike, aside from the occasional flame war between users arguing over which was the superior offering.
The IVAO split may have been the first sign of trouble for SATCO, but it was far from a death blow to the organization. SATCO continued to grow into the new millennium, but soon enough, cracks would begin to appear in the foundation of the organization.
The Microsoft Deal That Wasn't
On April 11th of 2000, John Eisenhour, the administrator in charge of SATNET, announced his resignation from SATCO citing "personal reasons" for his departure. The next day, AVSIM would announce the abrupt closure of their SATNET server.
The announcement of AVSIM's departure from SATCO and SATNET caused quite a stir in the virtual ATC community. AVSIM had operated one of the largest and most active servers and had been involved in the SATCO organization since the beginning.
AVSIM's Tom Allensworth would state his reasons for the closure a few days later in an editorial posted to their website. The core of the issue was a rumored deal between SATCO and Microsoft Germany that would have bundled SquawkBox and ProController with the next version of Microsoft Flight Simulator. In exchange, Microsoft would host two European-based servers and donate them to SATNET.
Allensworth would point out that SATCO did not own the rights to either piece of software and therefore was in no position to negotiate such a deal. Furthermore, he argued, the integration of the virtual ATC network with the base Microsoft Flight Simulator would cause an influx of potentially thousands of new users to the network, far more than the two Microsoft servers could handle. These users, Allensworth argued, would be passed on to the community-run SATNET servers which would need to pay for the increased load out of pocket. This was all done without consulting any of the server owners.
Now, Allensworth's article may come across as gatekeeping… because it is… but he had a good reason to worry. With the explosive growth of the internet in the mid to late 90s many online communities had found themselves unable to cope with the influx of new users. Therefore, Allensworth believed that a deal with Microsoft was not in the best interest of SATCO and the SATNET community. It was his belief that such a deal would not have gone through had the server owners been consulted. In response, the SATNET server owners would announce their departure from SATCO and the formation of their own management group, SATSERV.
Allensworth would close his argument with a statement insisting he was not out to destroy SATCO:
Finally, there will be a few who think AVSIM is on a campaign to destroy SATCO. After having invested substantial amounts of time and money to its success, that would be a rather stupid thing for us to do. What we want to see are some fundamental changes in the organization and its management. SATCO is bigger than one person or even two. It is a world wide community that deserves our collective attention and support. But…. it must become more open, more sensitive to its users, and a much more friendlier place to fly. And the most important point of all – it cannot cut deals that have the potential to impact so many without those many having an opportunity to participate in those larger decisions. If it cannot do these things, than [sic] an alternative must be considered.
Deal or No Deal?
In response to AVSIMs open letter, SATCO Europe (SATEUR) director Broder Illing would write his own explanation of the so-called "Microsoft Deal".
Illing would say that a friend of his, an avid SATCO user, had told his friend at Microsoft Germany about SATCO. Microsoft Germany then reached out to Illing with an offer to host two European SATNET servers. In exchange, they would provide a link to SquawkBox and ProController in an advertisement for an upcoming Microsoft Flight Simulator. Microsoft also expressed an interest in providing assistance to the developers of SquawkBox and ProController to ensure that their software would be compatible with the new sim.
Illing emphasized that Allensworth and Eisenhour were informed of the potential deal as it was being discussed. There was no plan to sell SATCO, ProController, or SquawkBox and Illing emphasized that neither he, Randy Whistler, nor any of the SATCO leadership was authorized to make this sort of sale.
Though a lot of people might think it, SATCO is not, I repeat NOT owned by Randy Whistler at all. he owns the name and the SATCO Website. That's it ! So I would really like to know how he should be able to sell it ? The whole SATCO System is owned by it's Users …YOU ! So if we think it further there is absolutely now[sic] way that it is ever going to be sold at all. maybe the name, yes but would that really matter. It would continue to exist under a different name.
I sincerely hope that this puts some light on these very unfortunate things and I really regret that AVSIM has chosen to go this way.
Illing's response seemed to work. The majority of the servers soon returned to SATNET, now rebranded as SATSERV. However, neither AVSIM's server nor Eisenhour would not return to SATCO. SATCO's official forums would move away from AVSIM would find a new home at SimFlight.com
The conflict between AVSIM, SATNET, and SATCO highlighted a growing point of contention within the community. If SquawkBox, ProController, and FSDServer were owned by their respective developers, the SATNET/SATSERV servers were owned by server admins, and the system was owned by the users, then what did SATCO own other than a name? Who really was in control of SATCO? What even was SATCO?
And most importantly, where was all of that money simmers donated to SATCO going?
Virtual Ground Stop
A little over a year after the collapse of the "Microsoft Deal," on June 7th of 2001, SATCO was again rocked by scandal with the surprise announcement of the resignation of Deputy Director Harvey Stein. Stein would say in a statement:
To All Members.

Due to fundamental differences of accountability and direction
within SATCO, I resign my position as Deputy Director and my membership from the organization.

This decision is mine alone, as the fun is no longer there for me. The laughter is gone and I know in my heart this is the right move. I have lived my life on values and principals which I no longer find at SATCO.

The friendships I have made will always be cherished and hopefully we
will all be together on the other side of the fence in the near future.

Blue Skies and God Bless Always,

Harv.
AVSIM would publish this letter along with accusations against SATCO director Randy Whistler. According to AVSIM, an unnamed reliable source had informed them that $3,700 in funds donated to SATCO had not been used to support the growth of the network but instead were being used by senior management members to purchase personal computers. AVSIM would also allege that members of SATCO were running an authorized CafePress store and profiting from sales of the organization's logos and assets.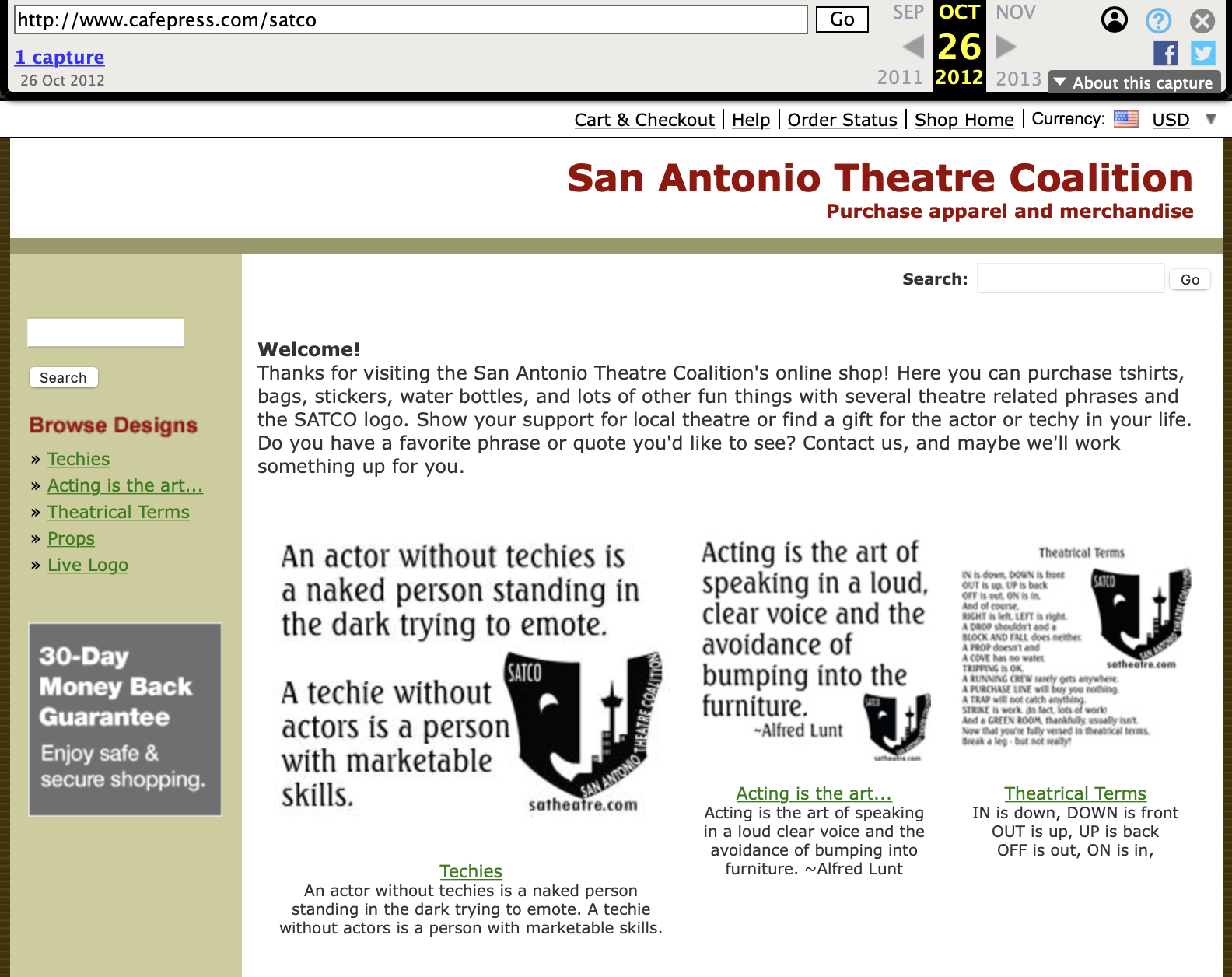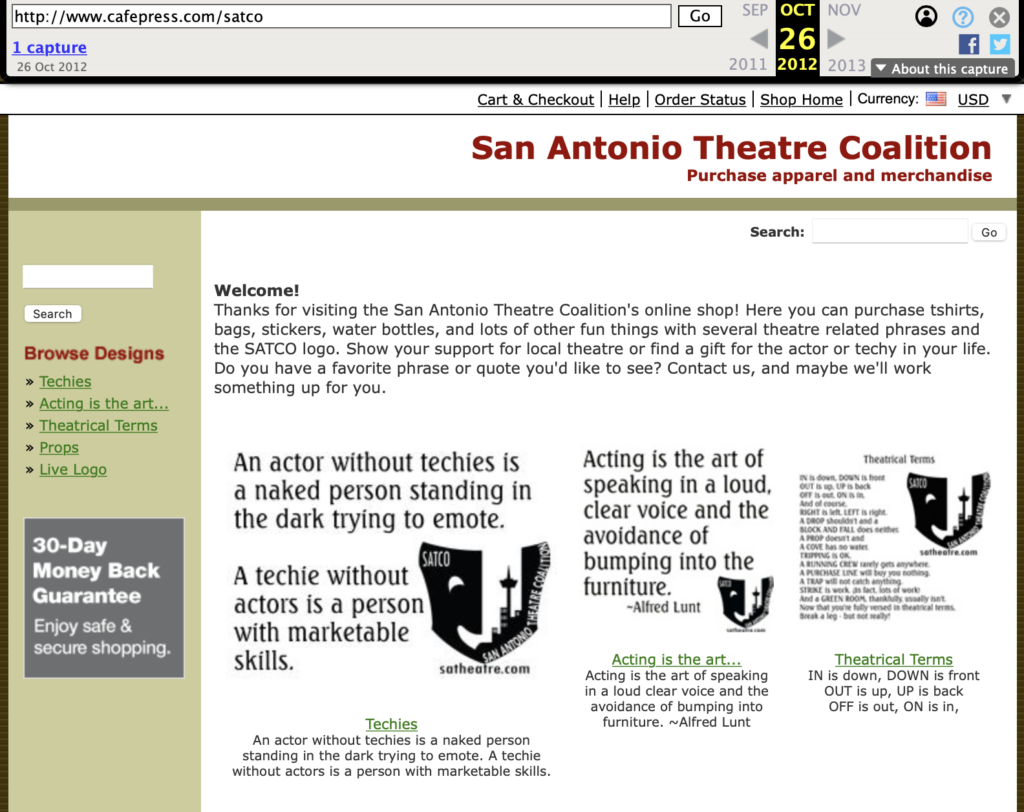 The resignation of Stein and the publication of the allegations against SATCO lead to a cascade of high-profile departures from the organization.
To make matters worse, Joe Jurecka, the developer who had taken over maintenance of SquawkBox would publicly state that by soliciting donations, SATCO was in violation of the SquawkBox user agreement which prohibited commercial usage. Jurecka would call for a boycott of the organization in response.
Simmers who had donated money to SATCO demanded a detailed accounting of how these donated funds were spent. Whistler would respond to these demands with an apology while also denying any wrongdoing on the part of himself or SATCO management. He admitted that they had not done the best job tracking and accounting for donations and would also explain the unauthorized CafePress store as part of an abandoned experiment to use merchandise sales to fund SATCO.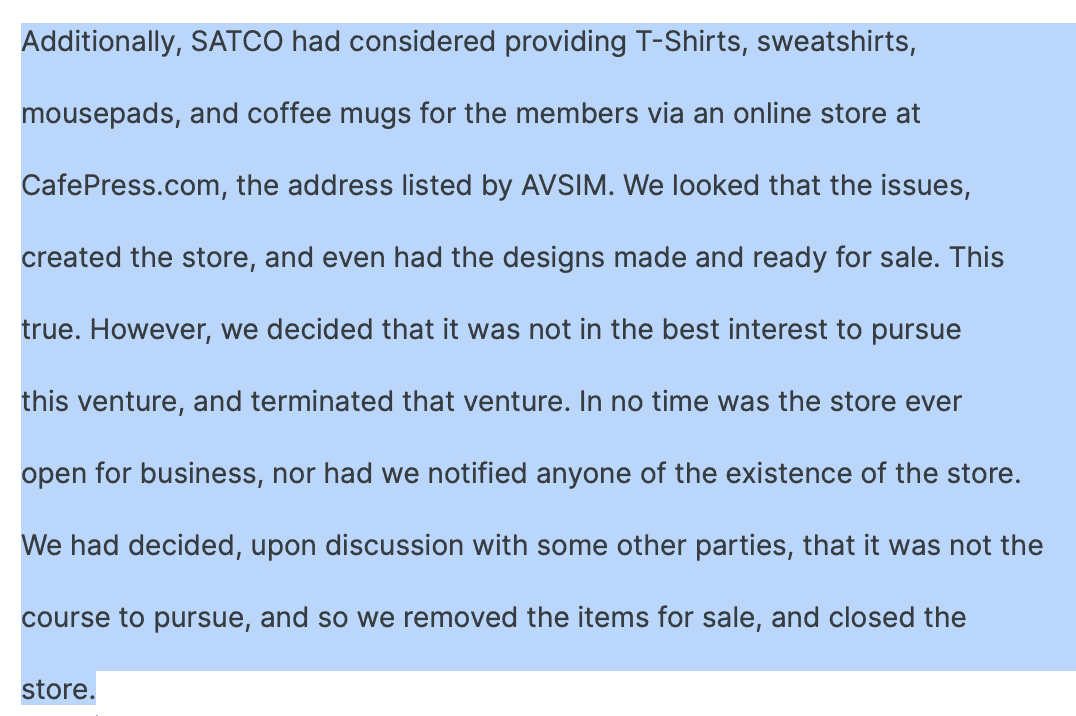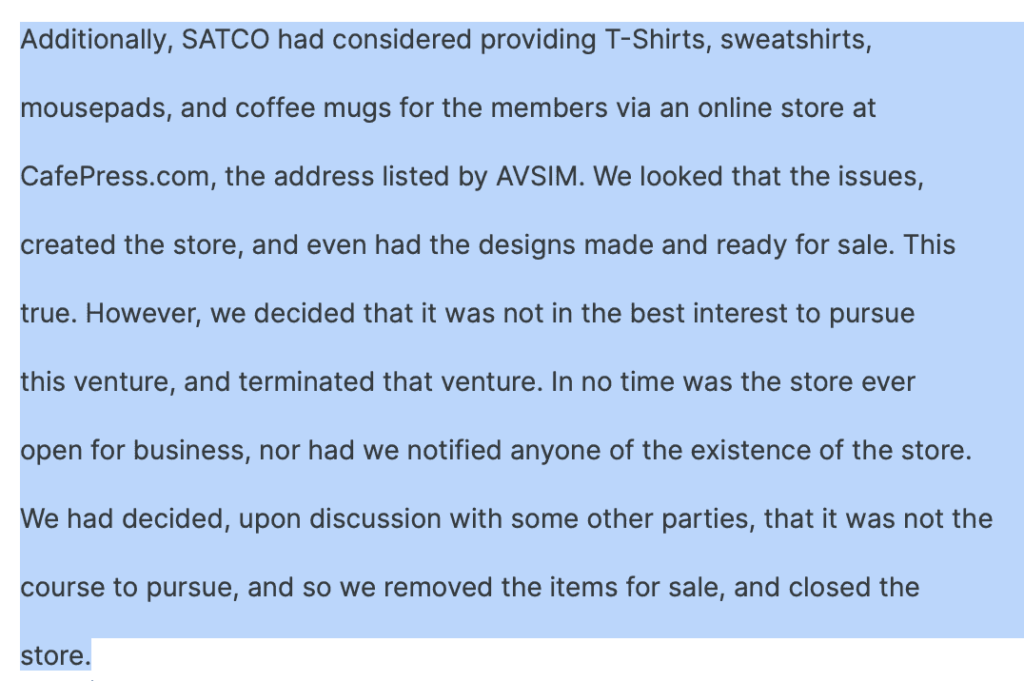 Whistler promised that he would provide detailed bank statements as proof of his claims.
The online world waited an excruciating two days for this proof to surface. Simmers began to grow restless with some wondering if the evidence would come at all. Clearly, some tough questions needed to be asked of SATCO and Randy Whistler. And who better to ask them than the self-appointed moral arbiter of fight simming, Mr. Tom Allensworth himself?
Allensworth V. Whistler (AVSIM Sup. Ct. 2001)
Allensworth wrote an email containing his interrogation questions to Whistler, giving him 24 hours to respond… he then arbitrarily decided that Whistler wasn't going to respond and posted the questions publicly to the AVSIM forum anyway because of course he did.
Whistler would respond later the same day. The conversation was not archived as part of AVSIM, but a complete transcript of the interrogation is available thanks to a Norwegian flight sim forum whose users followed the events as they unfolded.
The post begins with Whistler explaining that due to personal issues with illness in his family, he has not been able to respond to users in a timely manner. He admits this undoubtedly contributed to the growing confusion.
The questions from Allensworth pointedly ask Whistler to account for money spent on things such as the $2,500 in donations received for the 1999 SATCO convention in Kansas City and $3,700 donated by users to help with SATSERV server costs.
Whistler insisted that all of the Kansas City money had all been spent on the convention while the server donation money was just sitting in a bank account. In fact, no server owner had even asked for any of these funds to be distributed. Many of the SATSERV servers were hosted by universities and could not accept these funds. The board had discussed purchasing servers for SATSERV themselves but the funds wouldn't cover the operating costs for a whole year.
Whistler felt he did not need to keep a detailed account of how donations were spent as there were no agreements in place requiring SATCO to do so. In fact, the SATCO board had never asked for donations in the first place. The donation page was introduced in response to user requests.
Whistler would admit that the organization's accounting practices were substandard and that there was undoubtedly more that he could have done to keep the community informed. The donated funds had been kept in a general SATCO bank account and not in a separate donation account. Additionally, credit card donations would pass through Whistler's personal PayPay account, adding a layer of complication to keeping track of the donated funds.
If anything, the issues facing SATCO could be attributed to a series of mistakes, not malicious intent. Whistler would agree to demands that SATCO's books be reviewed by Harvey Stein for accuracy.
Whistler would say in response to SquawkBox developer Joe Jurecka that he nor his lawyers believed SATCO was in violation of the SquawkBox license agreement by accepting donations for SATCO. He would point out that SATCO itself did not run or distribute the software and was therefore not subject to the EULA. Whistler argued that SATCO claimed no more ownership over SquawkBox than they claimed over Microsoft Flight Simulator.
Whistler ended his message with a promise that all donated funds would be returned to users. He would also announce that he would be stepping back from the control of SATCO. Instead, control of the organization would be handled by a new governing board.
Stein Responds
Just two days after Allensworth's interrogation of Whistler, Harvey Stein would write his own take on the situation. Stein would document through emails going back several months his and other SATCO leader's constant requests to Whistler to provide a detailed accounting of funds or access to SATCO bank accounts. Whistler would only provide summary statements with information omitted and seemed to be deliberately dodging questions. He would say that he didn't see a need to account for the donated money and that it was nobody's business how much money he had personally spent on SATCO.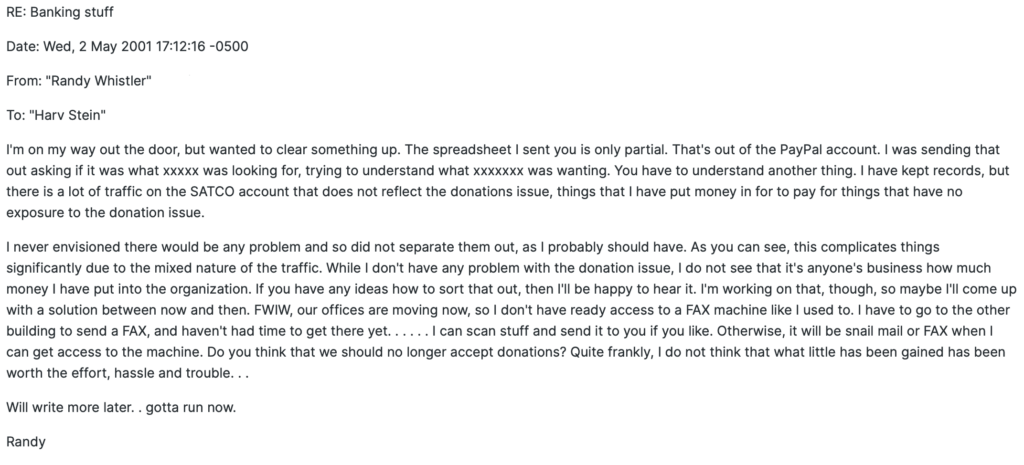 Throughout his emails, Whistler seemed to blame the users for SATCO's accounting problems with comments saying their money "came with strings" and that he "thought that people who were donating were trying to help out and understood the situation". Whistler appeared to grow increasingly frustrated with the situation regretting that they had ever accepted donations in the first place. At this point it seemed there was nothing he could do that would satisfy the simmers who wanted a voice in how his organization was run.

Stein was growing increasingly frustrated with Whistler. According to Stein, Whistler didn't seem to understand that their "little club" was a 45,000-member organization and that those members deserved answers. Finally, Whistler appeared to agree to send a detailed accounting statement to Stein for review.
An entire month came and went with no further communication. During this time, Stein was made aware of the CafePress store by other members of the board. Stein insisted that he nor many other board members were aware of this store. According to another unnamed SATCO board member, Whistler had admitted that the store was set up by him for his own profit.
This revelation and the lack of communication from Whistler regarding the documents would lead Stein to resign from SATCO, with other high-profile leadership following him. What little documentation he did have was sent to a lawyer for review with the lawyer pointing out a host of inconsistencies in the numbers.
Stein would call on Whistler to allow for a full audit of SATCO and for the results of this audit to be made public for all members.
Like A Virtual Phoenix from The Virtual Ashes
The backlash against SATCO was swift and severe. With many already unhappy with how the group was being run, Stein's resignation and Whistler's attitude toward the users proved to be the push needed to force them to leave SATCO. Over the coming weeks, various SATCO divisions and the International Virtual Pilots Association would announce their closure or departure from the SATCO network.
But there was one small problem… Where were these users going to go?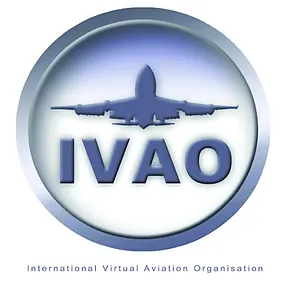 Clearly, the market was ripe for an alternative, and soon enough a new organization would rise to fill the vacuum left by the implosion of SATCO. This challenger came on July 12th of 2001, with a press release when Harvey Stein announced The Virtual Air Traffic Simulation Network, or VATSIM.
The new organization promised greater transparency and a regional network of staff to assist in local operations. The network would be supported by nine former SATCO divisions and six servers located throughout the world. AVSIM would support the new organization by hosting their forums. Perhaps most exciting for users, VATSIM announced that former SATCO users could transfer their existing rank and certifications from SATCO to VATSIM.
VATSIM operations were planned to begin on July 27th of 2001.
But what would happen to SATCO?
So Are We Still Fighting Or…
In the wake of the announcement, simmers expressed concern and confusion about the status of VATSIM and SATCO. Was VATSIM replacing SATCO? Were they going to compete? Were users going to be forced to choose? Were the regional ARTCCs going to choose for them?
Rumors swirled about a mysterious "Joint Statement" from VATSIM's Harvey Stein and SATCO's Randy Whistler that would come any day and clear everything up. Users, including higher-ranking SATCO members, spread rumors that VATSIM would be merging with or acquiring SATCO.
Instead, on July 18th, simmers got an even more confusing announcement from VATSIM which stated that in late June, VATSIM and SATCO had reached a tentative agreement regarding a merger between the two organizations. Still, such a merger was now on hold because Randy Whistler had not signed the paperwork. VATSIM went on to publicly threaten to withdraw from the agreement if Whistler did not return a signed copy to Harvey Stein before VATSIM's opening date.
Days passed with no additional news. It seemed that any deal between VATSIM and SATCO was dead. Until, on July 24th, just three days before VATSIM's launch, VATSIM and SATCO released a joint statement. Under a new agreement, VATSIM would assume control of all remaining SATCO operations. The SATCO.org domain name would be purchased by VATSIM for $120. Lastly, VATSIM reached an official agreement with developer Joe Jurecka to officially license his software for use in VATSIM.
As a result of these deals, users of SATCO would be migrated to VATSIM with minimal disruption. On July 27th, VATSIM officially began operations. Despite a few technical issues, the event was a success with 1,753 active users, and a peak traffic load of 402 connections during the first 24 hours. By the end of the month, VATSIM boasted over 7,000 registered users.
Proceed Direct to History
SATCO has largely faded from memory for most simmers, but the legacy of the first ATC network can still be felt today. For over 20 years, VATSIM and IVAO have both served simmers from around the world giving them exposure to a simulated air traffic control environment. Other networks such as PilotEdge and POSCON have also risen to fill various niches in online ATC. All can trace their origins to a few pieces of software written by enthusiastic simmers in the late 90s, and an argument about donations that nobody asked for or knew what to do with.