The team at Aerosoft recently opened a dedicated website to share exclusive updates regarding their upcoming Airbus A330 rendition for Microsoft Flight Simulator.
This new website will keep flight-sim enthusiasts up-to-date with the ongoing development on the aircraft, eliminating the need to browse through Aerosoft's forum page.
Table of Contents
Website Sections
The website features three sections: a Dev-Update page, a Gallery and an FAQ page,.
Dev-Updates
This section is dedicated to the latest news and events around the development of the Aerosoft A330.
In the latest development update (at the time of writing), Aerosoft vowed that they were: "in the process of finalising the feature set of the first A330 platform product release".
The developer confirms that the exterior model, EFB interface, and a majority of systems for the A330 are modelled as planned. This ensures that most features are functional, enabling beta testers to safely fly the aircraft from point A to B.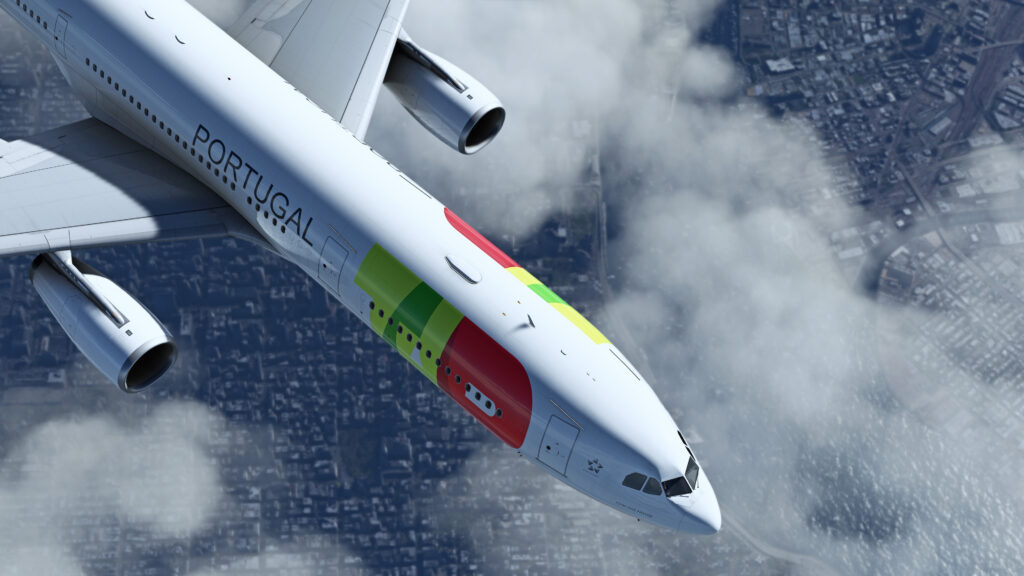 However, the developer added that flight testing revealed instances where some features related to the autopilot and FMS (Flight Management System) did not operate as expected. For example:
The lateral tracking of the ILS approach is not precise enough under certain circumstances and lets the aircraft touch down next to the runway.
With certain waypoint types the autopilot does not intercept the following track correctly but oscillates around the track.
After importing a flight plan into the MCDU, a performance loss is noticeable. Entering the same route manually, however, does not cause any problems.
Finally, Aerosoft stated that they are still working "on the soundscape and the usability of the cockpit". They have also confirmed that documentation for the aircraft is getting drafted, ensuring that all customers get access to learning material on day 1 of the release.
FAQ section
This handy section allows simmers to get concise answers to some of the most frequently asked questions around the Aerosoft aircraft.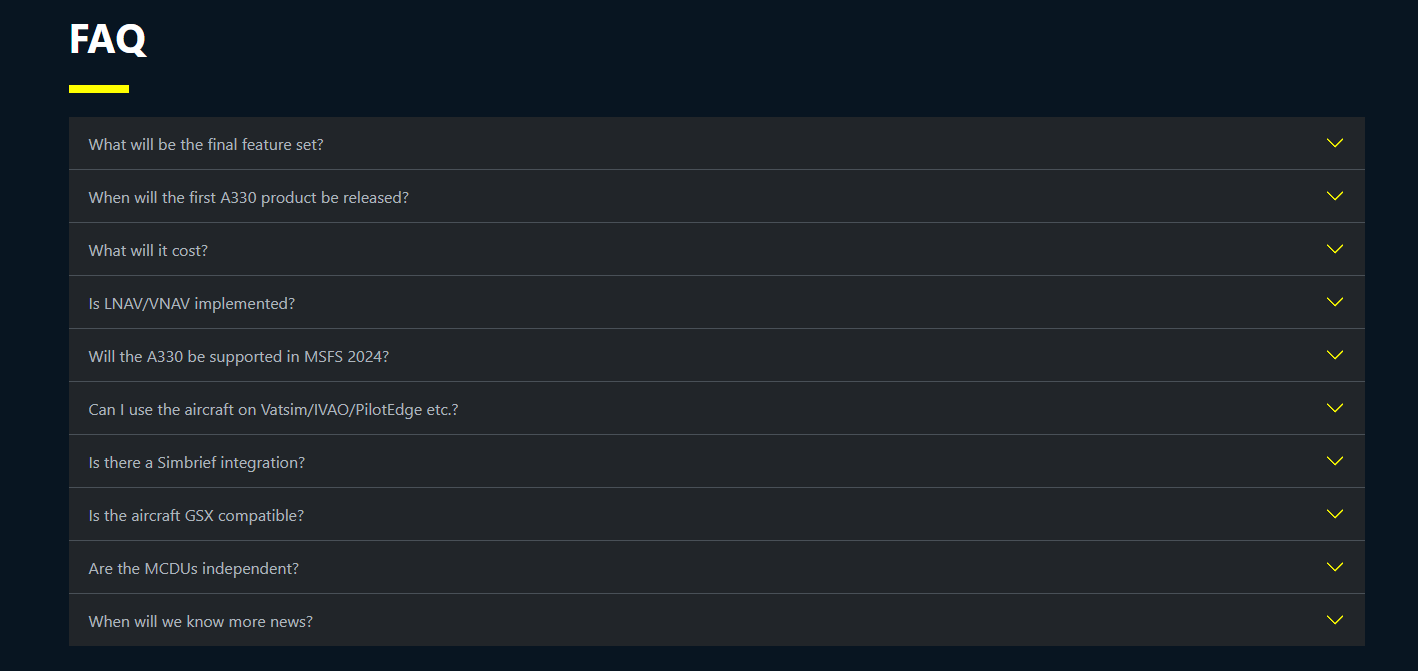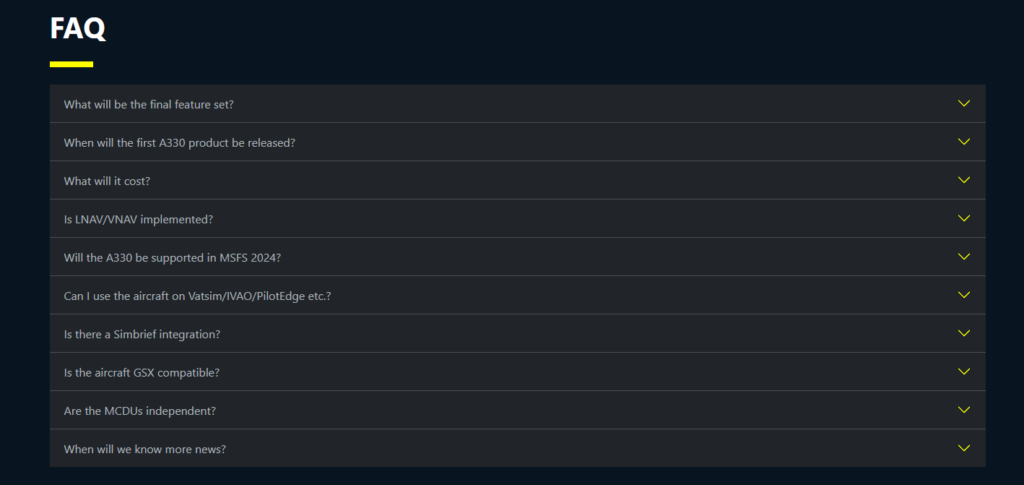 Gallery
As the name rightly suggests, this section features a large sample of screenshots that portray the exterior and interior models of the upcoming aircraft. A small selection of images from this section is included below.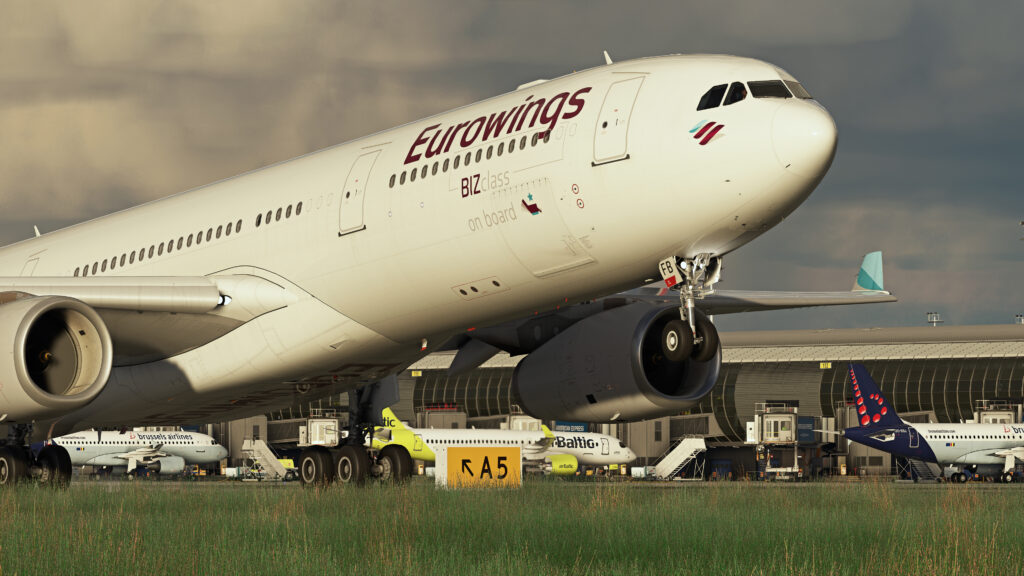 Additional Information on the Airbus A330
At the time of writing, the developer did not disclose any information regarding the release date or the pricing details of the aircraft. To learn more about the past few development updates, read my previous 'Preview' article on the aircraft.
The Airbus A330 is a two-engined widebody jet. Derived from the design of the older A300, the A330 made its maiden flight on November 2nd 1992. The variant modelled by Aerosoft, the A330-300, can carry up to 300 passengers and fly over a range of 11,750km. Notable operators include Cathay Pacific, Saudia and Turkish Airlines.