iniBuilds took to their Discord server to announce the release of MK-STUDIOS rendition of Kangerlussuaq Airport (BGSF) for Microsoft Flight Simulator. The airport was announced earlier this week, and is part of a "Greenland Airports" package that contains a total of five airports for the platform.
Table of Contents
A little about Kangerlussuaq Airport
Mittarfik Kangerlussuaq or Søndre Strømfjord Lufthavn is an airport in Kangerlussuaq, a settlement in the Qeqqata municipality in central-western Greenland. Alongside Narsarsuaq Airport, it is one of only two civilian airports in Greenland large enough to handle heavy aircraft. Since the airport is located away from the coast, it is less prone to fog and wind. It is the international hub for the national flag carrier Air Greenland.
Sisimiut and Maniitsoq
Sisimiut Airport is located in the same municipality as Kangerlussuaq and is located 170 km to the west of Kangerlussuaq city. For scheduled flights, the airport is served exclusively by Air Greenland serving as a fly-through destination with no aircraft stationed on-site. Maniitsoq Airport is also located in Qeqqate municipality and is located about 250 km southwest of Kangerlussuaq Airport. Like Sisimuit, Maniitsoq has a short runway due to terrain limitations and serves STOL aircraft.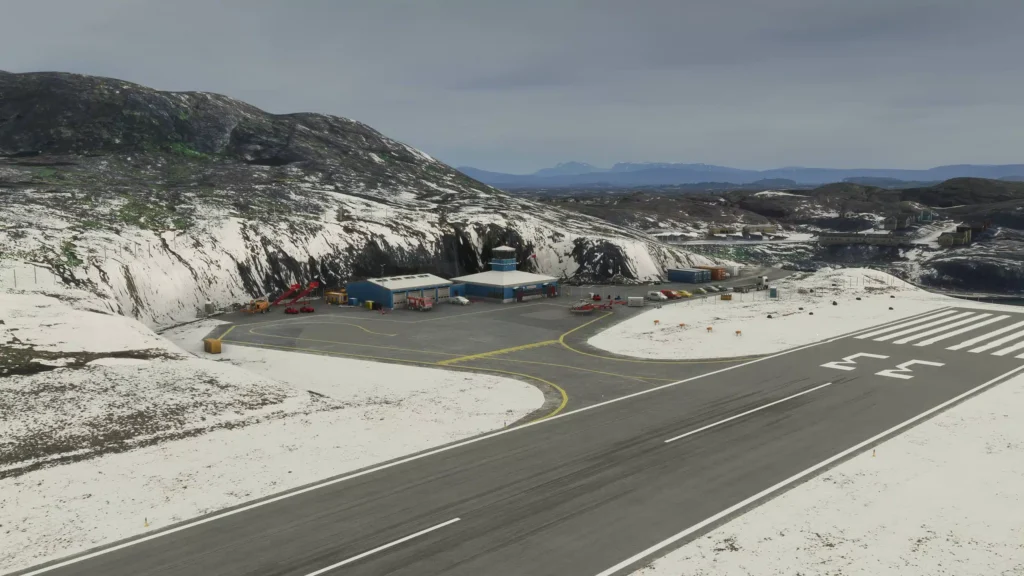 Qaarsut and Aasiaat
Qaarsut Airport is located 600 km to the north of Kangerlussuaq in the Avannaata municipality of Greenland. It is a primary airport with a gravel runway, capable of serving STOL aircraft in all seasons. Aasiaat Airport is a small, short-runway airport serving Aasiaat in the municipality of Qeqertalik, Greenland. It is located 230 km south of Qaarsut and about 370 km north of the primary airport of Kangerlussuaq. It serves STOL aircraft despite not having de-icing equipment which is costly and problematic during Greenlandic winter.
Key Features
MK-STUDIOS Kangerlussuaq Airport is a lifelike recreation of the real-world location in the sim and includes a fully detailed terminal interior. The airport scenery includes a custom, 20cm/pixel satellite image covering the airport and the city of Kangerlussuaq. Further features include custom ground polygons, realistic lighting for immersive day/night ops, 3D snow and icebergs, and other custom visual effects.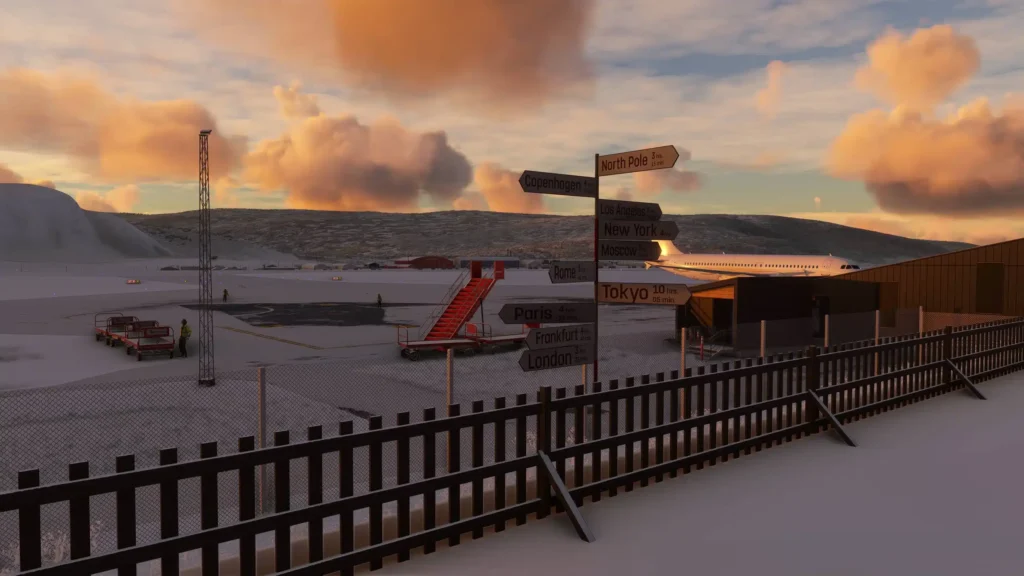 Moreover, the airport and the city contain elevation data based on high-quality LiDAR scans, a full rendition of the city of Kangerlussuaq with more than 150 custom buildings, and is AI traffic compatible. Furthermore, as part of the "Greenland Airports" package, the product also features the highly detailed, handcrafted airport renditions of Sisimiut Airport (BGSS), Maniitsoq Airport (BGMQ), Qaarsut Airport (BGUQ), and Aasiaat Airport (BGAA) with custom buildings, satellite and elevation data.
Closing notes
MK-STUDIOS Kangerlussuaq Airport for MSFS is available to purchase on the iniBuilds store and retails for GBP 14.99 excluding taxes. For more flight sim-related news, announcements, and more, do check out our coverage on FSNews.