The ATR 42-600/ATR 72-600 bundle for Microsoft Flight Simulator (Henceforth the "MSFS ATR") was released to high expectations on April 25, 2023. Microsoft collaborated with renowned developer Hans Hartmann to deliver the first high-fidelity regional turboprop airliner to the simulator since its release as the first in Microsoft's line of "Expert Series" first-party releases. I have spent hours with both the ATR42-600 and the ATR72-600 since its release, and in this article, will be taking a first look at whether the ATR for MSFS lives up to the "Expert" label.
Please note: This First Look article will present my first impressions of the MSFS ATR after the first few days with the product. It is not a comprehensive review, but I hope to provide you with some excellent information. Stay tuned to FSNews for the comprehensive review in the coming weeks!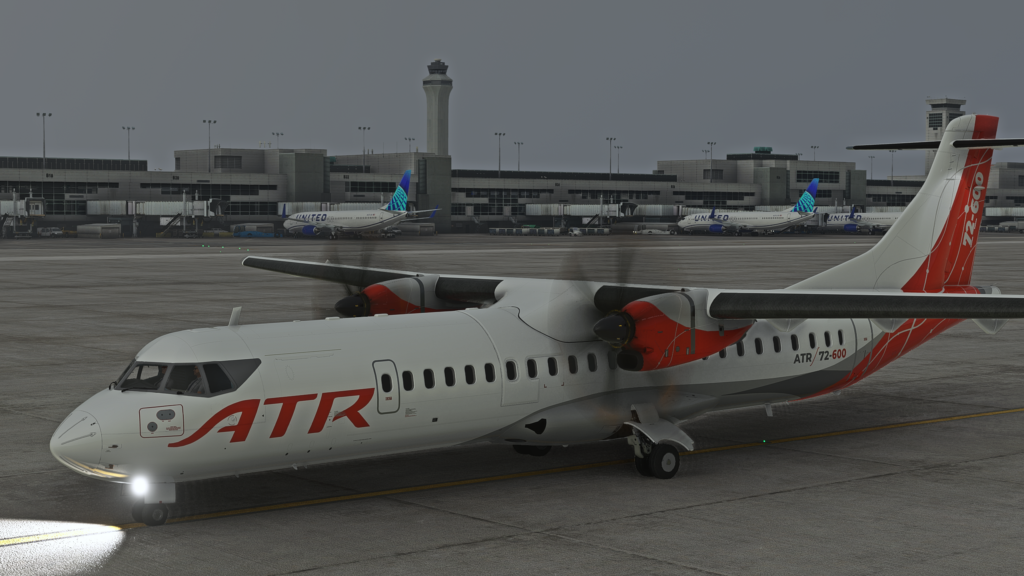 Table of Contents
New grounds for Microsoft Flight Simulator
The MSFS ATR is the first in what is expected to be a continuing line of high-fidelity, first-party aircraft releases by Microsoft that they dub the "Expert Series." Microsoft has described the Expert Series as aircraft that provide an "exciting and authentic aviation experience," and have promised a high level of systems fidelity and real-world accuracy. To many, this is a welcome addition to a simulator whose base aircraft have historically lagged behind 3rd-party addons in their level of detail.
Additionally, the MSFS ATR represents the first turboprop regional or commuter aircraft to arrive in Microsoft Flight Simulator at this level of detail. While some segments of the aviation industry are well-represented already by both included aircraft and high-quality add-ons, the MSFS ATR plugs this gap. As someone whose childhood was spent on short-haul flights out of my regional airport, I have certainly missed the robust charm of these loud, shaky workhorses in my simulator. Although the majority of those flights were spent on Dash 8s, I, like many others, am hungry for anything that can scratch this turboprop commuter itch.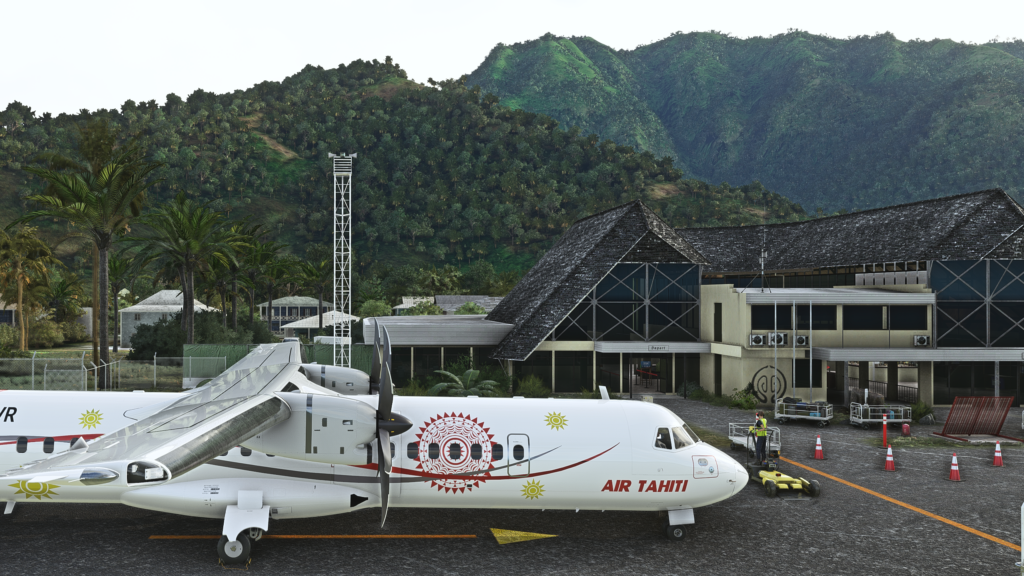 Purchase and Features
The MSFS ATR is available as a bundle via the MSFS Marketplace for $20 USD. If you own the Deluxe or Premium Deluxe editions of Microsoft Flight Simulator, you get a discount that brings the final price to approximately $13 USD. Microsoft is continuing a trend of recent releases bringing excellent value for money. In the bundle, you get both the ATR42-600 and the ATR72-600, as well as a few liveries for each. It is compatible with both PC and Xbox.
While the included liveries (ATR House, Silver Airways, Air Tahiti & Air St-Pierre) are great at showcasing little-known airlines, as well as tying into World Update 13, I expected a few more operators to be represented. Xbox users will have no other free method of acquiring liveries, while those of us on PC are already spoiled by the speed of the freeware community over on flightsim.to. Additionally, in their November showcase of the ATR for MSFS bundle, Microsoft stated that freighter variants would be included; however, freighters are not included with the bundle as released. There is an EFB with load sheets and a throttle calibration utility, which you will need to utilize to get started. At the time of publication, there is no manual available for the MSFS ATR, which feels like a significant omission in an "expert" product. Microsoft has released a Discovery Series of instructional videos by a real ATR 72-600 pilot, which is available here.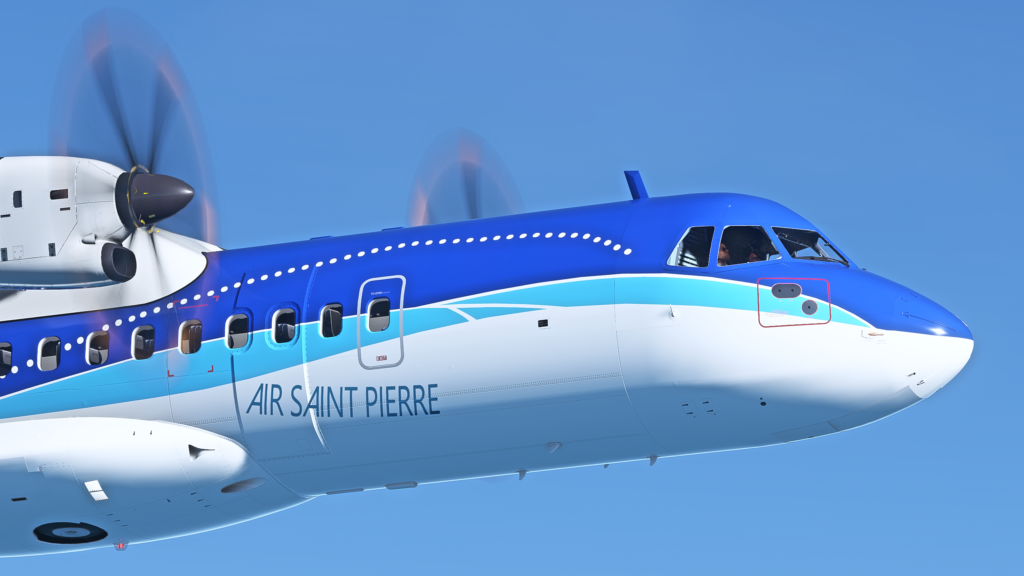 MSFS ATR texturing and modeling
While Hans Hartmann was responsible for much of the systems, Asobo was responsible for the model and texturing, according to their November 2022 showcase of the MSFS ATR. Overall, the quality of the model and textures is largely what you would expect from Asobo, and comparable to the quality of the best default aircraft. Like most add-ons that I review, the MSFS ATR has some items that shine brightly and others that I hope get some attention in a future update.
External model & textures
Asobo has largely done a great job on the external model for the MSFS ATR. On both the ATR 72 and ATR 42, I could not detect any major shortcomings that would place these aircraft below the standard of Microsoft Flight Simulator. Asobo's standard for texturing and modeling impressed me when the simulator was released and it continues to do so here.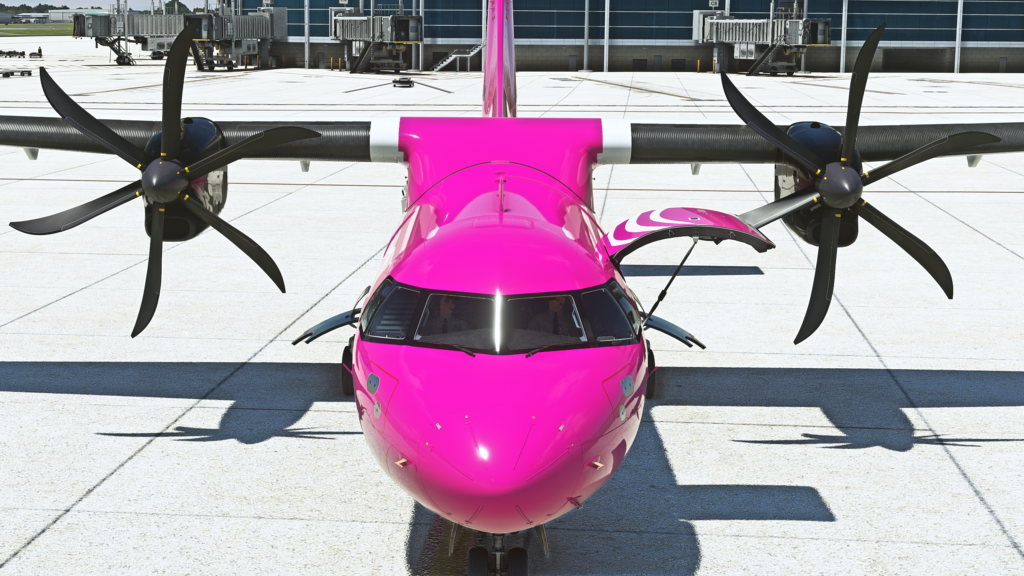 Important aspects of the model are highly detailed. In particular, the armored areas to catch ice flung from the propellers are done exactly how they look in real life, and the landing gear has received special attention. Other add-on developers have raised the bar when it comes to high-quality aircraft models, but the ATR is not lacking in any particular department. All doors are operable, and chocks are included, as is the tail prop on the ATR 72-600 for MSFS.
Looking closely, we can see a couple of modeling issues in certain configurations of the ATR for MSFS. The most serious of these is on the ATR 42-600: with full flaps deployed, the top of the flap clips through and protrudes from the top of the wing surface. This issue is not present on the ATR 72-600, which has a lower maximum flap setting. The only other noticeable issue is the Angle of Attack sensor on both the ATR 42-600/ATR 72-600, which always appeared stuck and aimed downward instead of facing into the airflow, no matter what flight regime the aircraft was in.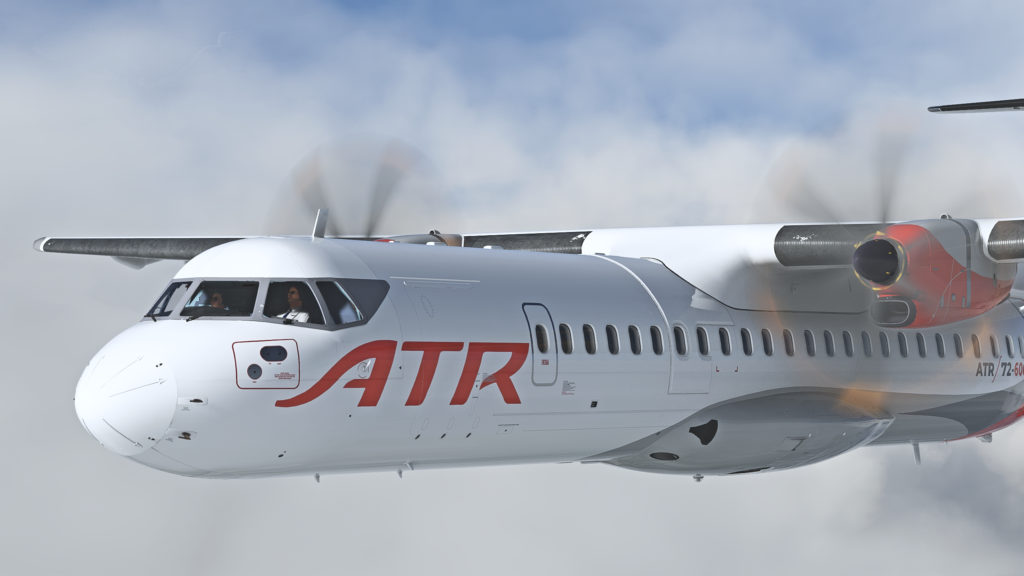 The MSFS ATR's textures generally look good across all their liveries. However, they all have the characteristic, pristine "Asobo Shine" that is present across all default aircraft, with high-gloss reflections and an untarnished appearance. Much like other aircraft add-ons, I find myself longing for the inclusion of some weathered and well-loved airframes, in addition to the meticulously maintained ones provided. As stated earlier, a few additional included liveries would have been the prime opportunity to provide more variety in the ATR bundle for MSFS.
I was able to find only a few minor external texturing issues. The wing de-icing boots are marred by jagged edges, and the Air St-Pierre livery has a wide "gash" in the blue of its tail cone. Text is perfectly readable, if a little soft on the edges. Overall, I could find little to critique about the MSFS ATR's textures.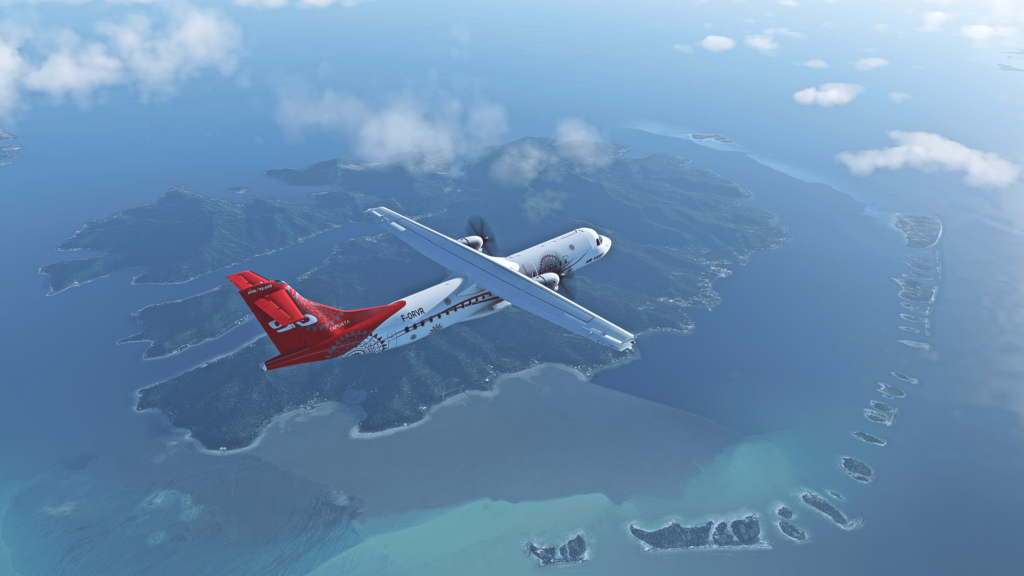 Cockpit & cabin
The cockpit of the MSFS ATR adequately conveys the cramped, space-efficient nature of this small airliner. Especially after recently finishing my review of the An-225, it was nice to return to an aircraft with every control within my reach. This -600 version of the MSFS ATR 42/ATR 72 is equipped with modern, glass-panel avionics. Looking at real ATR cockpits for comparison, I could find a few minor inconsistencies between the colors of certain panels or, for example, the cabin pressurization panel. None of these issues have been enough to take me "out of the cockpit" of the ATR for MSFS.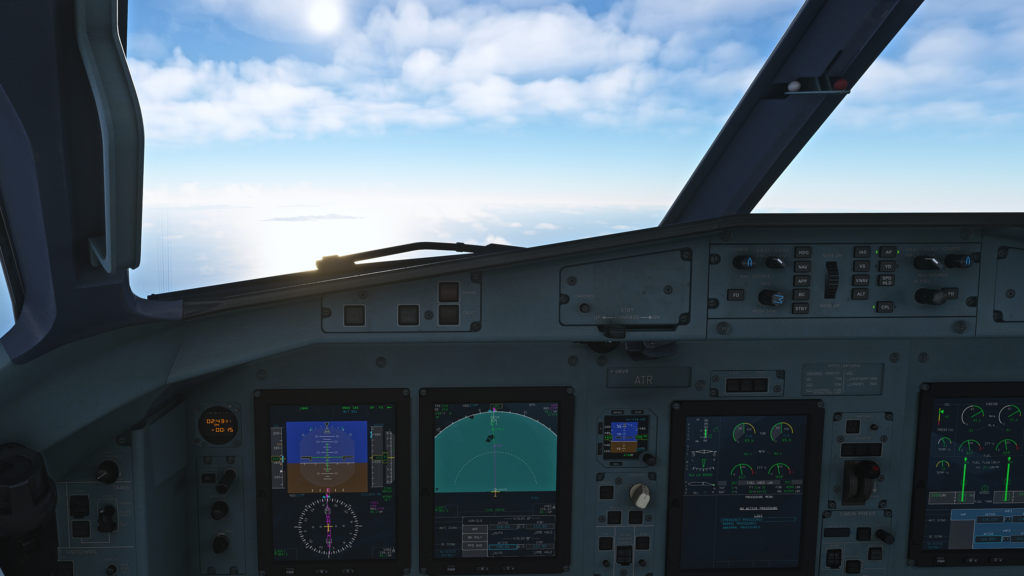 The cockpit material texture is uniformly good. The cockpit of the MSFS ATR is a delightful medium between the unblemished exterior and the well-used cockpits of some other add-ons. There is no noticeable change in quality between different areas of the cockpit and the textured plastics that make up most of the interior are delightfully physical in their texturing. The only items that I found distracting are the extremely glossy, reflective screens – that don't even reflect the actual cockpit of the MSFS ATR. I also think that the default cockpit view is a little bit low – zoomed out and moved down slightly is perfect for me, but that could be affected by my monitor and FOV settings as well.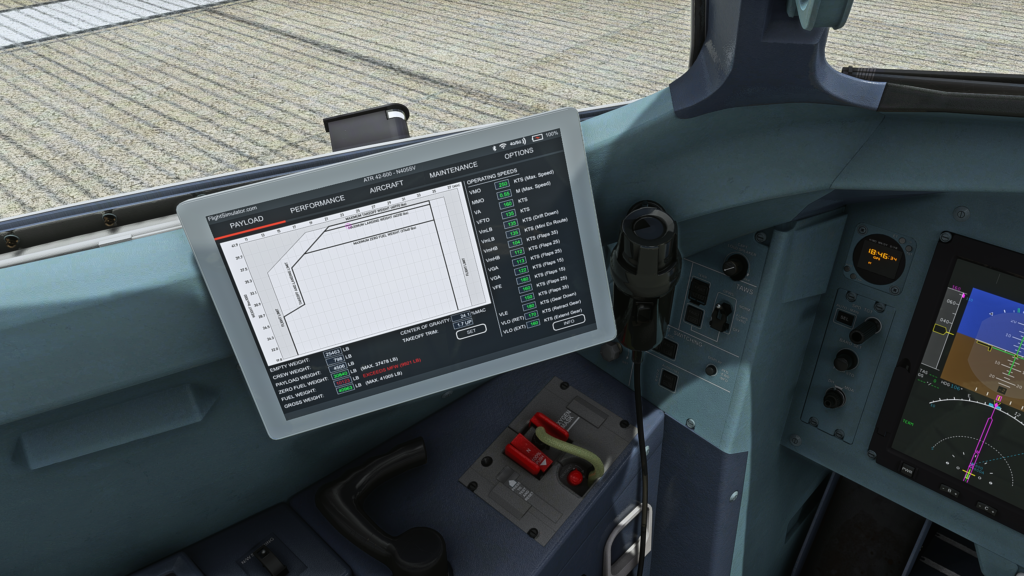 The ATR for MSFS has a fully-modeled interior, complete with a cargo compartment and cozy aft galley. The cabin modeling is great, among the better additions in Microsoft Flight Simulator. Although it's missing the top-end cabin features – such as animated passengers and operable lights and signs – the only major, distracting issue is significant outside light bleed from the aft cabin and around most doors. This is something I have noticed in many cabins for MSFS add-ons, so it appears that this is a challenge that many developers have to face. The omission of any wing views by default is interesting, but since the cabin model is connected to the cockpit, you can find and set wing views of your own.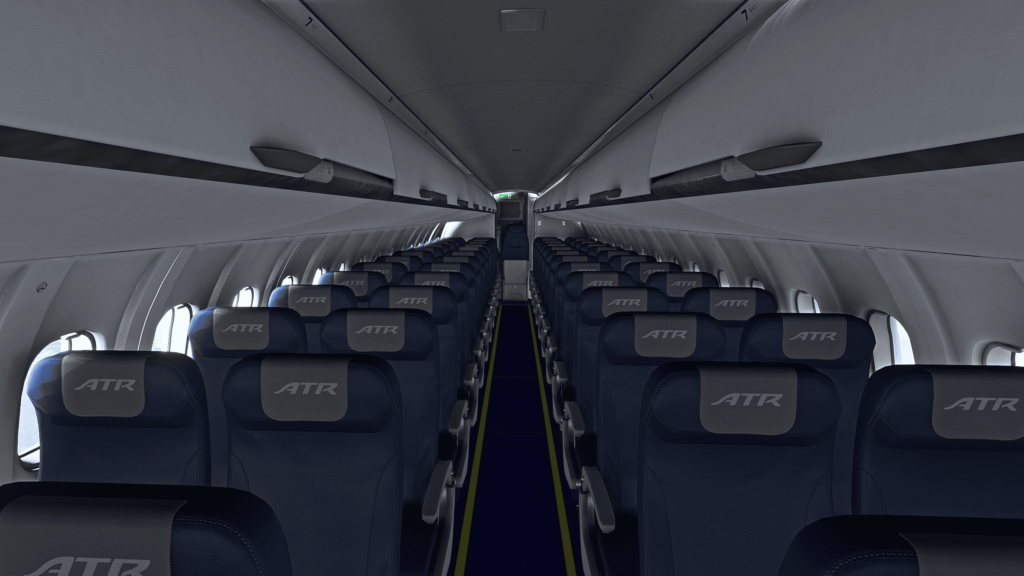 Sounds
The soundscape of the MSFS ATR package is quite good but sometimes lacks the weight you'd expect from a scrappy turboprop airliner. Switches and buttons in the cockpit have a nice tactile sound with enough variety to not be boring. There are plenty of subtle creaks and groans in turbulent weather which adds great character to the average flight. The engine sounds are high-quality, but missing the all-consuming hum of the propellers. Additionally, the trim "whooler" sound is noticeably different than I was able to find in cockpit recordings.
Sounds examples
Flying the ATR 42/ATR 72-600
I am not an actual pilot, and I certainly have not been at the controls of an ATR aircraft. I will not be drawing conclusions on the MSFS ATR's flight model before I have had a chance to do significant research. However, you can read some commentary given in Microsoft's official feedback thread by type-rated pilots. My comments are based on my expectations and experience flying the ATR for MSFS as an amateur, trying to become an expert.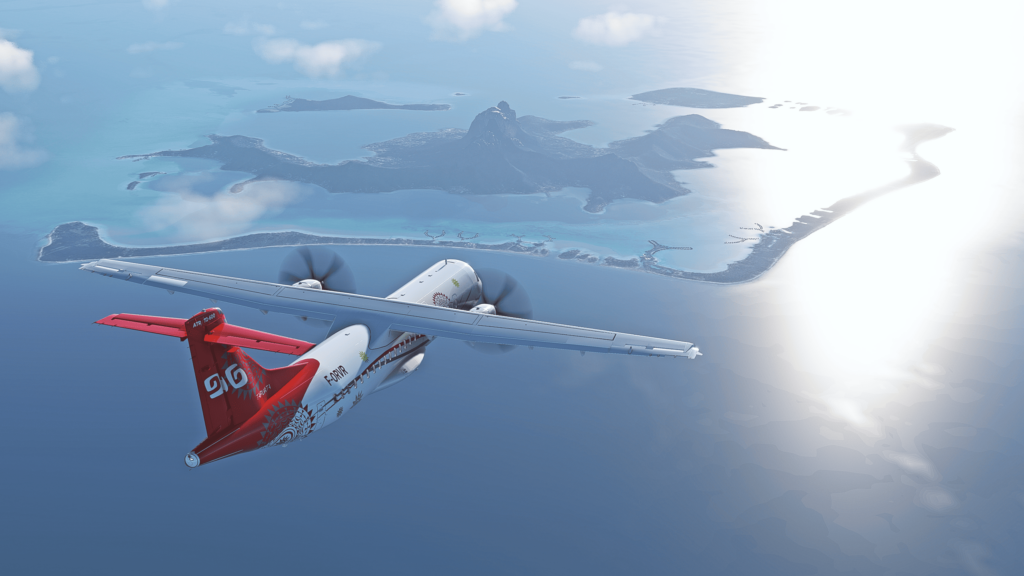 Both variants of the ATR for MSFS are very fun to fly. It's great to have a modern airliner in Microsoft Flight Simulator that lets you take the scenic route to your destinations. It's a completely different experience in the MSFS ATR than it is in the Aerosoft CRJ, for example, because the ATR cruises comparatively slowly and at lower altitudes. It was a wonderful aircraft to release alongside World Update 13, as you still cruise close enough to the ground to appreciate the work Asobo has put into recreating our world.
The MSFS ATR does strike me as potentially underpowered and slow to accelerate, however, while being simultaneously difficult to slow down to approach speeds. Watching videos of ATR 72s taking off before clearing the displaced threshold of a runway in Delhi starkly contrasted with my own experience of needing almost the entirety of a 5,000′ runway to lift a lightly-laden ATR 72. At the typical climb speed of 170 knots, the ATR for MSFS often struggled to reach rates of 1,000 feet/minute well below its cruising altitude, on days where density altitude should not have been a concern. But I also found that I needed to carefully manage my speed on approach, especially if heavy, despite the drag that should be generated by two fine-pitched propellers at idle power.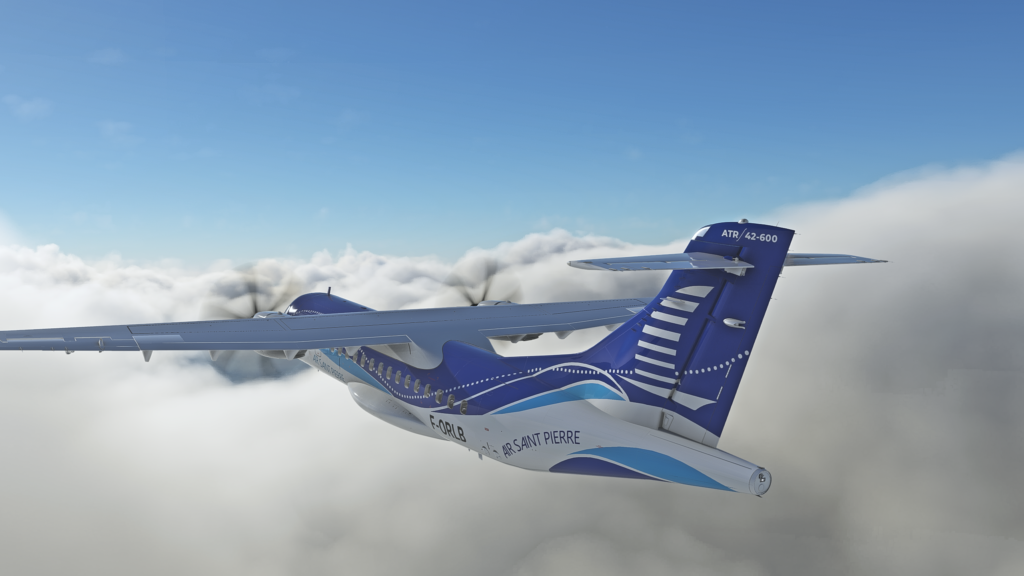 Other than those things, however, either variant of the MSFS ATR flies beautifully stable in the air. I can feel some torque from the engines, necessitating trim to keep myself steady. It responds nicely to the controls while not being too snappy, and is very pleasant to fly manually. The slower approach speeds give me plenty of time to think and respond, although I honestly can't tell that much of a difference between flying the two airframes the way I can with, say, the 737-600 vs. its heavier brothers.
Systems
Hans Hartmann is known for the depth of systems in the addons he develops and therefore was a natural choice to assist Asobo in the first "Expert Series" aircraft. Befitting the name, every switch and button I tried in the MSFS ATR is operable, as is every FMC page and function on the Thales displays. There is a wonderful quality-of-life feature here – since the display controls are down on the pedestal, there are click spots included on each display so you can operate their functions while still being able to see them. It takes a bit to get used to the placement of the invisible click spots but is excellent once you do.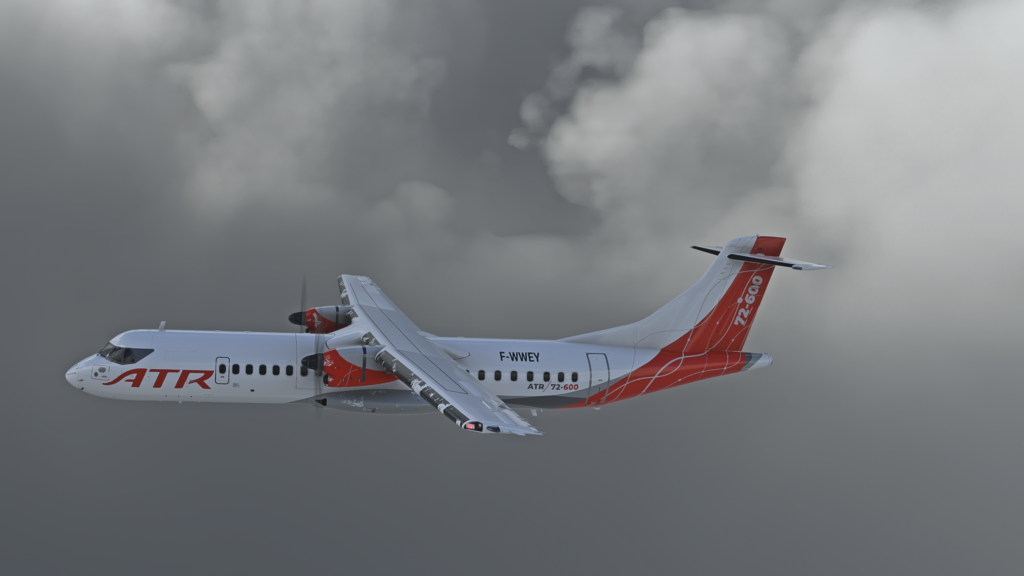 I still have a lot of research to do to determine whether or not the behavior of the individual systems is accurate, but they do respond to inputs largely as you would expect. Losing hydraulic pressure or a generator fails the dependent systems, and I learned the hard way that the generators and pumps are tied to prop RPM! Testing the icing systems of the MSFS ATR on my first flight out of Denver in a snowstorm was a great introduction to its flexible capabilities. Overall, systems are modeled at least to a depth that I was able to use an ATR FCOM to operate the ATR for MSFS from gate to gate, and even if I made some mistakes, I certainly felt like an expert!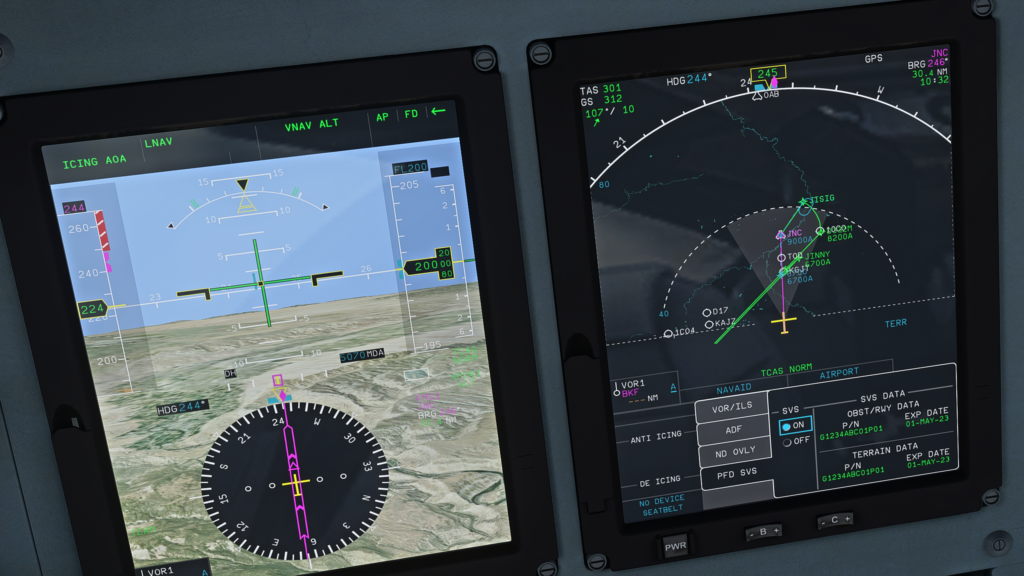 Bugs and rough edges
In my brief time so far with the ATR for MSFS, I did encounter many small issues that don't align with the lofty expectations set by an "Expert Series" aircraft. None of them were game-breaking, and none on their own would have been much of an issue. However, the edges of the MSFS ATR are rough enough to affect every flight.
The MSFS ATR is not tightly integrated with any flight planning utility, neither Simbrief nor the built-in planner. It is possible to import Simbrief flight plans, but not easily – you need to download the flight plan to a special directory buried in MSFS' file structure and import it by name in the FMC, but there is no indication that this is possible. Although some form of Simbrief integration is expected in high-fidelity add-ons, the ATR for MSFS is also not integrated with the built-in flight planner, despite being a first-party release. Weight & balance, though, are controlled via the MSFS load manager which leaves a lot to be desired. Being an "Expert" product should not mean that you are restricted to clunky load managers and a buggy FMC to set up the aircraft.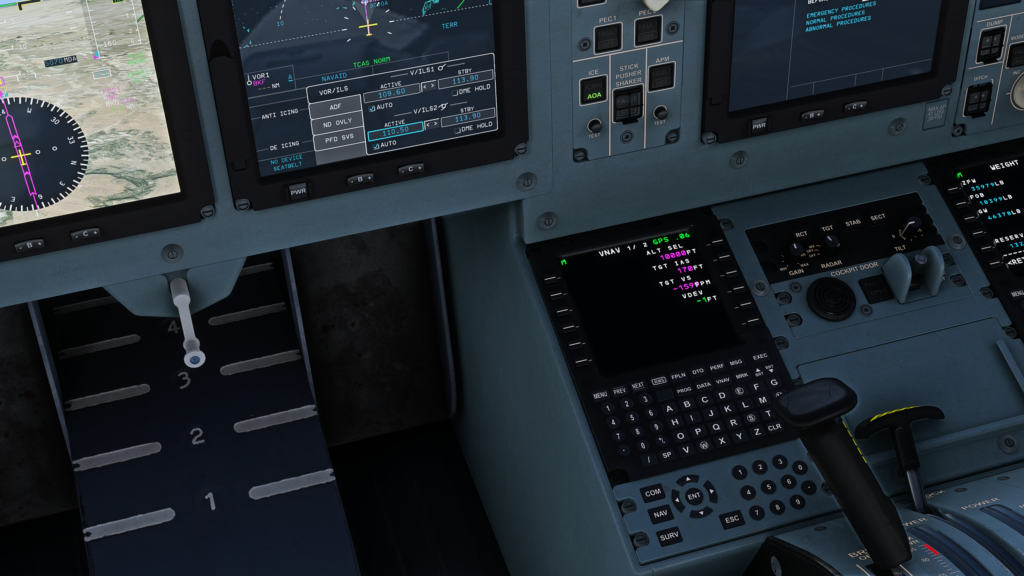 So let's talk about that FMC. While it is obvious that it was coded with a high degree of customization, there are still elements that recall the behavior of the default MSFS FMC systems. I also encountered several freezes when trying to input my flight plan, which is one of the many known bugs logged by Microsoft in the days since release. I also encountered an instance in which the ATR 42-600 stubbornly refused to cruise at its set cruise altitude, but instead at an exact 200′ below, no matter what I tried – and this affected the set speeds, fuel predictions, and many other aspects of the flight planning. I had to change the cruise altitude from 22,000′ to 21,800′ and only then did it recognize it was cruising.
On the same flight, I attempted two holds, neither of which worked. The MSFS ATR did not fly anything close to the hold that I entered, and the VNAV system went into descent mode as soon as I entered the "hold." Fortunately, reverting to basic altitude modes and ignoring VNAV worked just fine. Interestingly, I encountered the most issues on the ATR 42, and the ATR 72 did not present me with any major problems. On top of the modeling issue with the flaps mentioned earlier, there are little things all over the place such as text overlapping on the FMC and a convoluted system of entering the weight & balance into the EFB to calculate performance. The flaps operated when the airplane was totally depowered.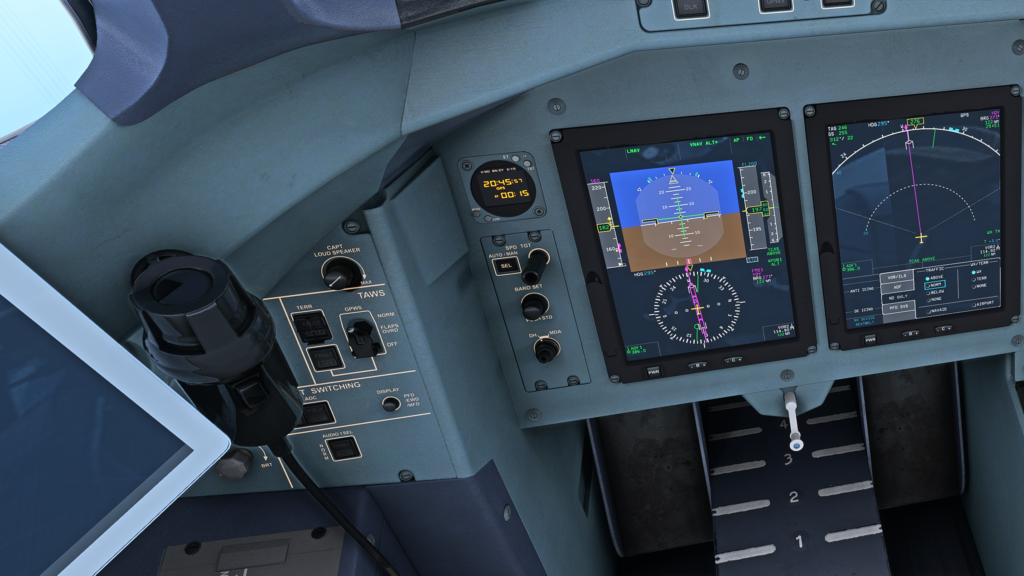 Conclusion: expectations vs. reality
The MSFS ATR bundle is, from one perspective, a great add-on. It provides excellent value, with two airframes and deeply-modeled systems for a price that is beyond competitive. I have enjoyed my time tremendously with the ATR for MSFS, and I don't see that changing. While it has bugs, they don't ruin the experience at all, and you might enjoy getting intimately familiar with the FMC as you program it manually. It will look excellent in your screenshots, fills a gap in the Microsoft Flight Simulator catalog, and allows you to build your expertise on a new aircraft, using real-world procedures and documents.
But change your expectations and the conclusion changes with it. If you're already an expert in ATR operations, it's likely that you'll be frustrated by any inconsistencies in its performance and systems – which will stick out like a sore thumb to people in the know. The bugs are just the cherry on top, making it difficult to enjoy a scenic flight without being reminded that the addon is incomplete. If you're used to tight integration with Simbrief or other planning software, you might be frustrated at the convoluted and inelegant way that the MSFS ATR handles flight planning.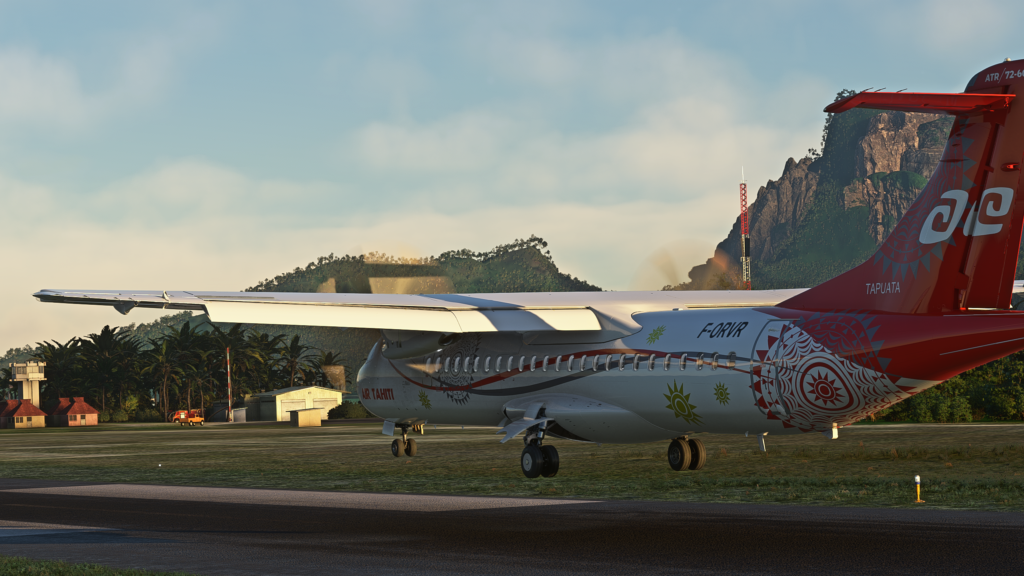 I believe that both of these conclusions are equally correct. The MSFS ATR 42-600/72-600 bundle is a great addition to your hangar. Especially if your experience is similar to my own I expect you'll have a lot of fun learning the systems and flying the ATR for MSFS on your favorite regional routes. But if you're looking for a tool to augment your training or for the most exact and authentic ATR experience in a simulator, then you might still find yourself looking.
Like many add-on releases, the MSFS ATR bundle has every chance to improve in the coming weeks and months. In fact, Hartmann has already confirmed (in conversation with 737NG Driver, a YouTube content creator) that there is an update in the works and Microsoft has repeatedly shown its commitment to continual improvement in all facets of the simulator. I'll be right there with you, diving deep into the ATR for MSFS, and I look forward to bringing you the final conclusion in the coming weeks with the full review right here.