On May 3, Microsoft took to their Twitch account for their MSFS May developer stream. They recapped recent releases including the ATR 42/72-600, shared feedback, answered questions, and announced exciting updates coming soon to Microsoft Flight Simulator. With this exciting MSFS news, it's shaping up to be an excellent summer of flight simulation!
Microsoft Flight Simulator 2023 Roadmap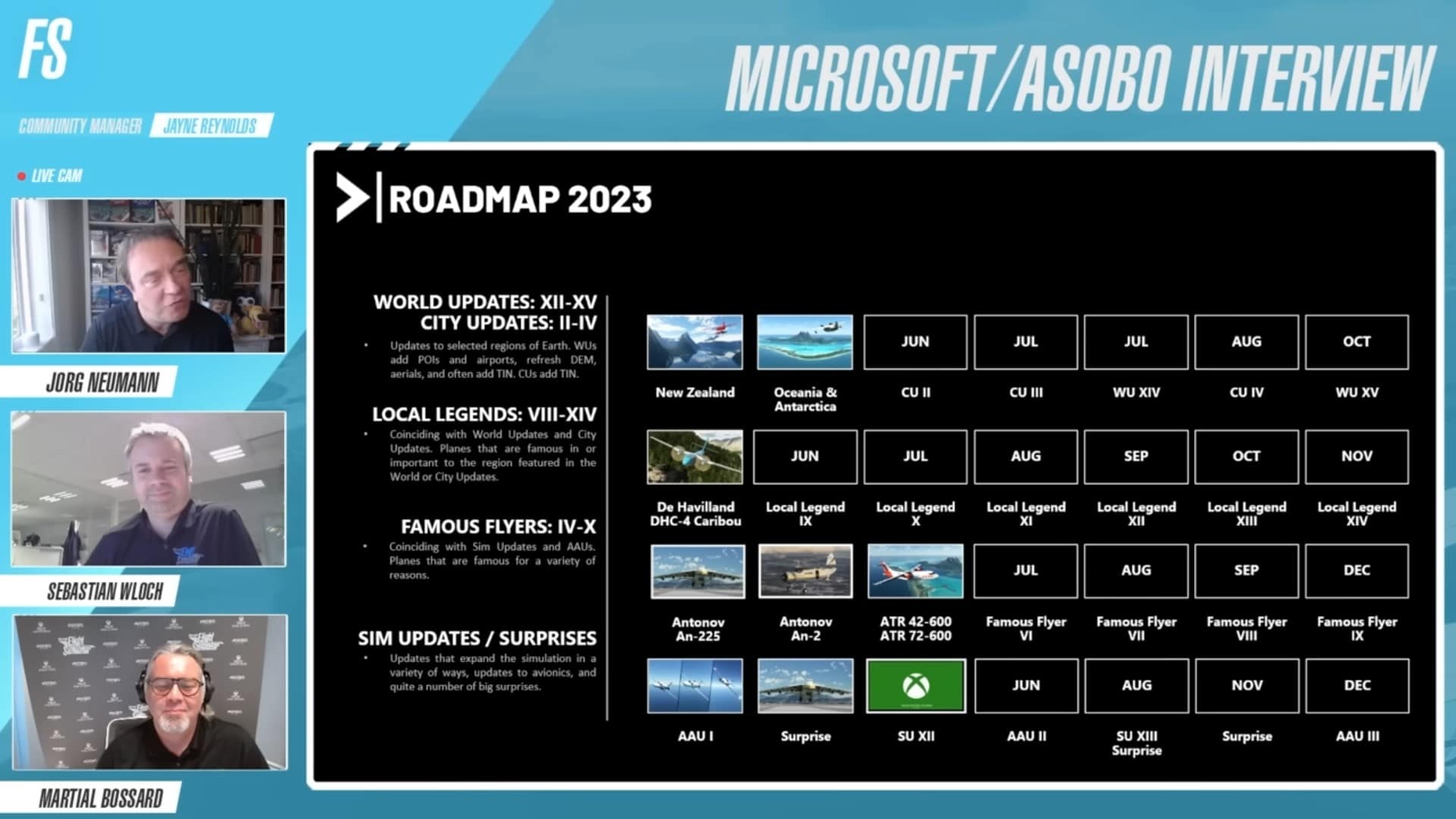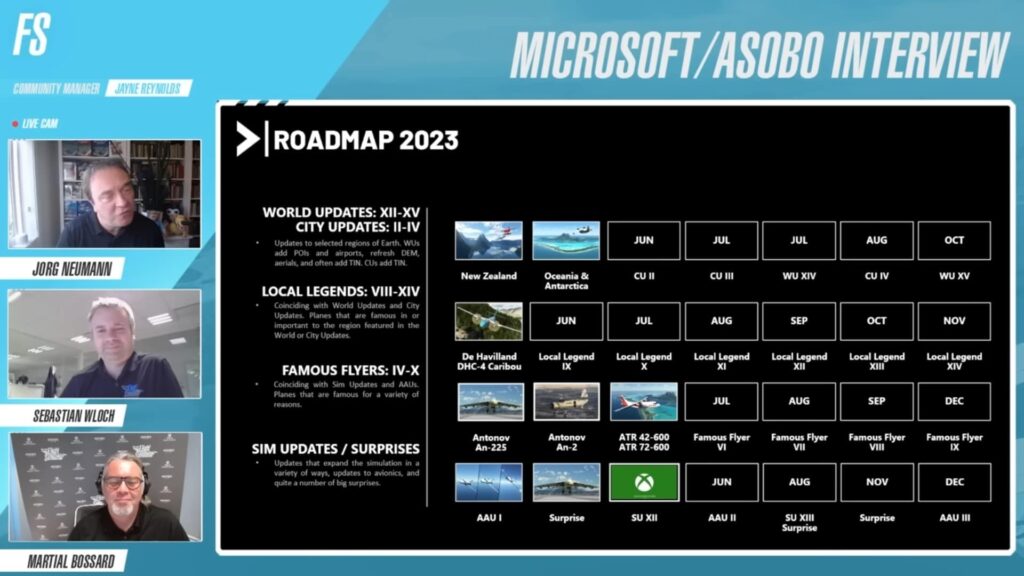 AAU 2: Big Boeing Jets get some love
The biggest news out of the May MSFS developer stream was that Aircraft and Avionics Update #2 (AAU 2) would be targeting the two Boeing jets in Microsoft Flight Simulator. Both the 747-8i, available in all editions, as well as the 787-10 (Available only in Premium Deluxe) will be receiving overhauls to their systems, flight models, and avionics. These improvements will be spearheaded by the team at Working Title, whose improvement mods so impressed the MSFS developers that they were hired to officially improve various aircraft and avionics – all as free updates.
Both the 747-8i and the 787-10 will be updated with "high-quality" LNAV and VNAV systems modeled on the real-world avionics. The 787-10 will receive a new fly-by-wire system incorporating Boeing's unique C*U law, as well as a completely overhauled HUD. The screens and CDUs for both the 747-8i and 787-10 will be rebuilt as well, and all autopilot modes will be functional for both big jets. Check out the images to see all the improvements coming to these aircraft!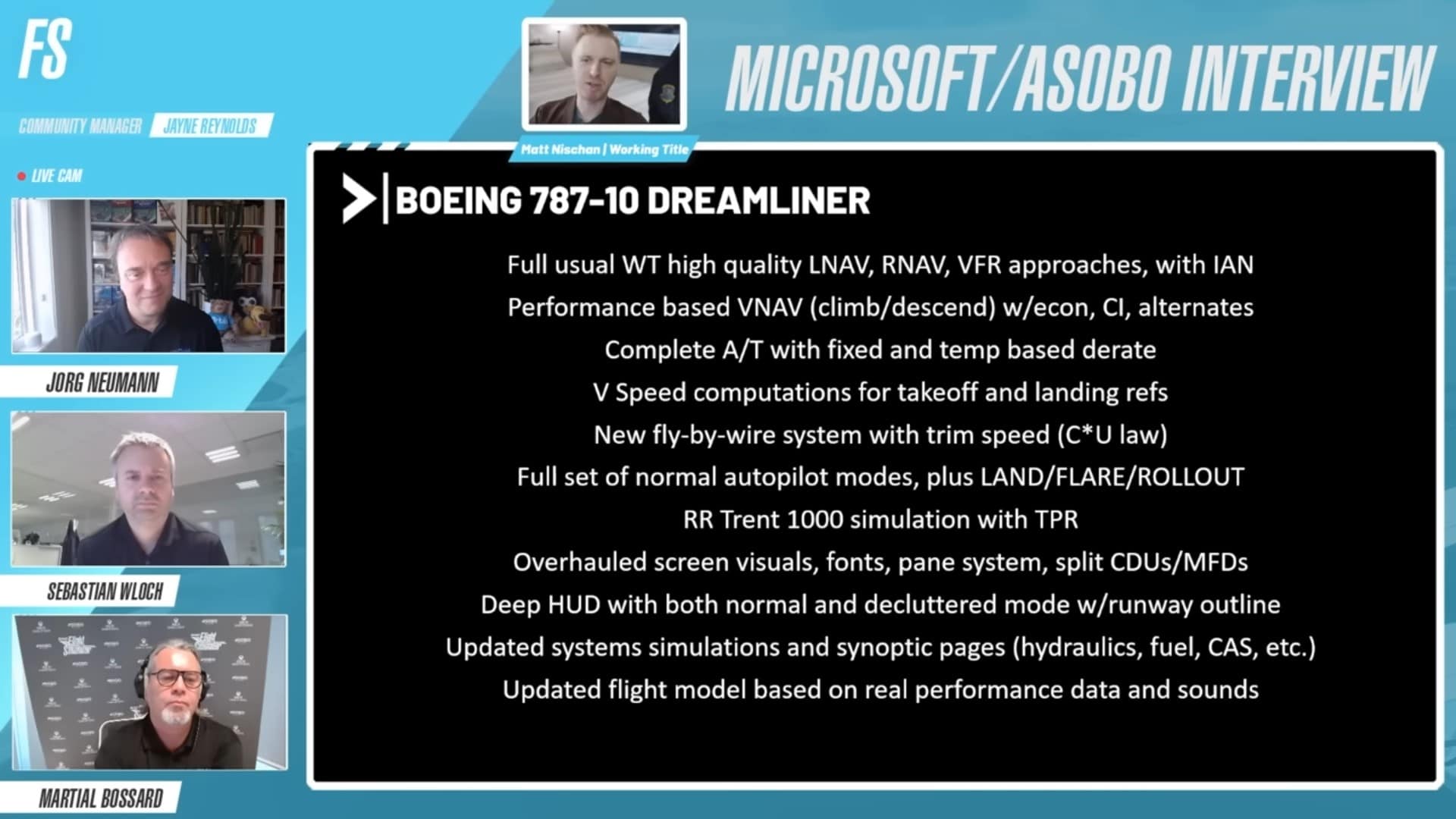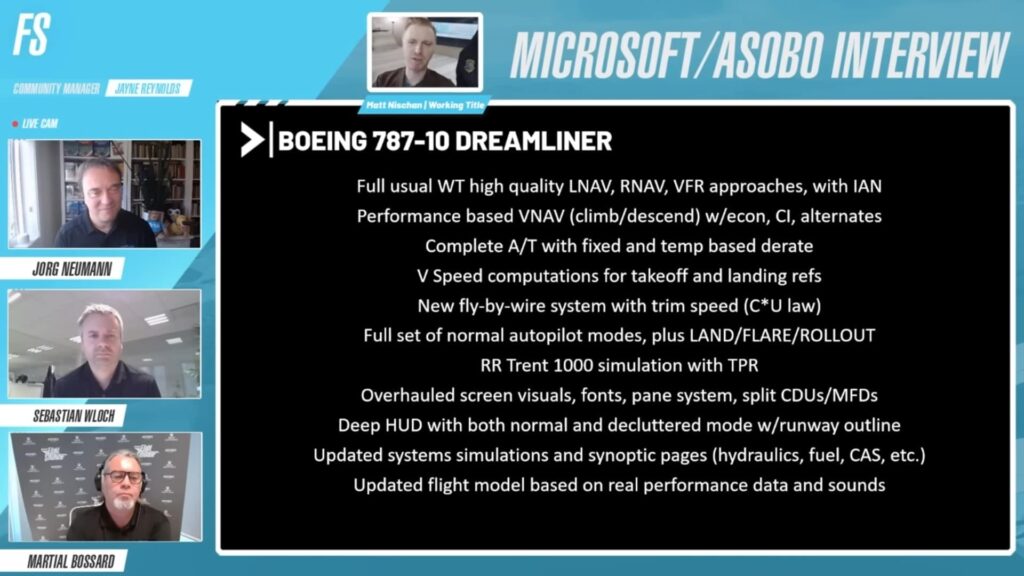 Microsoft and Working Title are continuing a trend of significant improvement to beloved aircraft in both base and Premium/Deluxe editions of MSFS. The updates to the big Boeing jets are sure to excite simmers looking for good long-haul aircraft ahead of the releases of the Aerosoft Airbus A330 and PMDG Boeing 777, both anticipated later this year. Microsoft committed in its May development stream to continue these improvements, with another AAU #3 on the roadmap for the end of 2023. AAU #3 for MSFS is expected to release in June, with a beta open to all MSFS owners beginning on May 15th.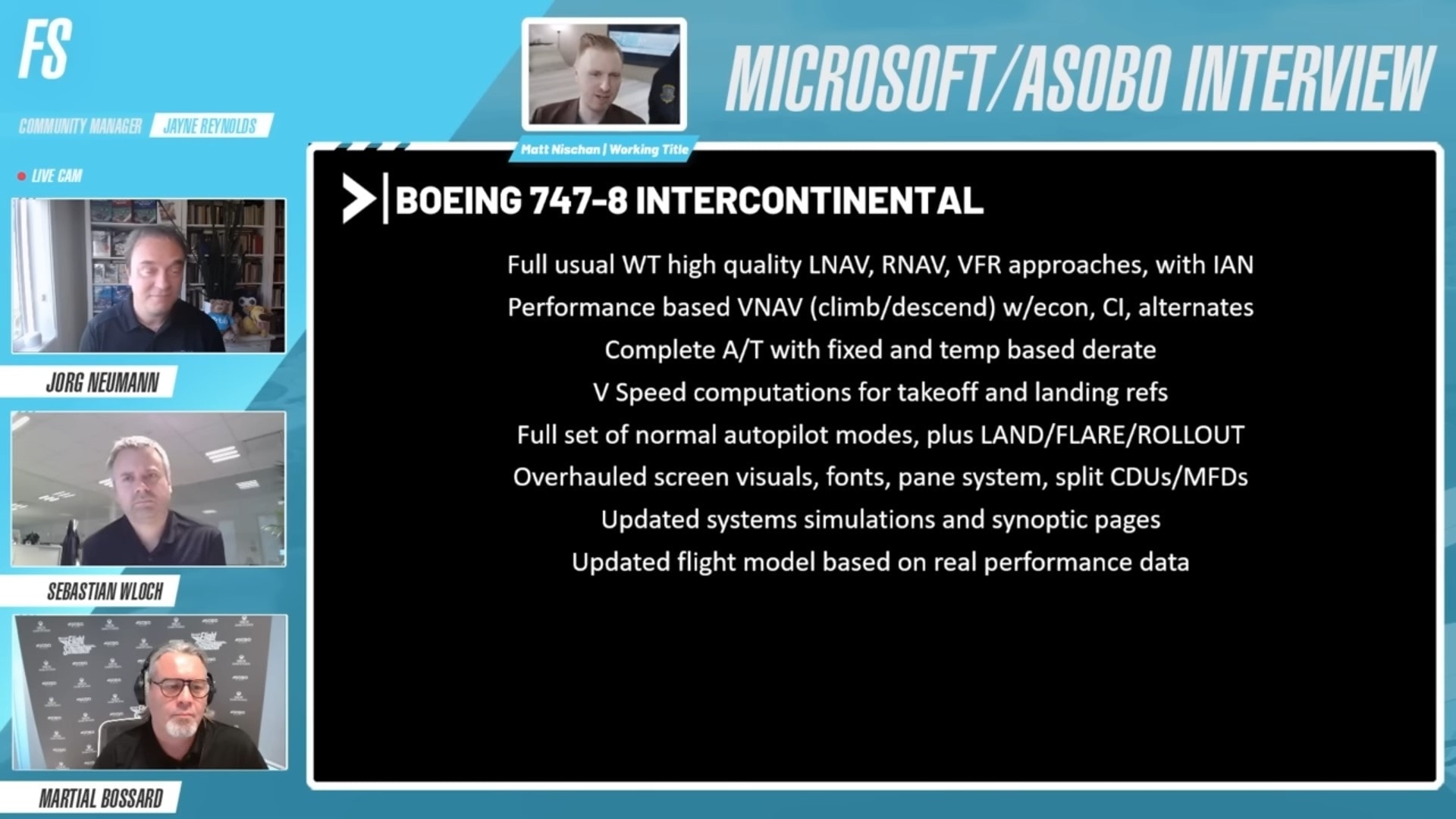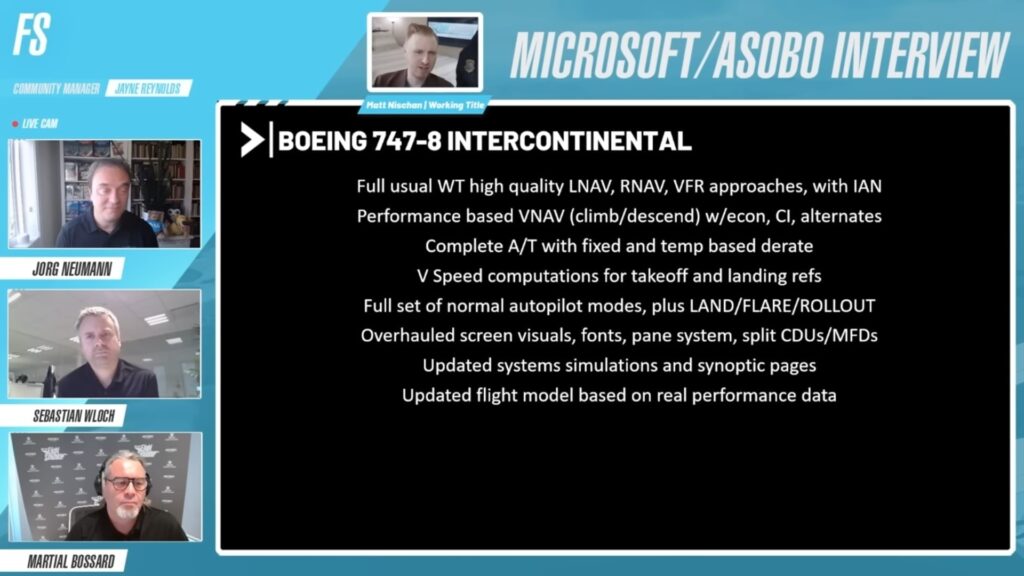 City Update: France and Local Legend #9: Latécoère 631 for MSFS
As if the Spruce Goose wasn't enough flying boat for one simulator, Jorg Neumann and the team announced the Latécoère 631 as the latest Local Legend for Microsoft Flight Simulator. It will be developed by the same team that built the Spruce Goose, as well as the Spirit of St. Louis and the Wright Flyer that were included in the 40th Anniversary Update. The massive French flying boat will pair nicely with the second City Update for MSFS, which is centered on France.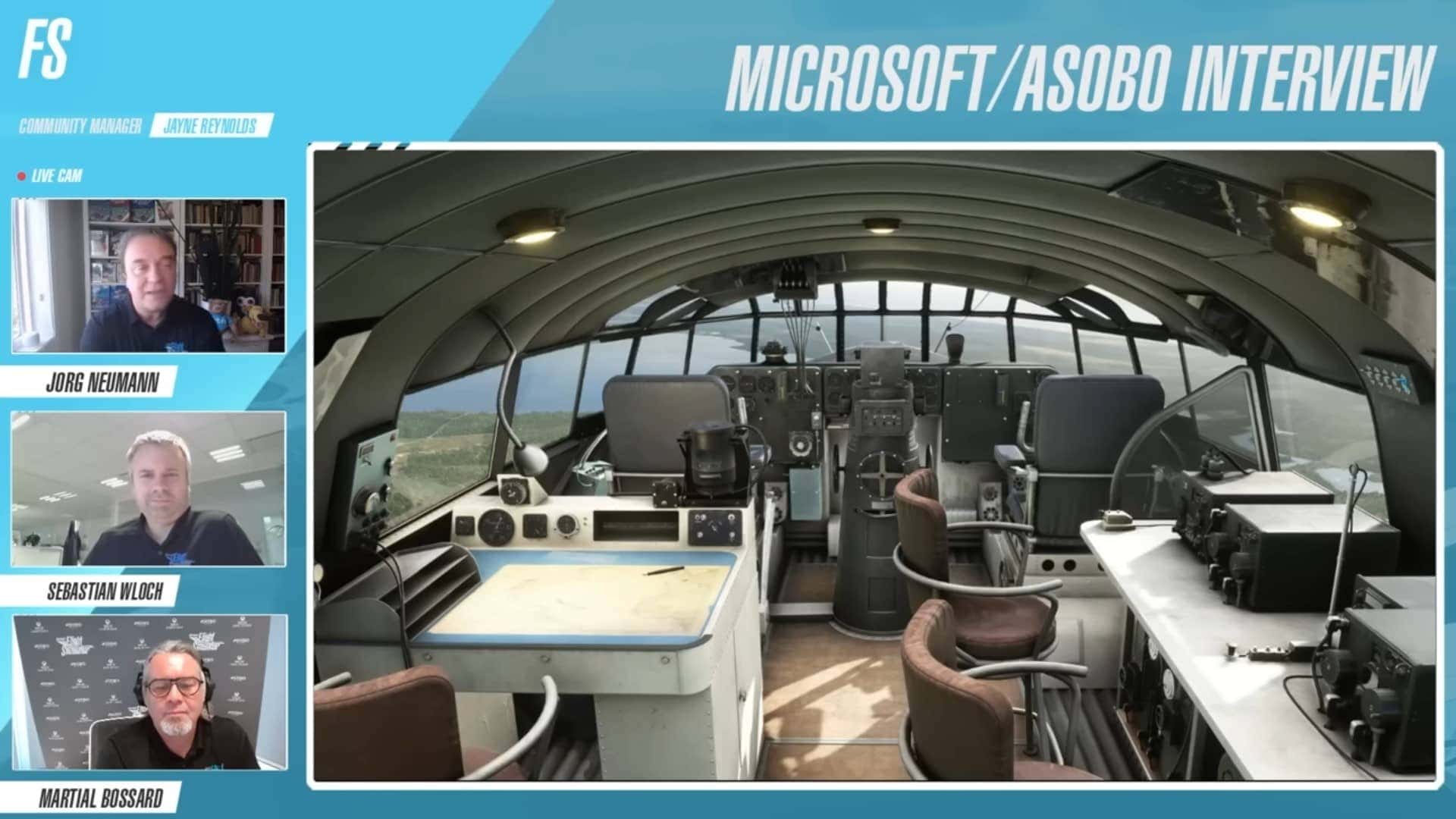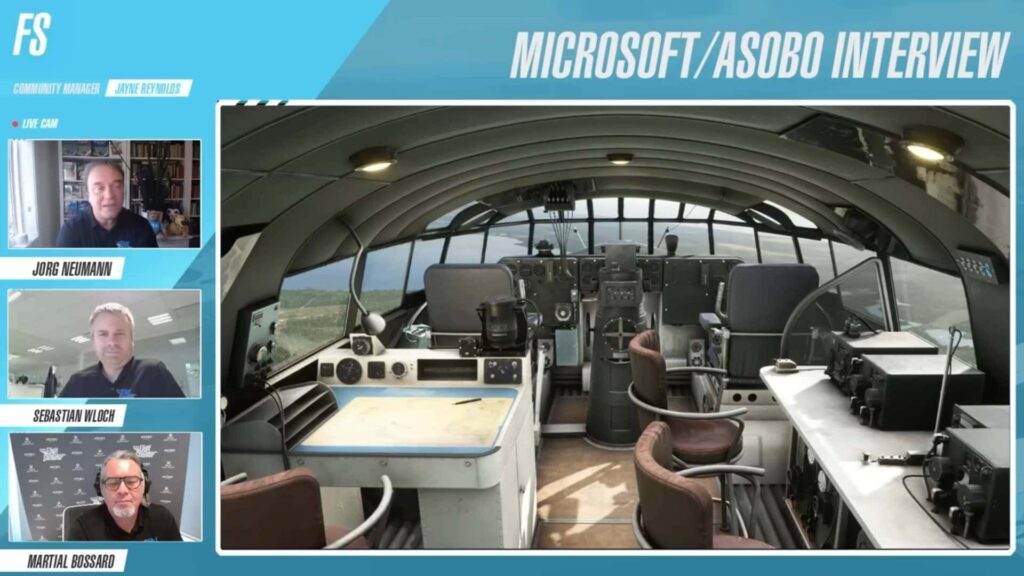 The Latécoère 631 was a French flying boat, built in 1942, and briefly held the title of the largest flying boat ever built until being outsized by the Hughes H-4 Hercules (Spruce Goose). Although it was a commercial failure with only 5 being built, it was operated as late as 1955 and was a source of French pride. The Latécoère 631 for MSFS is being developed with assistance from the Latécoère family themselves, who provided Microsoft with "all the information still remaining on Earth" to produce a faithful recreation. The Latécoère 631 for MSFS will include a fully-modeled flight deck as well as a controllable tow boat. Pricing was not announced, but it is expected to be available in the Marketplace for $15 USD like the rest of the Local Legend line.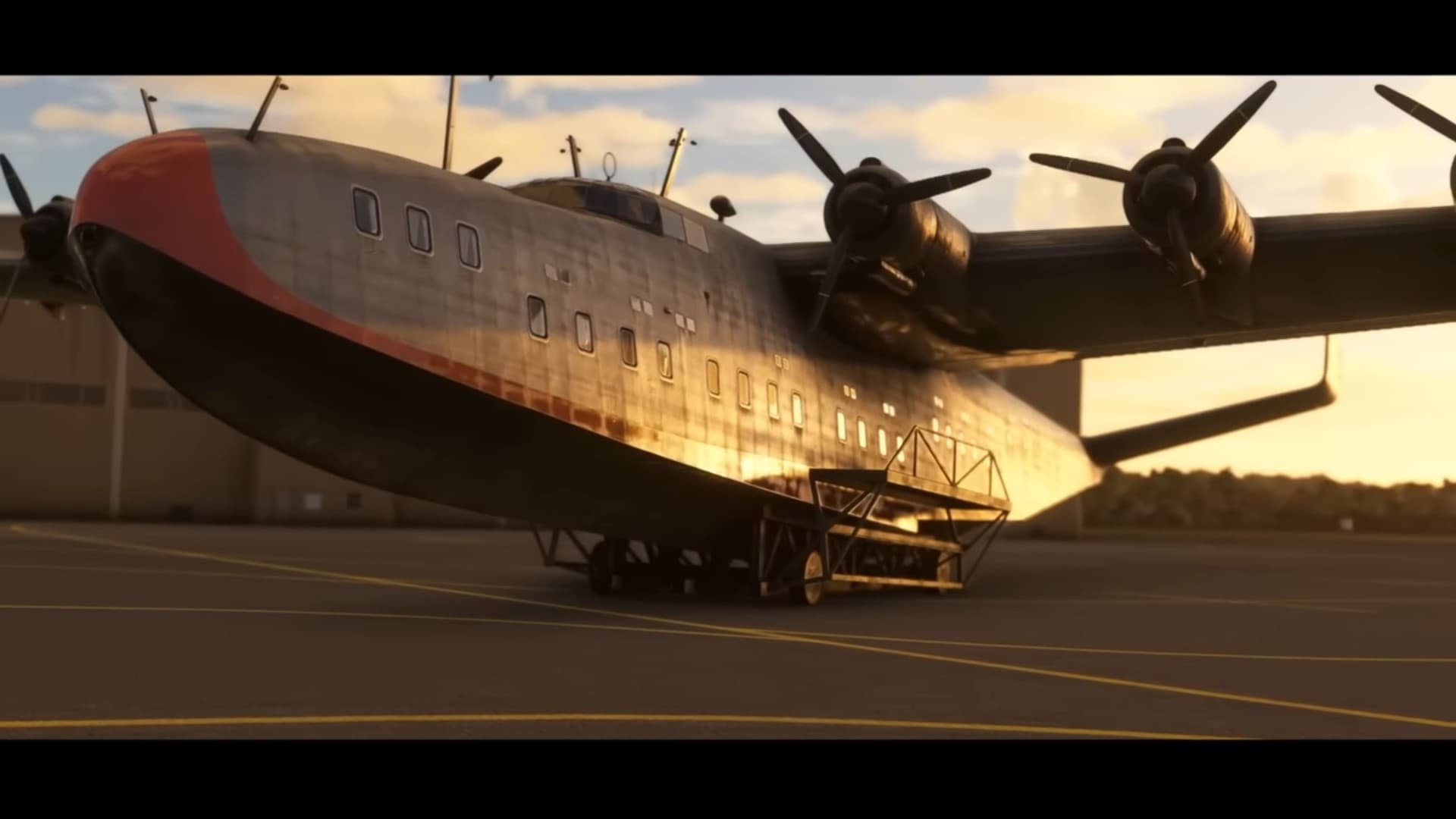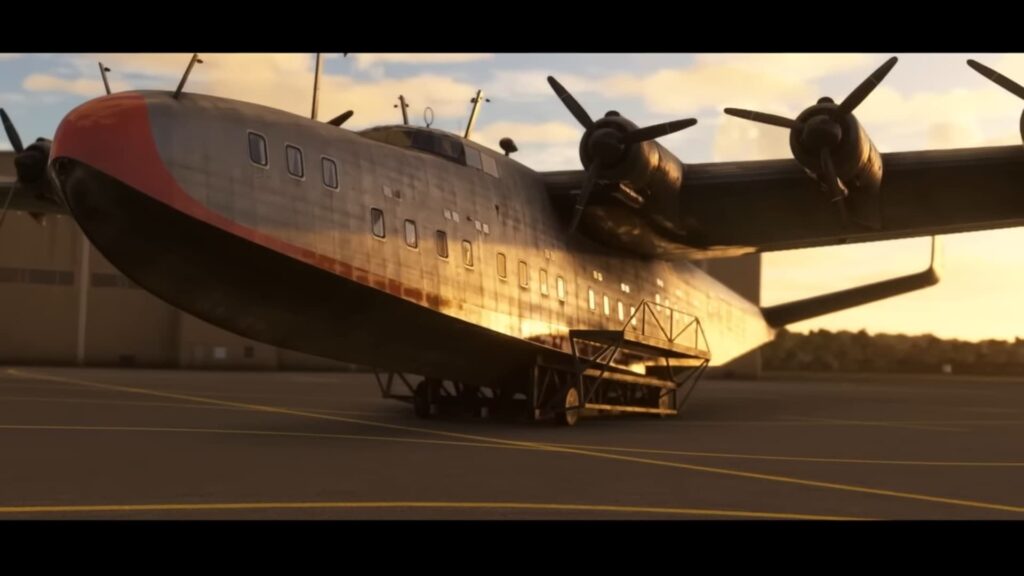 City Update 2: France was announced as well during the MSFS May developer stream. Smaller than a World Update, City Update 2: France will include 5 new TIN (Triangular Irregular Network – this is the photogrammetry data Microsoft uses) cities including Amiens, Angers, Nantes, Nimes, Reims, and Nimes. Additionally, City Update 2 will include a handcrafted rendition (built by iniBuilds) of LFPB: Paris le Bourget airport. Jorg Neumann stated that Microsoft decided to release LFPB and City Update 2 in part because of MSFS's representation this year at the Paris Air Show. While Jorg and the team will not be attending, Microsoft Flight Simulator "will be present" in aspects of manufacturer exhibits such as ATR and Daher.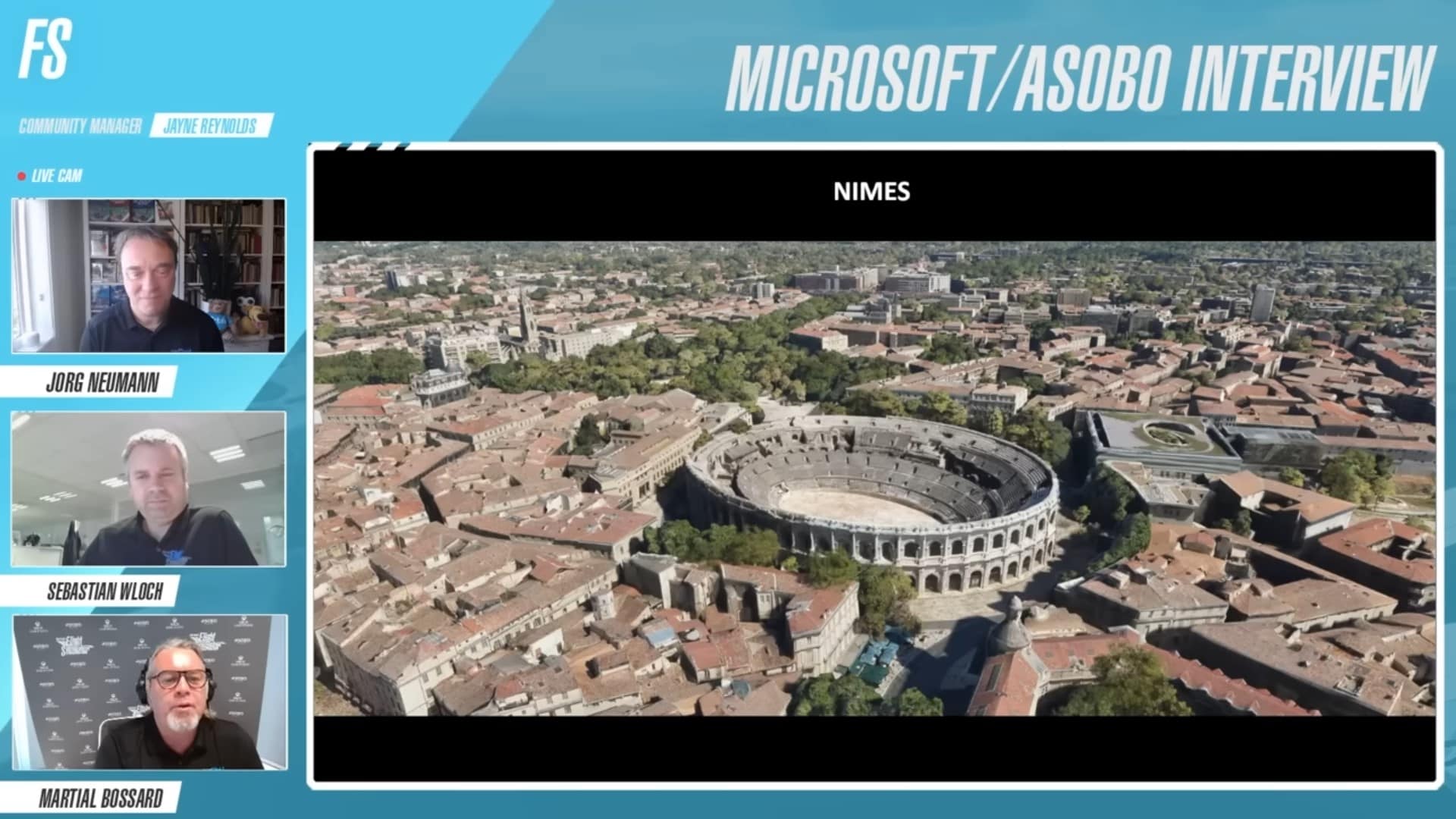 World Update 14 delayed, development challenges detailed
The MSFS May developer stream gave us some interesting insights as to the process by which a World Update is planned, developed, and finally executed. To put together a complete update such as the recent WU 13: Oceania, Microsoft and Asobo need a range of high-quality data from a number of different sources. It is inevitable, said Jorg Neumann, that challenges are encountered while putting together all this data. For this reason, World Update 14 has been delayed from 5/30 until 7/11. City Update 2: France has been moved forward to an update-packed June instead.
The Microsoft team explained that World Updates are often dictated by the data that is available. An example given was Africa: While the Microsoft team would love to do an Africa World Update (and it is highly requested by users), they are "really struggling" to find good TIN and DEM data to use. Much of this data comes from private and government entities in the areas that the World Updates will focus on, and often their cooperation is either difficult to acquire, or slow. Microsoft also detailed its extensive network of 3rd party partners working on World Updates, including Maxar, Orbx, and Gaya. Over 120 people are working on World Updates, not counting Microsoft data providers such as Bing.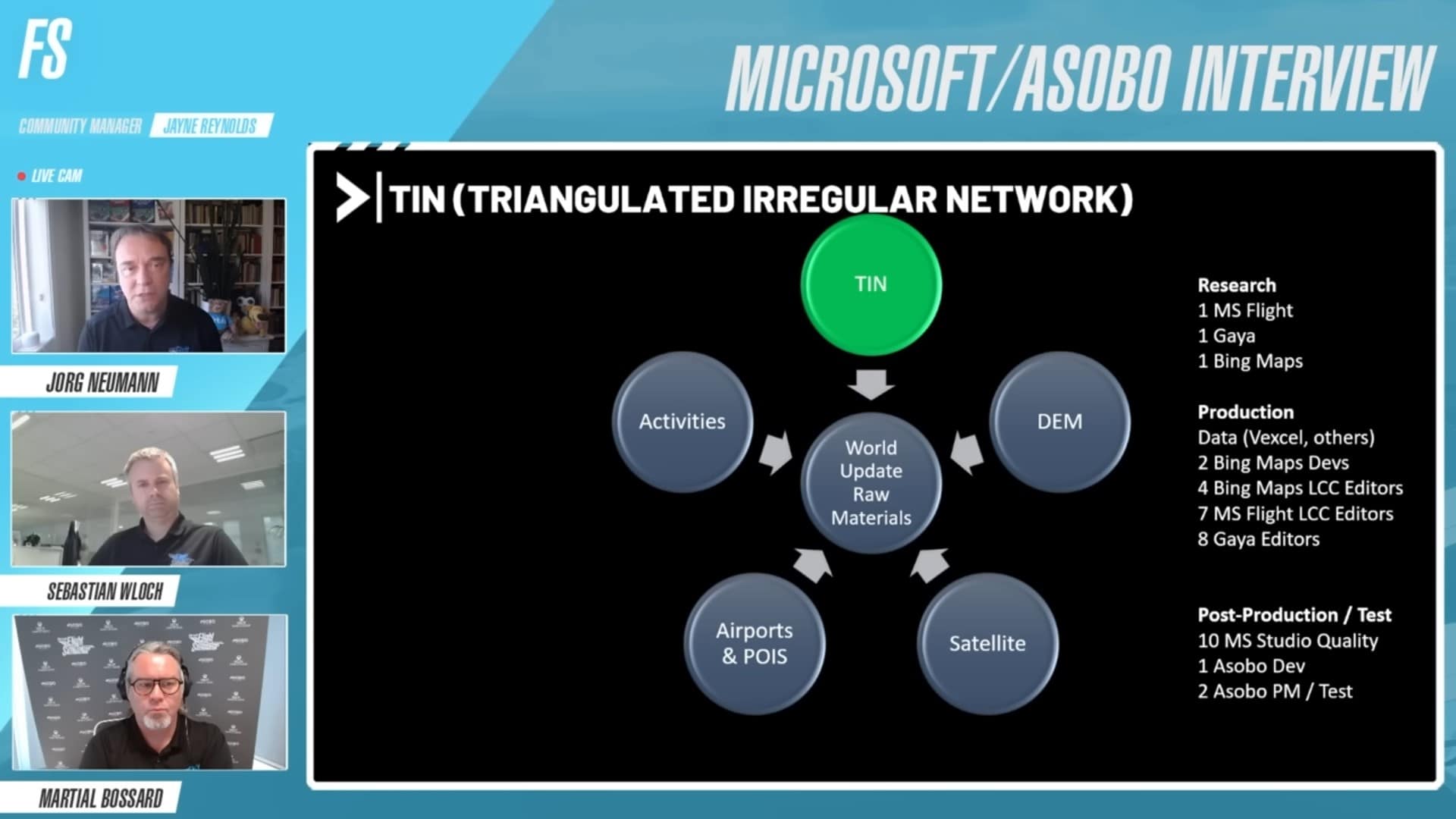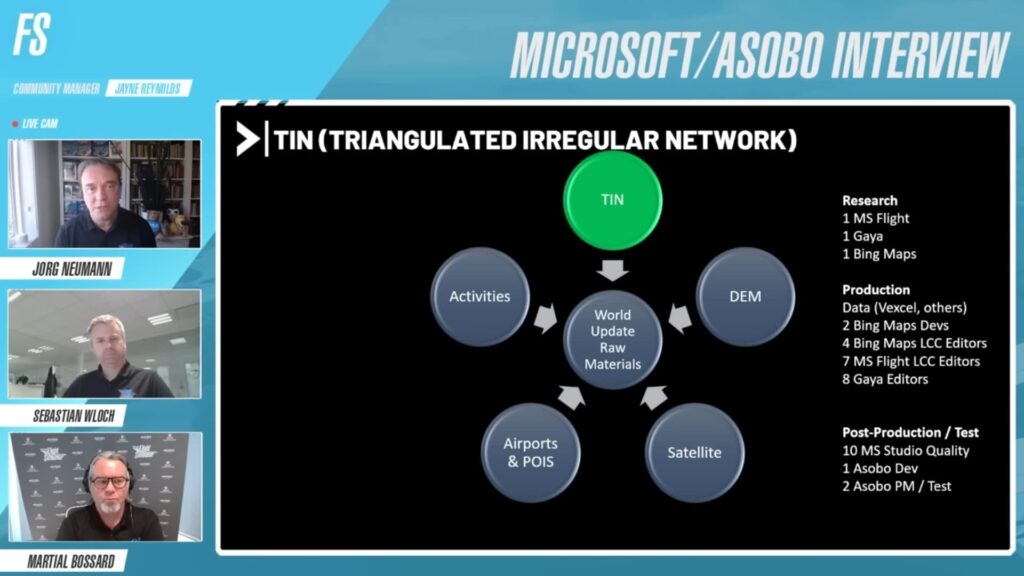 Developer Q&A recap
Jorg Neumann, Sebastian Wloch, and Martial Bossard took the time to conduct 3 Q&A sessions over the course of the MSFS May developer stream. Many of the community's questions were answered, and the Microsoft team did not seem to shy away from answering tough questions about delayed or incomplete features.
Shared Cockpit, Marketplace freeware, and World Hub
Shared cockpit functionality is planned, stated Sebastian Wloch, but the technical issues are immense. "We want things to work well, all of the time," before it is released, he said. There is a tremendous amount of data to synchronize, and the complex part is "Making sure it happens exactly the same." Wloch elaborated that it is common in current implementations for states to slowly desynchronize over time, and he wants MSFS's native implementation to avoid that problem both for default aircraft and complex add-ons.
Freeware content is still planned for the MSFS Marketplace, according to Jorg Neumann. "I am a big believer in freeware," Neumann stated. He said that the largest obstacle to the implementation of freeware on the MSFS Marketplace is still the backlog, as at this time their team could not handle an influx of freeware content. The backlog has been a major issue for Microsoft, and it is decreasing slowly due to their recent efforts and hiring.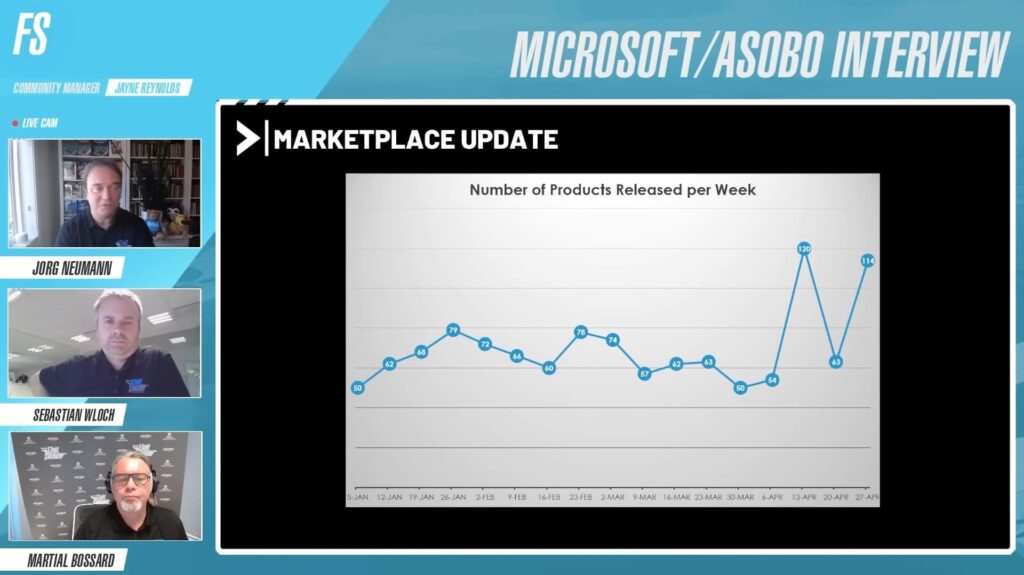 The MSFS World Hub was announced in late 2022 and is still in progress. The Microsoft team stated on the MSFS May developer stream that they are pleased with how it has progressed and expect to launch an Alpha later this month. The World Hub is expected to be similar to X-Plane's Scenery Gateway, allowing users to upload their own freeware airport and scenery fixes and alterations to be available to all users after a vetting process. According to Neumann, "compliance" on Xbox account rules was now the main roadblock to clear, but he stated clearly that "The software is working!"
Addressing long-standing bugs, weather APIs, and VR
Many Microsoft Flight Simulator users have repeatedly encountered the "low bandwidth" bug and Martial Bossard provided an update on Microsoft's progress in tackling this teething issue. Apparently, they haven't been able to reproduce the bug – but Bossard stated that was most likely because they did not have the data or telemetry to do so reliably. An upcoming update will include a change to how MSFS processes data requests in an attempt to tackle this bug. The Microsoft team stressed the importance of continued forum feedback, including reports made with their new "sim state" dump tool (In Experimental options) to provide them with as much information as possible to isolate and reproduce this issue.
Another topic addressed in the MSFS May developer stream was that of the weather API. MSFS has not opened its weather API to 3rd party developers, and as such many users believe that they are restricting or intentionally hamstringing the weather experience. According to Jorg Neumann, this is in order to make good live weather more accessible."Some functionality seems fundamental," stated Neumann, "Ideally, [excellent live weather] should be in the base sim." According to Neumann, this is why an API has not yet been built. However, "In reality, you can't do everything," Neumann said, and therefore the team is in the midst of internal discussions as to whether to continue this philosophy or to open the system up and bring in payware developers to fill the shortcomings of systems such as live weather as well as the camera system in MSFS.
Many VR users were disappointed to learn that Microsoft did not seem to be devoting many resources to fixing long-standing VR issues. According to Martial Bossard, there is no longer a team dedicated to VR development, and this is simply a matter of priority. He stated that their development priorities are largely dictated by feedback and that while some issues with VR still existed, the feedback was stronger about other ibugs and features – so that is where development has been allocated. "There are still improvements to make," admitted Bossard, but those improvements as well as bug fixes are now worked in the normal queue instead of by a dedicated team.
MSFS May developer stream wrap-up
The Microsoft/Asobo team answered many more questions on the MSFS May developer stream, and the full VOD with chapters and timestamps is available here. Microsoft stated that an update for the ATR is incoming shortly, and went into some more detail about what to expect for future "expert series" releases, stating they will find a way to bring the ATR Freighter model as well as a manual in a future update. In closing, the team provided a tease of City Update 3, appearing to contain much-awaited updates for Prague.
Neumann also stated that the Antonov An-225 project had been a colossal success, and they were on the verge of donating almost a million dollars (USD) to the Antonov company. Finally, Neumann showcased a very positive trend for MSFS and the hobby of flight simulation as a whole: "Since Christmas," he said, "the amount of simmers coming back month over month is going UP."