The LatinVFR A330-900neo is the first widebody addition to LatinVFR's extensive collection of Airbus aircraft for Microsoft Flight Simulator. This new long-haul entrant marks not only LatinVFR's (LVFR's) first foray into the intercontinental space but the first payware long-haul Airbus in MSFS.
LVFR's catalog has always been the subject of some controversy in the MSFS community. LVFR has always been upfront about not trying to match the same level of detail and fidelity present in the top airliner add-ons. They instead develop aircraft that meet the demands of the growing market of sim users who don't always want the "most accurate" sim experience – and those on Xbox, a historically underserved community of simmers.
I wrote in my review of the LatinVFR A319 that there is nothing wrong with a product aimed at that market segment, as long as it works, and works consistently. Whether a product is "high-fidelity" or "casual," it has to rise to meet its marketing and provide value to the customer who purchased it. The LatinVFR Airbus A330-900neo for MSFS is much more complete and consistent than previous entries in their catalog – but with an accordingly higher price, I think it is appropriate to expect fewer rough edges than those that still remain.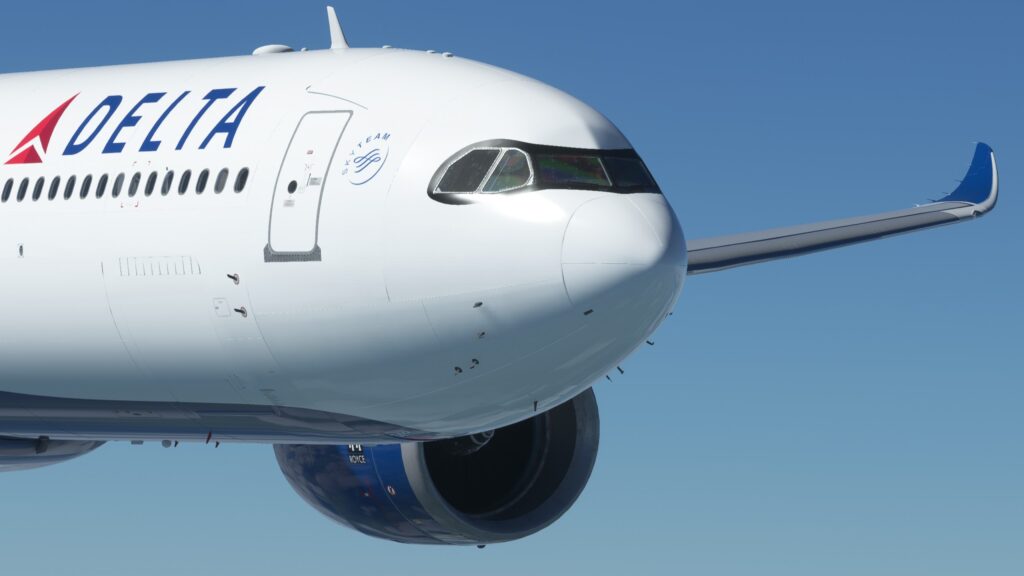 Table of Contents
Review Setup
This review of the LatinVFR Airbus A330-900neo for MSFS was conducted on a PC copy of Microsoft Flight Simulator. To compare my performance to your own, my PC is running a Ryzen 5800X3D with an RTX 3080 and 64GB of RAM. I sim on an ultrawide monitor, but (almost) all screenshots in this review will be cropped to 16:9 for easy viewing.
My sim hardware includes a Honeycomb Bravo throttle quadrant with Honeycomb's Airbus levers & a couple of 3D-printed add-ons, the Thrustmaster TCA Captain Airbus joystick, and the Thrustmaster TFRP rudder pedals. I also use a Logitech radio panel. I am a certificated U.S. Private Pilot and have been an avid flight simmer since 2020. All currencies mentioned in this review are in USD. The copy of the LVFR Airbus A330-900neo for MSFS was not provided to FSNews by LatinVFR, and all opinions and conclusions presented herein are, as always, my own.
New Exciting Option
The Airbus A330-900neo ("New Engine Option" – as opposed to "ceo" or "Classic Engine Option") is a modernization of Airbus's successful A330. Operators of the A330 demanded an aircraft that delivered similar efficiency to the Boeing 787 after that aircraft launched in 2004. But from the start of its development, the A330-900neo has always existed in somewhat of an oddly conflicting position with Airbus's own A350 models, which offer a similar capacity but with a longer range.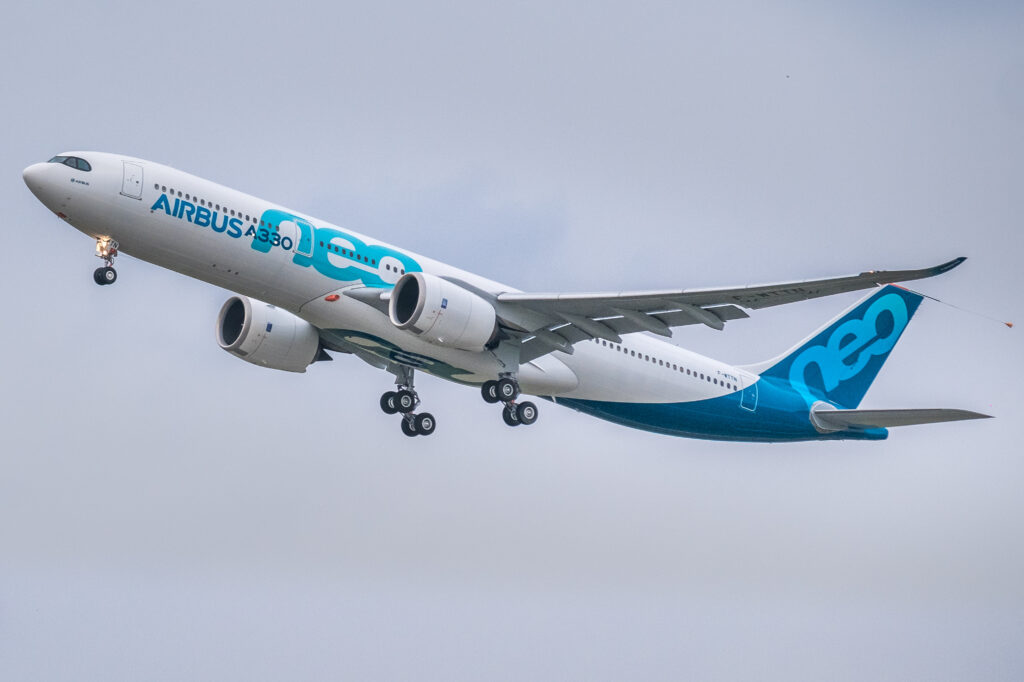 However, the A330-900neo has begun to prove itself on midrange routes that are not long enough to necessitate an A350 and is very competitive with the 787-9 on the high-demand transatlantic routes. It has become Airbus' best-selling widebody since 2014. The flight deck is built around Airbus' highly automated human-machine interface philosophy and shares many commonalities with its single-aisle aircraft, making the pilot transition to the type relatively simple. Compared to the older A330s, it incorporates new blended "sharklets," a tweaked wing, and the powerful Rolls-Royce Trent 7000 high-bypass turbofan engines.
The A330-900neo was first delivered to TAP Air Portugal in 2018, and now flies with 19 operators worldwide. Its operator-specific configurations range from a multi-class configuration averaging around 280 seats to a staggeringly dense 459-seat all-economy configuration operated by Cebu Pacific.
LatinVFR A330-900neo for MSFS Features and Installation
The LatinVFR A330-900neo costs $34.99 and is available exclusively on the MSFS Marketplace and is compatible with both PC and Xbox. Although the Marketplace has been controversial, there is no denying that it simplifies the process immensely. Installation is complete in one or two clicks. No manual is included that I could find, but plenty of resources exist on YouTube to fly any Airbus in Microsoft Flight Simulator, and the A330 should be immediately familiar.
The LVFR A330-900neo comes with a staggering 42 included liveries, providing options for current operators all over the world. For PC simmers, free liveries are available from websites such as Flightsim.to. LatinVFR has released free updates for their previous aircraft that add new liveries to their rosters, and it is likely, but not certain, that this will be the case for the A330-900neo as well. All of these liveries represent their operators well, but eagle-eyed simmers have pointed out a few minor errors in some liveries in discussions on their Facebook page.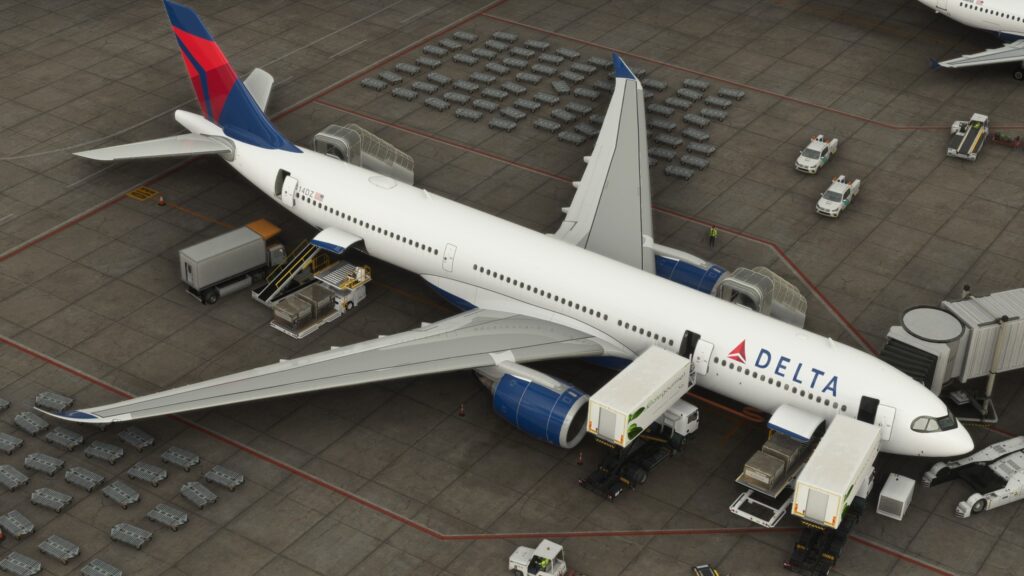 A substantial amount of ground equipment is included with the LVFR A330-900neo. Custom stairs can be attached to any left-side passenger door. Container loaders can be used with fore and aft cargo doors, complete with cargo containers. You can also use ground power and air units as well as catering trucks, fuel trucks, and chocks/cones. All of this equipment is customized where appropriate to the operator of the livery you choose. Jetways will also sometimes connect to the L2 door instead of just the L1 door – although I cannot figure out how to make this happen consistently, each airport just sort of picked for itself.
LVFR's EFB
There is an EFB included with the LatinVFR A330-900neo, providing a number of features that will be familiar to simmers and present as standard in most add-on EFBs. These include the ability to import your Simbrief OFP, check the weather, manage weight and balance as well as ground equipment, calculate takeoff and landing performance, and more. Navigraph chart integration is also supported, as well as Navigraph's new OANS (On-Board Airport Navigation System) – the first aircraft in MSFS to support this. Due to memory limitations, however, it is recommended to disable OANS on Xbox.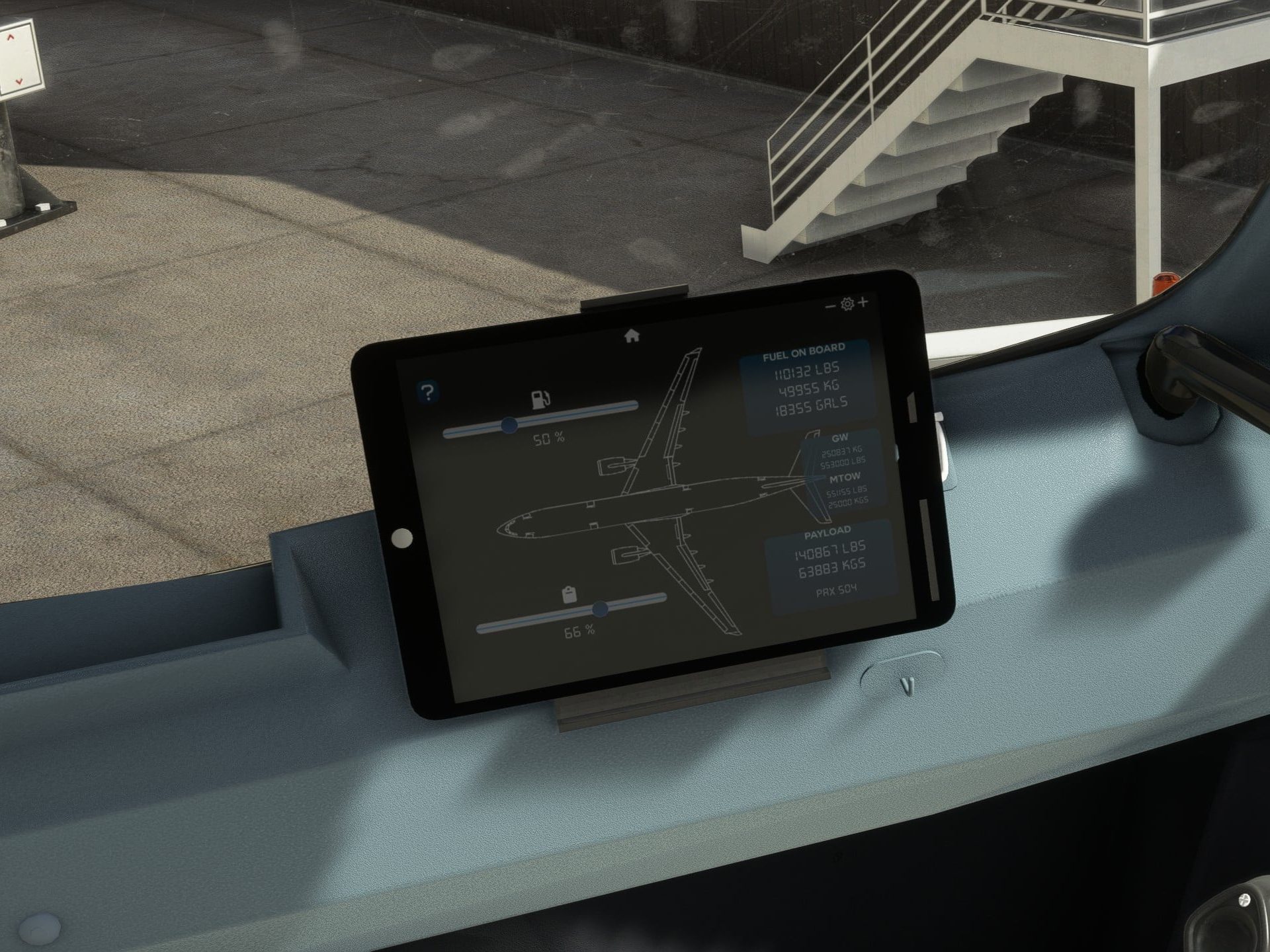 While the EFB of the LVFR A330-900neo is feature-rich on paper, in practice, each of these features is limited in a meaningful way. To start, the entire tablet feels sluggish, with slow animations throughout. The weight & balance screen is just a skin of the built-in MSFS payload manager. The performance tool offers nothing over what the MCDU will calculate automatically. Navigraph charts offer few of the organizational tools that we have become accustomed to. Checklists are non-interactive. There is no way to change the unit of measure in the MCDU (from Kg to Lbs, for example) that I could find, and no utilities such as throttle detent calibration that we have come to expect from payware add-ons.
Great Visual Improvement
When I last reviewed an LVFR product (the A319ceo), I mentioned several letdowns in modeling and texturing that were revealed when getting up close and personal with the aircraft. I am pleased to report that LatinVFR has noticeably stepped up its game with the LVFR A330-900ceo. The aircraft is markedly improved over other entrants in their catalog and although far from perfect, it's wonderful to see firsthand a developer progress like this.
Sleek Lines
The modern, blended silhouette of the A330-900neo is captured well by LatinVFR in their rendition for MSFS. Compared to photographs, I can find no drastic inaccuracies. The engines are well-modeled for an add-on in this price range, as are the landing gear. Wingtip lights are modeled rather than just "stickered on," and flap & spoiler machinery is also present for those who look closely.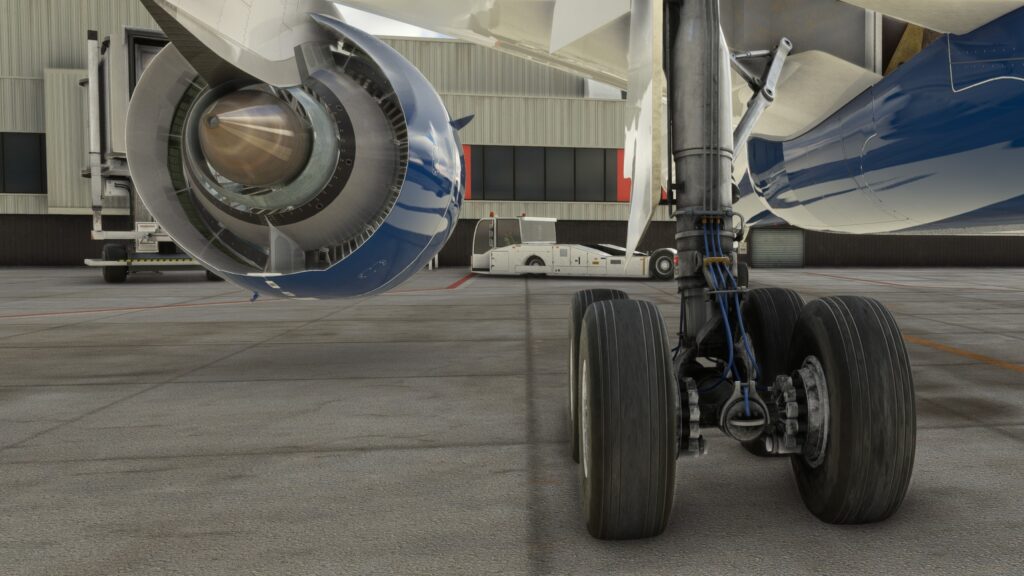 But don't look too closely, because a few issues that were present on LVFR's previous aircraft return to the A330-900neo. "Greebles," such as antennae, are simply modeled with little attention to finer details. There is a distinctive gap in the trailing edge flaps of both wings during flight as well as an odd "dip" in the line of the leading-edge devices where they meet the engine pylons. The wheels are constantly clipping slightly into the tarmac. Once you start to see them, you'll start noticing these small gaps all over the LatinVFR A330-900neo, along with "seams" in different sections that are increasingly visible under dramatic lighting conditions – unfortunately, the same conditions that I most enjoy screenshotting. Note: many modeling fixes, including for the flaps, were released in an update summarized in this post on the LatinVFR forum. However, at the time of writing, that update was yet to be released so that update has yet to be evaluated.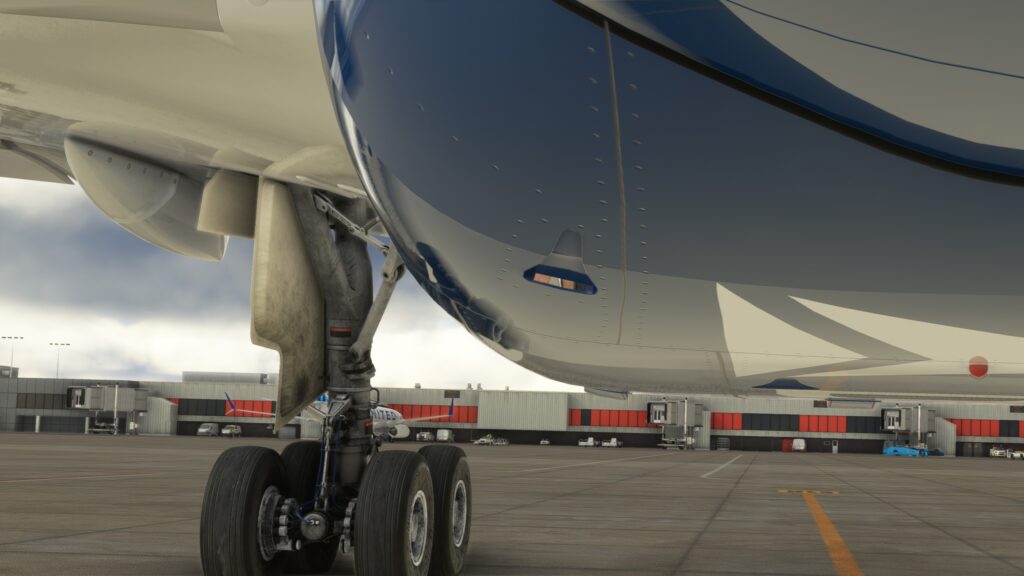 Bright Colors
Adding to the list of things that LVFR has improved upon, all 42 liveries included with the LatinVFR A330-900neo are quite well done. Being a relatively new aircraft, I appreciate the fresh or lightly-weathered look to LVFR's texturing. All text and placards on the exterior are crisp and readable. There are some livery-specific issues here or there (mirrored registrations and some missing winglet designs for example) these are quickly pointed out by LVFR customers and swiftly corrected in updates as they are discovered. All things considered, I cannot point to anything markedly wrong with the texturing of this aircraft.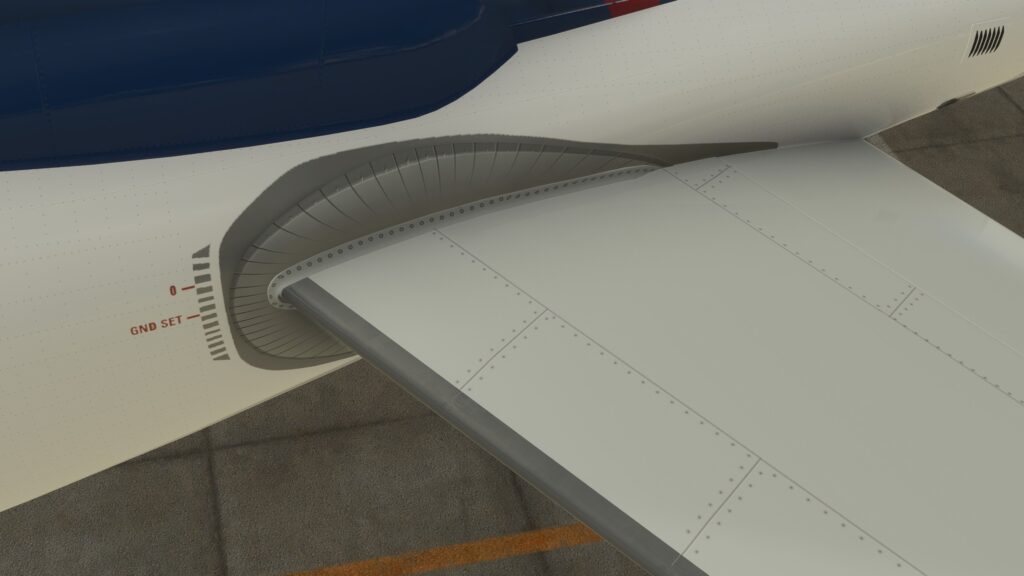 Cabin Fever
This trend of improvement continues to the interior of the LatinVFR A330-900neo as well. In particular, the finer details of the cockpit are dramatically improved. Different materials pop from the panels and all the colors appear to be correct (except for the window handles, which are always a lighter grey in pictures I can find). Textures are high resolution and there are no model gaps in the cockpit or other issues that break immersion.
A cockpit with character goes a long way towards immersion and enjoyment in flight simming, and in my opinion, LVFR delivers here. I only hope that they continue the trend of improvement and apply it to the sunshades which, in addition to asinine click spots (that I often hit when trying to activate lights), they're just bland, flat, and covered in clearly visible, copy-pasted "fingerprints" that do nothing to lend atmosphere to the cockpit – only block your view of the EFB, which they strangely shade better than the oncoming solar rays.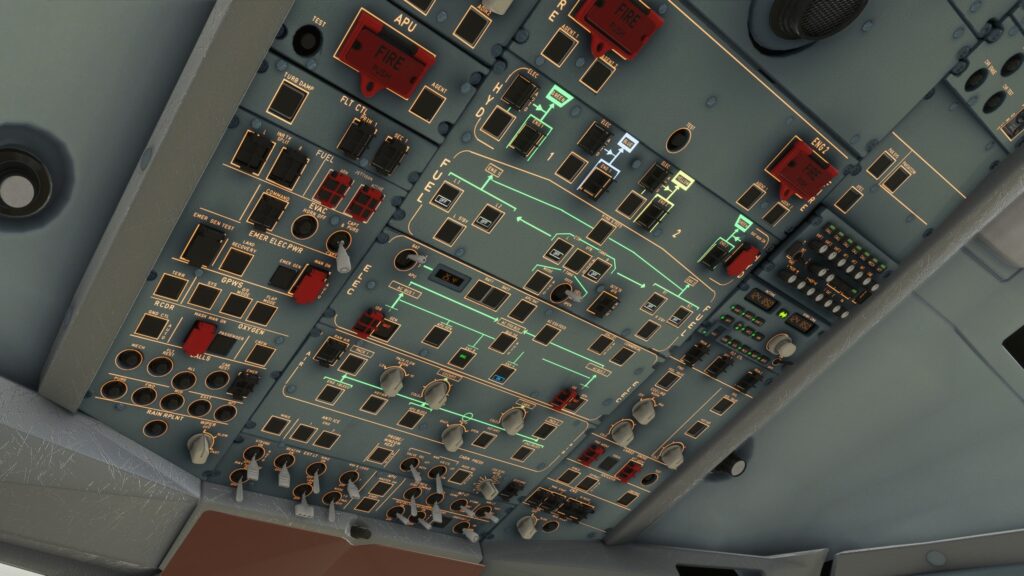 LatinVFR's cabins have historically been a strong point. The LVFR A330-900neo is no exception, with a fully modeled multi-class cabin that is accessible through an animated cockpit door. Cabin lights are controllable via the EFB and actually provide a strong atmosphere to the cabin at night, although there is some light bleeding onto the external wing root when turned on. Each cabin is lightly customized per livery operator, with logos, in-flight entertainment, and even magazines changing to showcase the airline.
Unfortunately, LatinVFR has foregone its traditional animated cabin for the A330-900neo. This feature lent life to the cabins of their previous Airbus aircraft and is not present here. According to LVFR, this is primarily due to memory limitations with Xbox consoles and was omitted to keep performance at an acceptable level.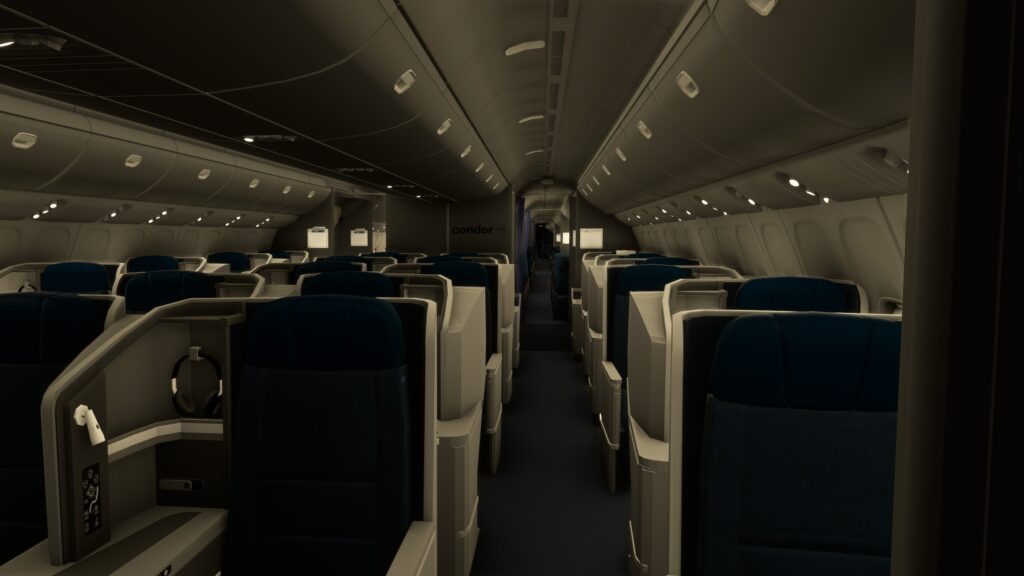 Performance
On the subject of performance, the LVFR A330-900neo ran as smoothly as could be expected from a widebody airliner in Microsoft Flight Simulator. Flying into a demanding scenery such as iniBuilds' KJFK, I got usable framerates right from touchdown until taxi-in – a feat that only few can manage at this notoriously heavy add-on airport. At every other airport, though, performance was smooth enough to not break immersion, although not buttery enough to use my eye tracker – but that is a performance bar that only GA aircraft regularly clear.
Sounds
LatinVFR has historically had a very strong soundscape, and the A330-900neo is no exception. The Rolls-Royce engines sound great from the cockpit (Although probably a little loud) and cabin, and accurate to my planespotting experiences from the outside. The only weaknesses I could detect were an abrupt "end" to the sound of the flap machinery from the cabin view, as well as a general lack of auditory feedback on touchdown.
Sounds Examples
Systems Struggles
The LatinVFR A330-900neo is advertised to simulate the essential functions of the real aircraft. It does not promise spectacular realism with study-level interactions. But even if it is honest in advertising, it's important that the package on offer remains usable, stable, and enjoyable. In the past, LVFR's reliance on default systems has made for an often sub-par experience.
But LVFR has not sat idle – they have taken the feedback to heart and released several significant updates for their existing Airbus aircraft that augment the default systems, adding additional simulation that is much-needed. These improvements are present in the A330-900neo. The result is a simulation experience that is believable enough to satisfy a casual audience but still has enough rough edges and "default-isms" to frustrate sim pilots looking for a deep and immersive experience.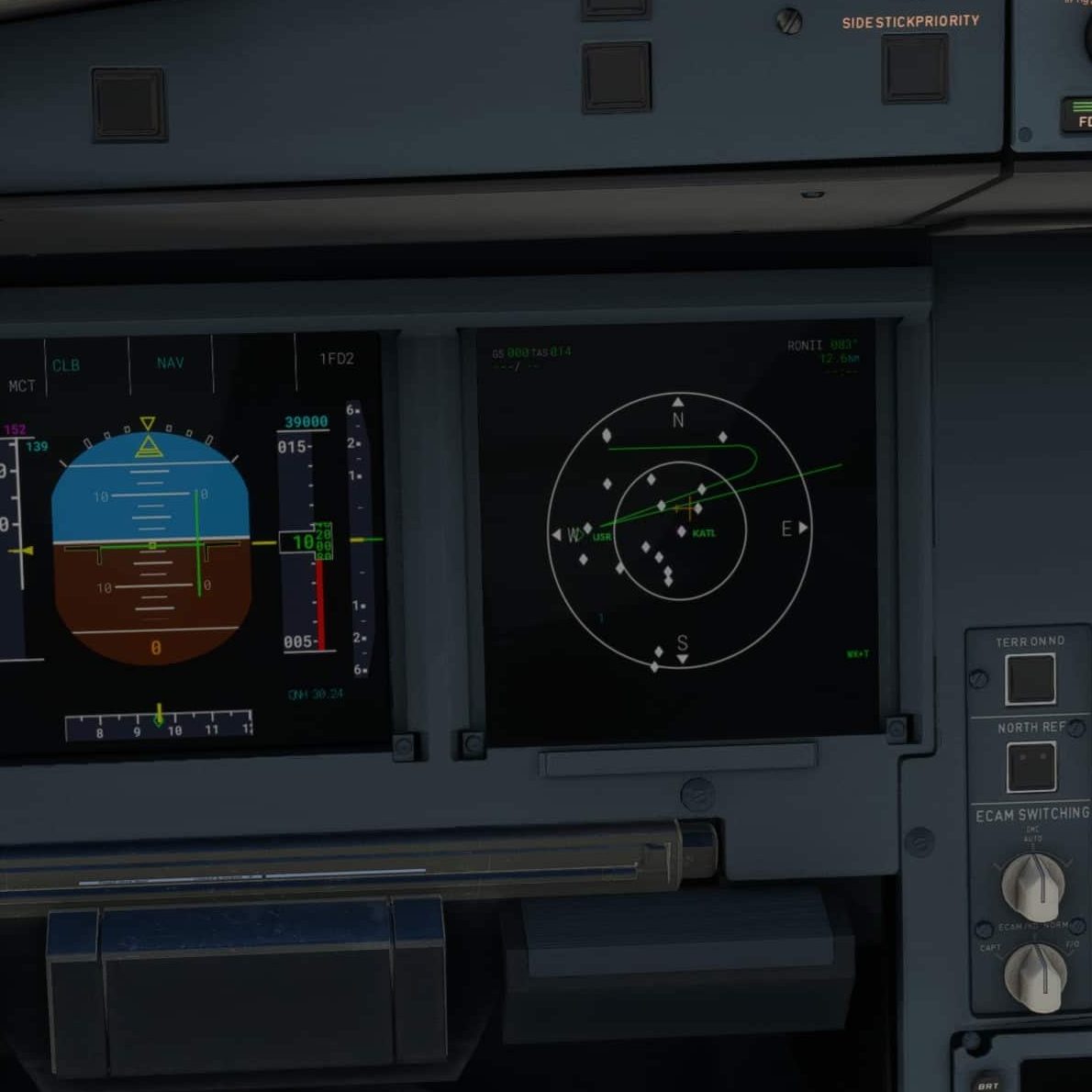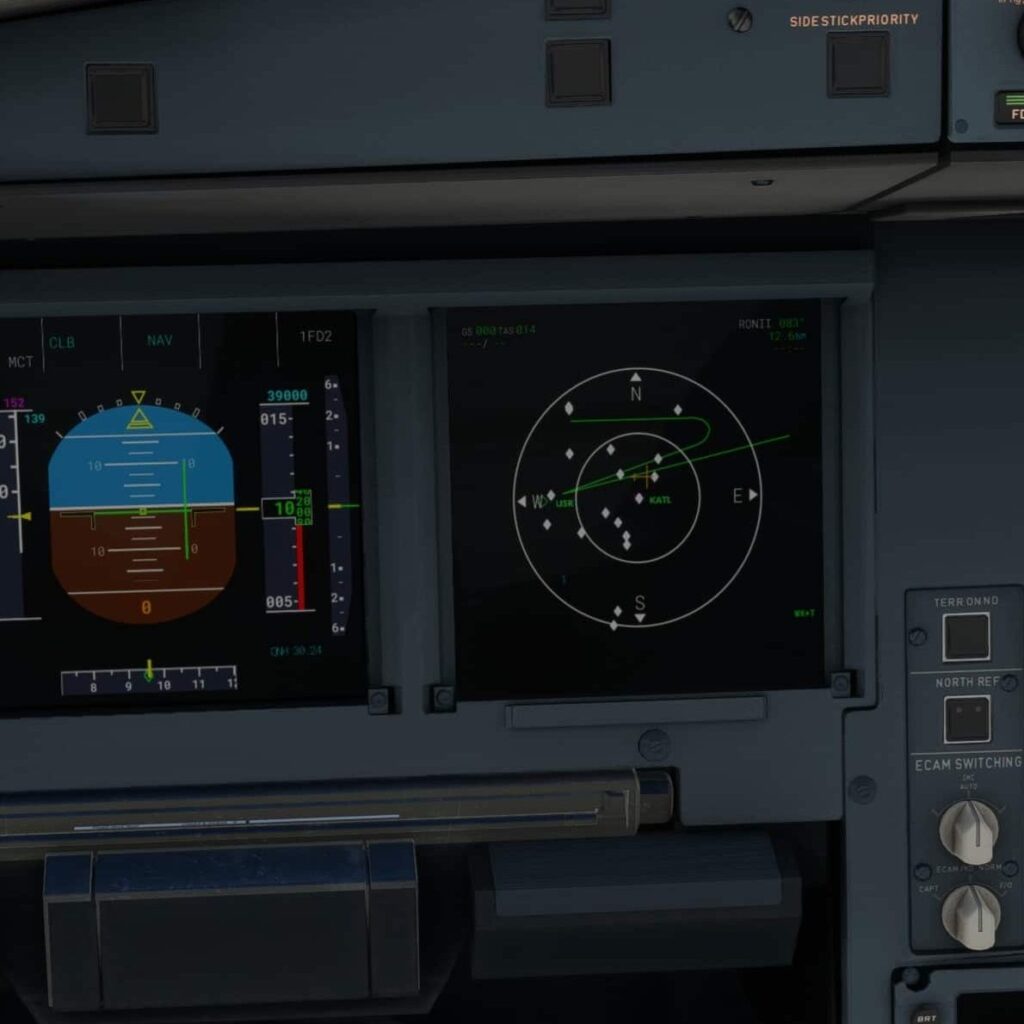 Flight planning and pre-flight are hampered by the basic MCDU. You can plan via the MSFS World Map, import from Simbrief, or enter your route manually. All three options work, but many options are missing, and the process of adding, moving, or changing waypoints is slow and unintuitive. It uses MSFS' default AIRAC and navdata, so expect inaccurate SIDs and STARs with some interesting "ideas" about the proper transitions and how to string together the flight plan. The drawn route on the Navigation Display does not always display the proper formatting for waypoint and leg types. Most systems on the overhead panel are not modeled, but you still get to press buttons and align the ADIRS, so there is still a reasonable amount of the "pilot feeling" to experience.
The avionics are basic but functional in takeoff, climb, and cruise. LVFR is still working on custom VNAV, so constraints on departures are not automatically respected – expect to use Open Climb mode and set altitudes manually. I am pleased to report that takeoff speed calculations seem reasonably accurate, and the managed speed mode works well enough in these phases of flight not to require any real babysitting. You get the expected ECAM checklist items – although the autobrake disengaged every time I tapped the toe brakes. Each ECAM page is viewable, but most systems function as if they were scripted (e.g., APU startup takes the same amount of time each time) instead of responding to your inputs and the environment.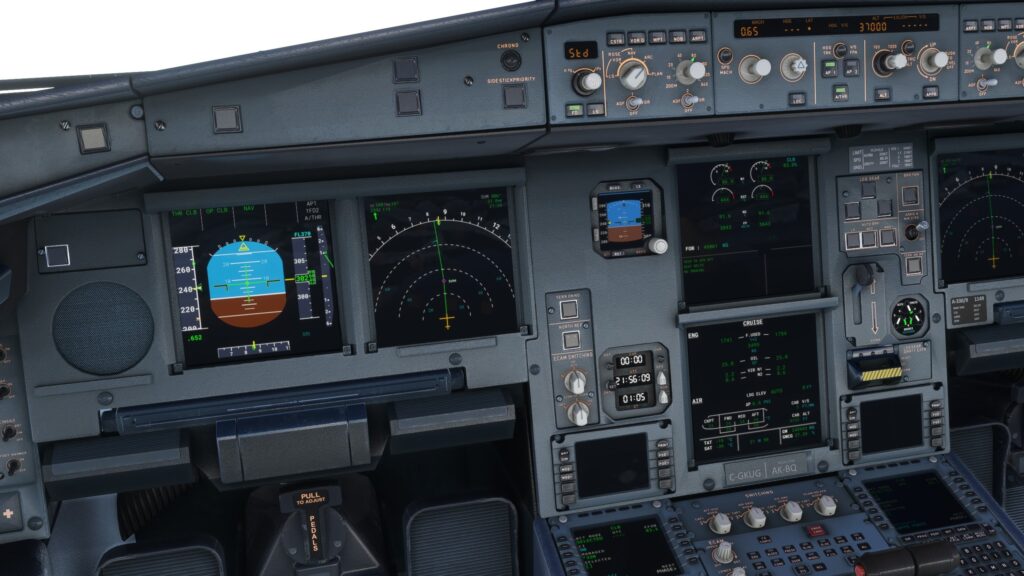 You will take a much more active role in the descent and approach. The LatinVFR A330-900neo's lack of VNAV is especially noticeable here, with manual descent necessary in every phase of the arrival. When it was time to decelerate for the approach, I found myself intervening manually every single time to maintain appropriate speeds. Flap extension speeds feel slow, and the overspeed bar is overzealous (As an example: the placarded speed limit for extension of Flaps 1 is 240kt, but the aircraft will declare an overspeed if they are extended at this speed).
ILS and RNAV approaches are supported as well, and there is basic vertical guidance available for RNAV approaches. I can also report that the MCDU is robust enough to handle changing an approach on the arrival (if you receive a runway change, for example) or to re-insert a new approach after a go-around. Fix info pages and holds are not implemented. I did have a couple of minor issues with ILS interception, all of which can be easily traced back to the behavior of the default A320 systems that form the base of the LVFR A330-900neo.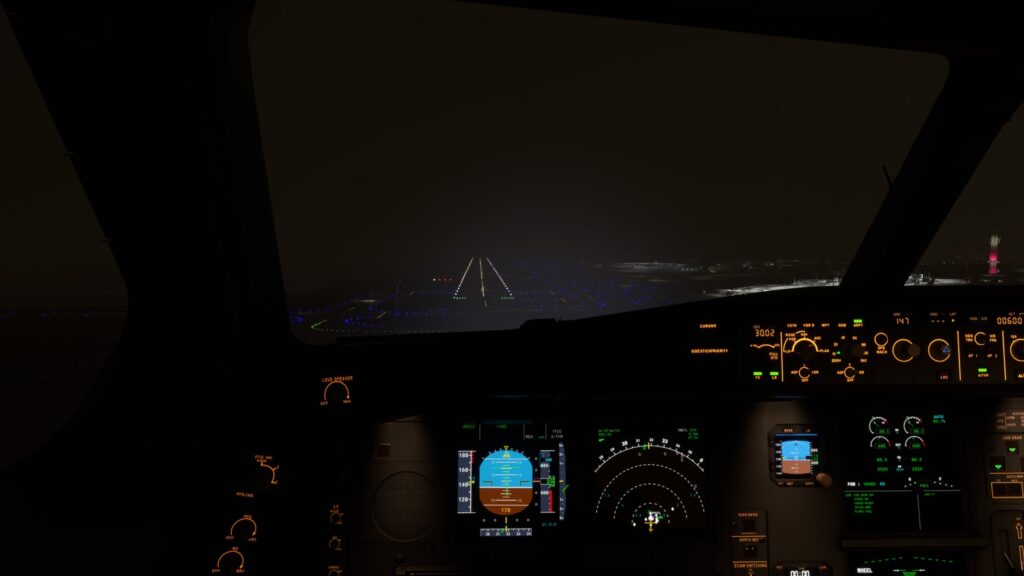 When it comes to flight modeling, the LatinVFR A330-900neo felt like a big, heavy Airbus – exactly what I would expect. It was also responsive to my inputs, thanks to the fly-by-wire controls (LVFR simulates the basics of Airbus' envelope protection). However, it was very difficult to land properly as the aircraft suddenly became extremely floaty in the flare, with almost no audible or camera feedback as to when the touchdown had actually occurred. I found myself not noticing I had landed multiple times – the landing being so smooth (brag) that I thought I was just floating over the ground for half of the runway.
Low Fidelity ≠ Poor Quality
My experience with the LVFR A330-900neo across almost a dozen flights of all durations (including a 10-hour long haul) shows that the aircraft is workable and stable, with the essential functions implemented just as LatinVFR has promised. It is not an aircraft that I would recommend taking to a busy VATSIM event, because the lack of VNAV and holding functions only set you up to bust altitudes and cause undue workload for the controllers. However, you could probably sneak it in on a slow evening, and certainly, it functions well enough for a sim pilot interested in casual flights in a modern long-haul widebody.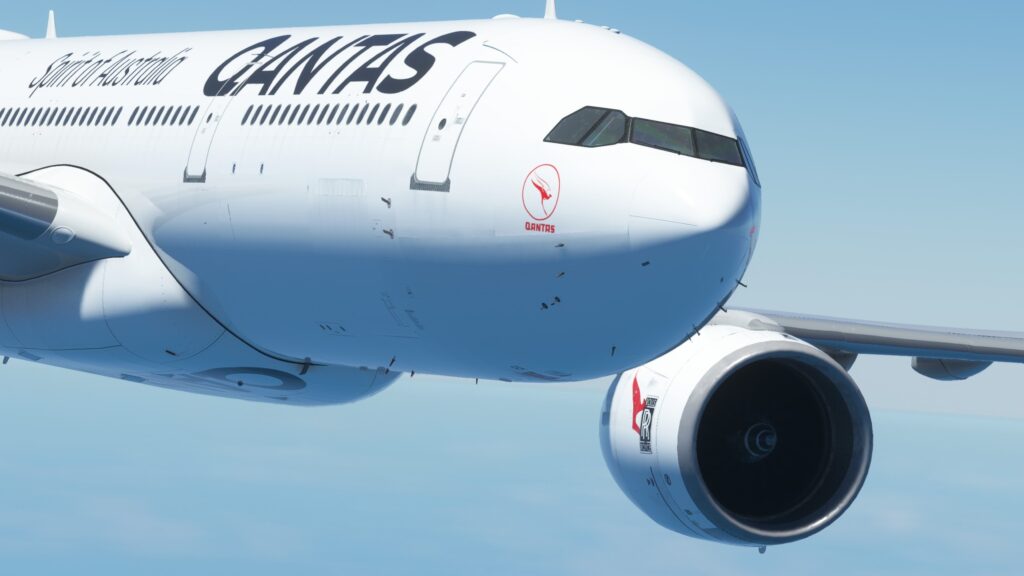 LatinVFR's extensive modification to the default systems has finally begun to result in a solid claim to the "basic airliner" market. Not everyone wants to futz with perfectly correct startup sequences or enjoy the older systems in the included A310, for example. Many flight simmers just want to feel like a pilot and relive their experiences blasting over the globe in this sleek, modern airliner. The LatinVFR A330-900neo is the first aircraft that I have flown that has a solid claim to this segment of the market.
Conclusion: Watch This Space
While LatinVFR has now made a very compelling argument for being a true "basic airliner," one thing is stopping me from recommending this in its current form: the price. At $34.99, it is above the price that I would expect from an add-on of this level of detail. For a sim pilot looking for a high-fidelity airliner, there are now options around this price point at a much higher level of detail – not to mention the fantastic General Aviation experiences that abound as well. The LatinVFR A330-900neo is priced at a level from which I expect a higher standard of consistency, with fewer visual shortfalls and the rough edges entirely sanded off of the default systems.
To be clear, you could do much, much worse with your $35. And value, of course, is subjective. Do not feel wrong if you are interested in purchasing the A330-900neo – after all, I hope that I adequately conveyed how much fun is still possible even in its current form. And honestly, just as I have grown fond of the one Cessna 172 in my flight school's fleet that often requires left rudder on the takeoff roll, a little roughness has a certain charming character sometimes.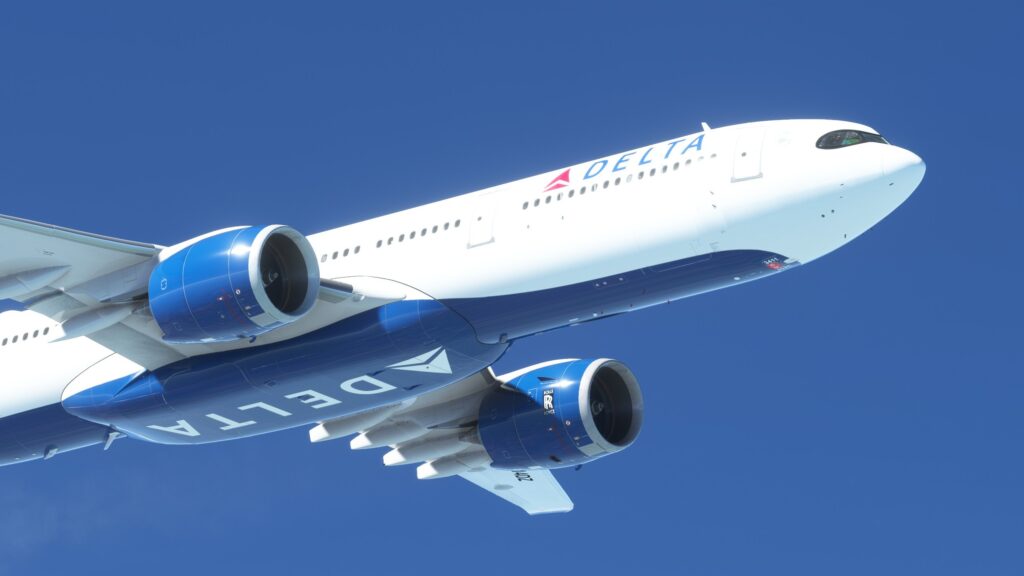 If nothing else, the team at LatinVFR has proven to be committed to the improvement of their products. In the weeks since its release, they have released two not-insignificant updates including many fixes – about the fastest they could possibly do so given Microsoft's Marketplace update cadence. They even released a hotfix that PC players could use while waiting for the update to process in the Marketplace. LVFR has not neglected its other Airbus aircraft in the meantime, with the improvements developed for one product coming to the entire catalog.

LatinVFR is hard at work on a custom VNAV implementation that they say should be ready in the coming months, alongside the release of their upcoming Airbus A340. I am confident that they will release this update, and I am confident that they will continue to work on and improve the LatinVFR A330-900neo to the absolute best of their ability.
But as I have stated before: never buy a product based on future promises, buy instead based on its quality now. And right now, the LatinVFR A330-900neo is a decent add-on at a price it has yet to deserve. But watch this space, because either on sale or with the right updates, it could suddenly become one heck of a long-haul deal.