In June of 2021, it was announced that the development of the Just Flight Fokker F28 was "well underway," with Just Flight having purportedly finished the external models and texturing a mere month later. We could have been forgiven for expecting the aircraft to progress rapidly to release, but instead, the development updates trickled in throughout 2021 and 2022. Now in mid-2023, more than two years after the initial announcement, the Just Flight Fokker F28 Professional has rolled out of the hangar and into the skies of Microsoft Flight Simulator.
It is clear that not a second of Just Flight's development time was wasted. The company has delivered highly praised aircraft add-ons in both the regional jet and general aviation categories and the Fokker F28 for MSFS is proof that their passion and dedication to the craft is unlikely to wane. The Just Flight Fokker F28 is a tour de force of attention to detail. However, potential buyers should be aware that, if you lack the time, desire, or patience to meet it at its level, you might never see why it's worth the price of admission.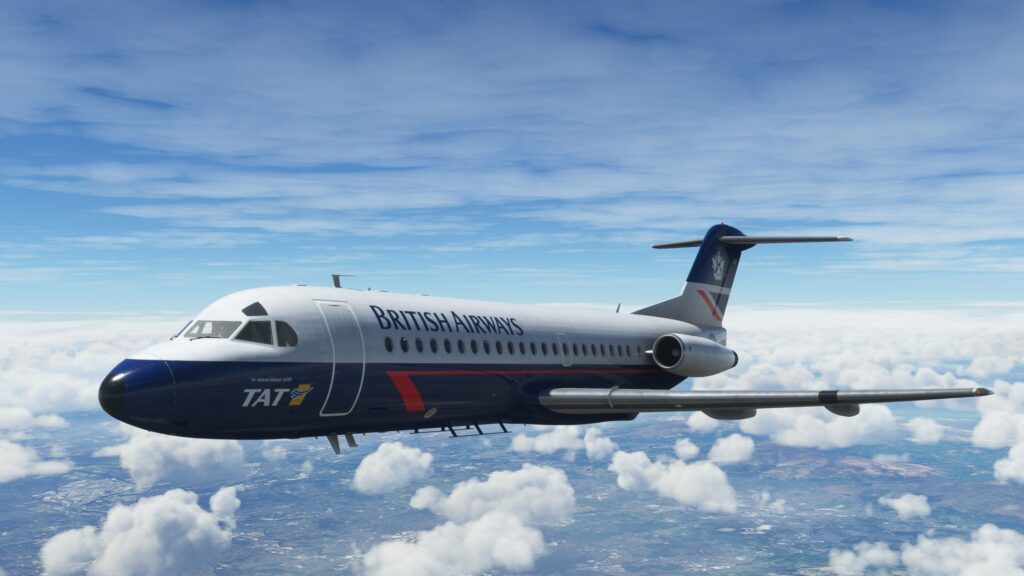 Just Flight Fokker F28 Review Setup
My Just Flight Fokker F28 Professional review was conducted on a PC copy of Microsoft Flight Simulator. I sim on an ultrawide monitor, and a reasonably powerful PC with an AMD Ryzen 5800X3D, Nvidia RTX 3080, and 64GB of RAM. For hardware peripherals, I use a Thrustmaster TCA Boeing yoke, Honeycomb Bravo throttle quadrant, and Thrustmaster TFRP rudder pedals. I have recently integrated a Tobii Eye Tracker 5 into my setup as well. I am currently in training for my U.S. Private Pilot's License. All currencies mentioned in the review are in $USD. The copy of the Just Flight Fokker F28 for MSFS that I reviewed was not provided by Just Flight or any affiliates. The opinions and conclusions in this review, as always, remain my own.
Friendships and Fellowships
The F28 "Fellowship" was the first regional jet airliner built by Dutch aircraft manufacturer Fokker in the mid-1960s. Drawing on a wealth of experience in regional operations gained through the turboprop F27 "Friendship" and spurred on by a British European Airways specification for a new jet-powered regional airliner, Fokker designed and built the F28 with great attention paid to the needs of the regional operators that would be its primary customers. It would be faster, fly higher, and carry more passengers than the existing fleet of turboprops. Fokker would also incorporate many improvements aimed specifically at the North American regional market, namely simplicity, with extra effort paid to standardize language to reduce trade barriers.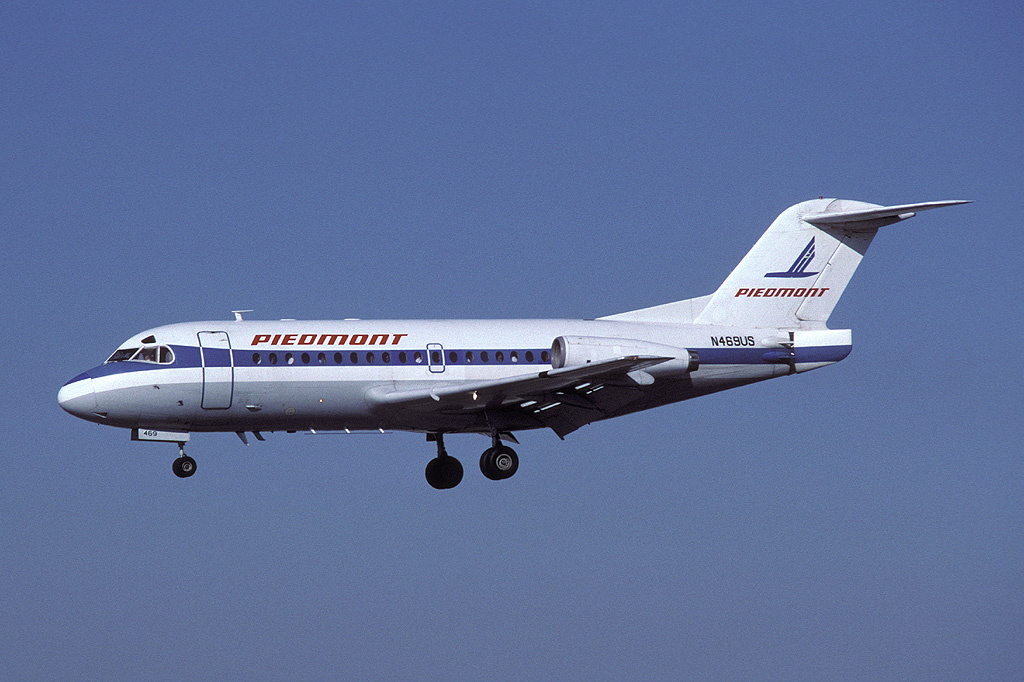 The first Fokker F28 Fellowship to enter service did so with Braathens in 1969. It was powered by twin Rolls-Royce Spey Junior turbojets, and by the end of its production in 1987 was available in four variants with a capacity of up to 85 passengers. Its unique split-tailcone speed brake enabled it to descend steeply from cruising altitude and maintain higher engine RPMs during low-speed flight to reduce the lag time for the engines to spin to full power, theoretically increasing margins of safety during go-arounds. The Fokker F28 was a commercial success, with over 84 operators across six continents. The governments of Colombia and Venezuela continue to operate the F28 in official capacities; however, the last commercial F28 was retired in 2019, operated by Fly-SAX.
Just Flight Fokker F28 Installation/updates, Features, and Manual
The Just Flight Fokker F28 for MSFS is currently available for $69.99 exclusively from Just Flight's online store. Just Flight has plans to bring the F28 to the MSFS Marketplace as well as make it Xbox-compatible; however, at the time of writing it is only compatible with MSFS on PC. The add-on is installed via a dedicated installer from Just Flight, and installs without fuss after simple activation. Updates, however, are relatively cumbersome, as it is necessary to redownload the entire 3.2GB package and essentially reinstall it for a simple patch.
Your purchase includes all four production variants of the Fokker F28: The F28-1000, -2000, -3000, and -4000. Most of these are just stretched versions of the basic F28, but the -3000 and -4000 also sport wingspan extensions. 30 real-world liveries taken from the F28's extensive service life are included, with accurate options for each variant. A blank livery is included for each variant, and a paint kit is available from Just Flight's product support page. GSX profiles are also available. While the cockpit of the Just Flight Fokker F28 is period-accurate with no FMS, you have the option of selecting an optional Working Title GNS530W unit to add GPS navigation capability.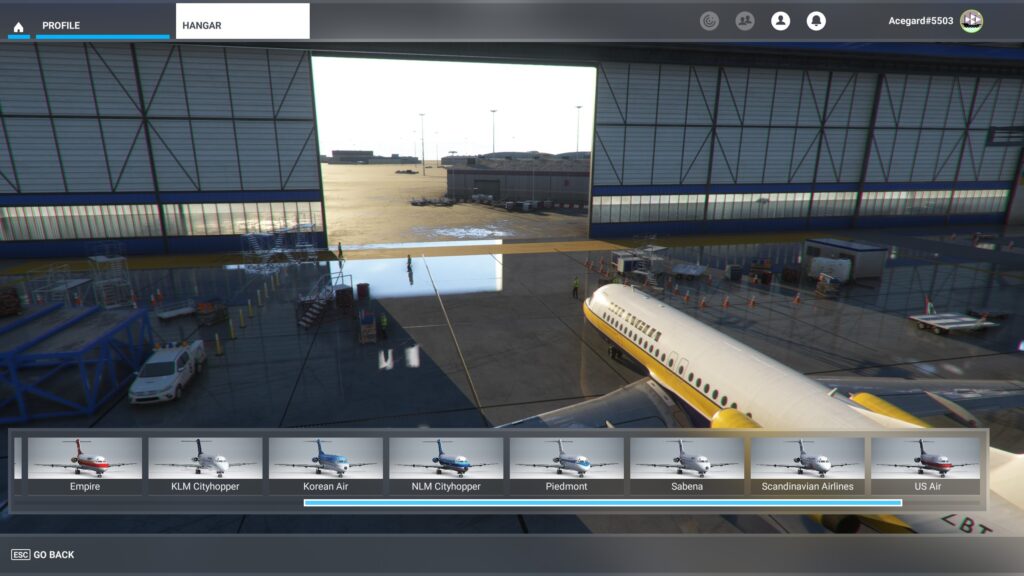 The Just Flight Fokker F28's manual is extensive. The 253-page document is installed with the aircraft, and also available on Just Flight's website. It is searchable and well-organized, with in-document links in the Table of Contents making it fairly easy to navigate. This manual contains all the necessary information to learn the Just Flight Fokker F28 for MSFS, along with a detailed tutorial that is replicated in video format. In a nice touch, the training flight – including preset weather and navigation – is available to be loaded directly into MSFS's flight planner, simplifying the process of getting up and running so you can follow along exactly with the tutorial.
My only criticism of the manual is that it is, in effect, too lengthy. While it is easy to navigate, my PDF viewer lagged considerably when scrolling through or jumping to information. I think that Just Flight should consider this in future manuals, creating a separate document for the tutorial flight and perhaps also splitting out things like performance tables, limitations, and checklists. This would reduce the overall size of each document, making it easier to navigate and find the answer to a question you may have about it mid-flight. Just Flight has done this in one respect: there's a completely separate, but smaller, manual for the EFB alone.
The Fokker's EFB
Okay, I lied, that was the last time.
The EFB (Electronic Flight Bag) included with the Just Flight Fokker F28 is almost a direct copy of the one already available for Just Flight's other MSFS regional airliner, the BAe 146. It's a very competent unit, including support for Navigraph charts, a moving map, Simbrief integration & import (with either automatic or manual passenger and payload loading), checklists, and a TOD calculator. You can also change the animated external features of the Just Flight Fokker F28 for MSFS, such as doors, chocks, and ground power. All cargo and passenger loading is done via the EFB – the Just Flight Fokker F28 does not support the MSFS load manager.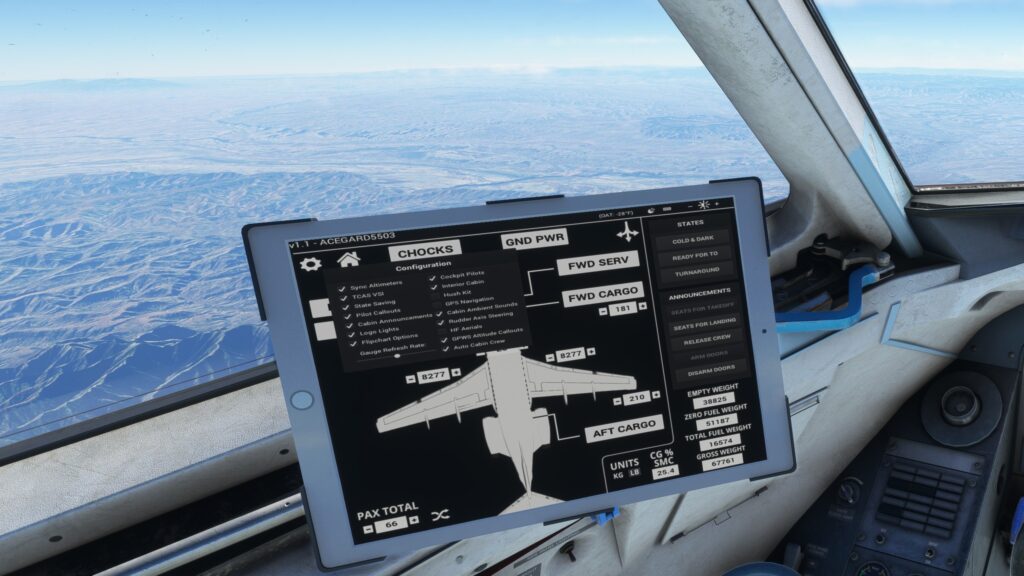 Useful settings for the Just Flight Fokker F28 are toggleable via the EFB, such as the GNS530W, hush kits (which are also based on the livery selected), cabin & copilot modeling (if you want to save performance), and more. Just Flight includes several cockpit states that can be selected for a simple startup and a few cabin announcements for those who prefer some extra realism – although the cabin announcements can be automated, if you subscribe to the theory that you, as the simulated captain, should not have to deal with the matter of simulated passengers.
Control Bindings
I had very few issues setting up my hardware peripherals for the Just Flight Fokker F28 Professional. A helpful list of "odd" assignments (such as for autopilot pitch) is presented at the end of the manual, and if you use software such as SPAD.neXT, it operates with a multitude of LVARs just like most modern airliners. My Logitech radio panel worked with it out-of-the-box, requiring no extra setup, which was a godsend for VOR navigation.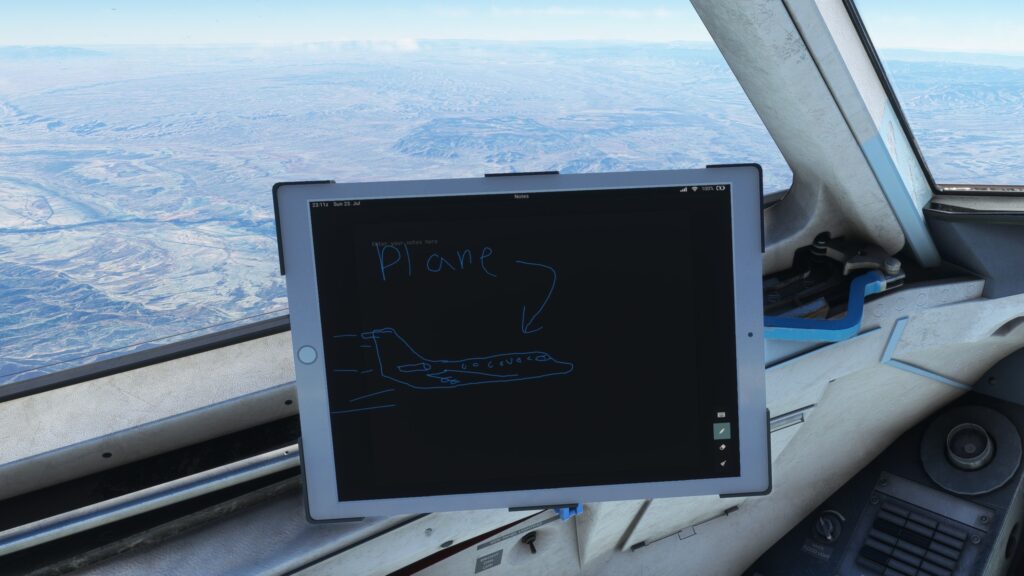 Just Flight Fokker F28 Textures & Modeling
Just Flight's visual work on the Fokker F28 for MSFS continually impressed me with its fastidious attention to detail, as well as the smart balance that they have struck between those details and performance. A developer stated once in a presentation that it wasn't the polygon count that kills performance in MSFS, but the textures – and that tends to be borne out by personal experience. While some specific points could be improved, Just Flight's overall job is excellent.
Of note: 8K cockpit textures are available for the Just Flight Fokker F28 support page. This review is of the default, 4K textures included with the base package, as when I downloaded and attempted to install the 8K replacements, my graphics card crawled under the blankets and wouldn't come out until I bought it flowers and took it for ice cream. Use these at your own risk, they are for big-boy GPUs (and sadomasochists) only.
Cockpit
The cockpit of the Just Flight Fokker F28 Professional is the same across all variants and is excellently done. The usual suite of visual delights that you would expect from a high-quality aircraft are all present: PBR textures with good material differentiation, natural shadows, crisp text, immaculate modeling, and more. The seats and jumpseat are fully animated, and you can adjust the lights to your heart's content. Switch animations are satisfying, and the rotating valve indicators on the overhead panel spin and lock into place with a delightful click. Switches and knobs that are guard-wired shut break the guard wire if they are used, which will remain broken until you reset the flight.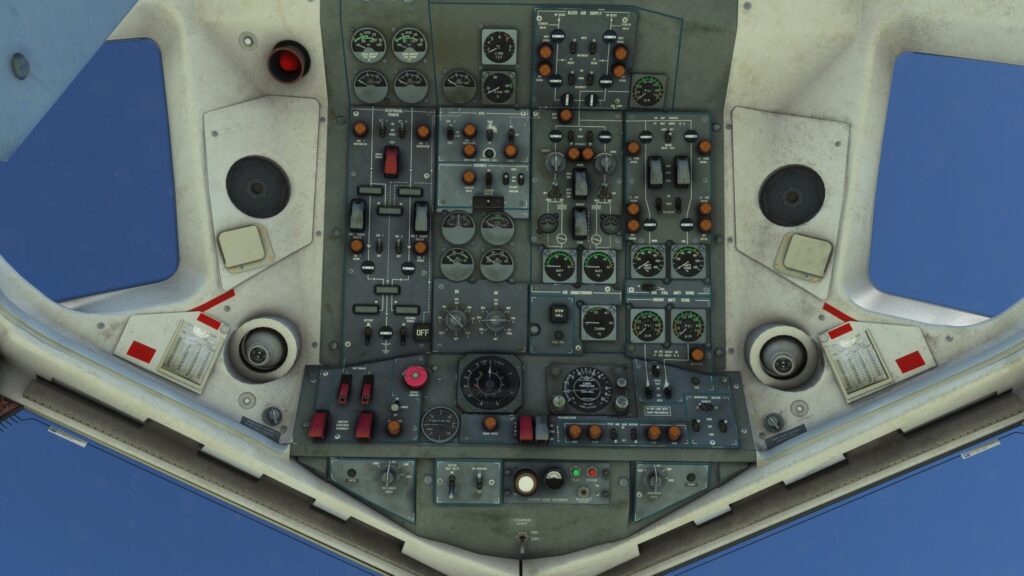 Just Flight has gone the extra mile by paying attention to the things you won't typically see. For example, straps and wiring harnesses in the glareshield are modeled and textured. My favorite little detail is the ability to "unscrew" any of the amber caution lights on the overhead panel, dimming them with every turn as the simulated contact with the bulb grows weaker. I am a little surprised that the cockpit windows do not open, considering Just Flight's otherwise unassailable attention to detail.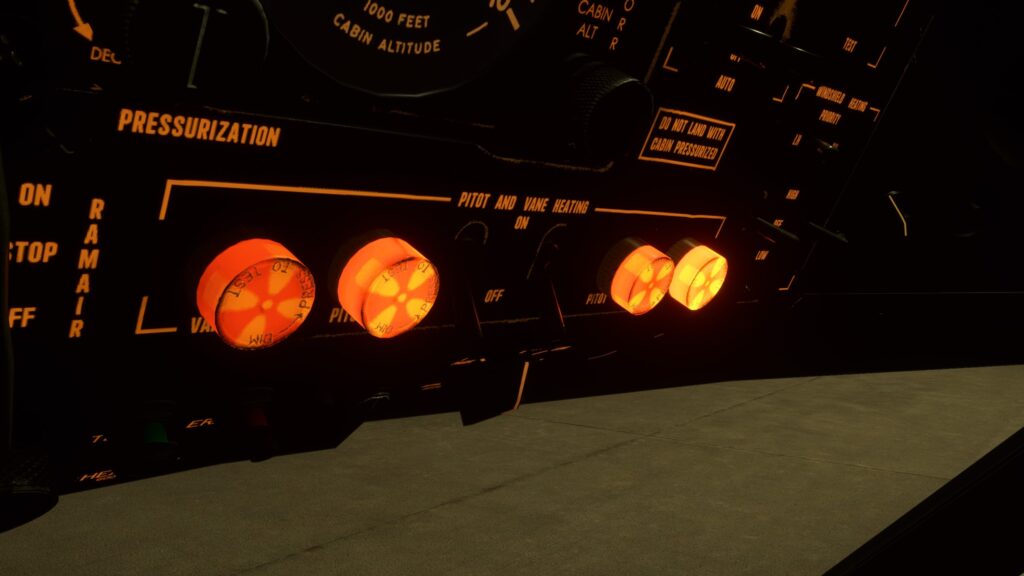 Cockpit lighting is full of options. The Just Flight Fokker F28 Professional has several adjustable cockpit lighting options with both red and white lights in an unfathomable amount of positions. The dome light is very difficult to activate, however, as its button is tucked away to a position inaccessible from the captain's seat. I think that Just Flight should expand this click spot (And the click spots for the TTC switches, which are impossible to hit), but the Storm light switch on the pedestal is a quick shortcut to activate all the lights at once.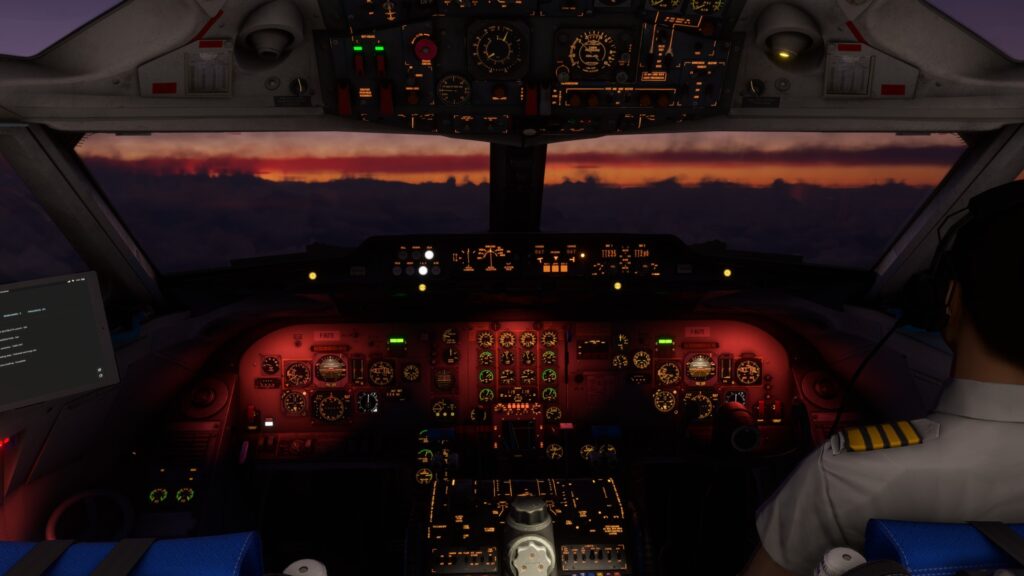 The elephant in the cockpit (and indeed, the entire aircraft) of the Just Flight Fokker F28 are the textures. While their overall effect is wonderful, the individual textures are actually far lower quality than I expected. Zoom in and you will notice stretched textures with pixelation clearly visible. However, it is a testament to Just Flight's artistry that they've made these textures look as good as they have. Every add-on will start to show cracks when you look too closely, but Just Flight has done a wonderful job of hiding the flaws from the everyday pilot, in a result that is far greater than the sum of its parts.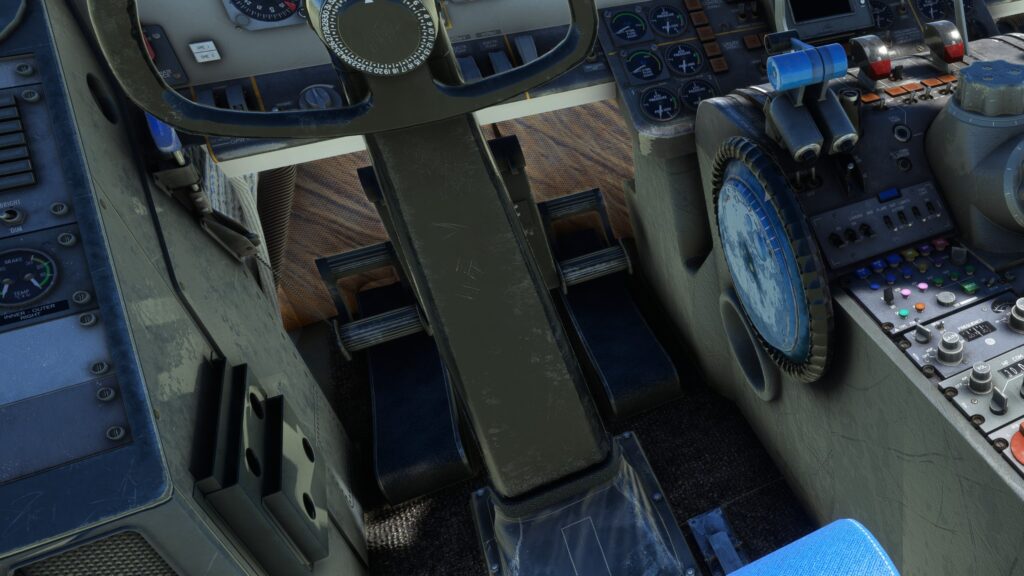 Cabin
Open the cockpit door (by clicking the handle) and step into the impressive cabin of the Just Flight Fokker F28 Professional. I recommend setting up cockpit camera translation controls (I use an Xbox controller) because the cabin is fully accessible, and there are actual controls in the cabin to manipulate. As a first for MSFS add-ons (to my knowledge), the Just Flight F28 has fully-operable cabin controls in the entryway. Switches and dials here control the cabin temperature, lights, stairs, and boarding music. And yes: while there is an appropriate track included for boarding, you can supply your own boarding music by replacing the .wav file.
The rest of the Just Flight Fokker F28's cabin is on par with the best currently available in MSFS. The model and texturing are good, with special work done on the galleys and seats. I really like that Just Flight has actually paid attention to the cabin walls and windows, which share the same high-quality material texturing as the cockpit along with the natural shadows that make the whole aircraft feel real. The only thing missing are some smudges from people cramming their greasy faces up against the windows to get the right angle to look at the engines. Not that I'd know how that happens…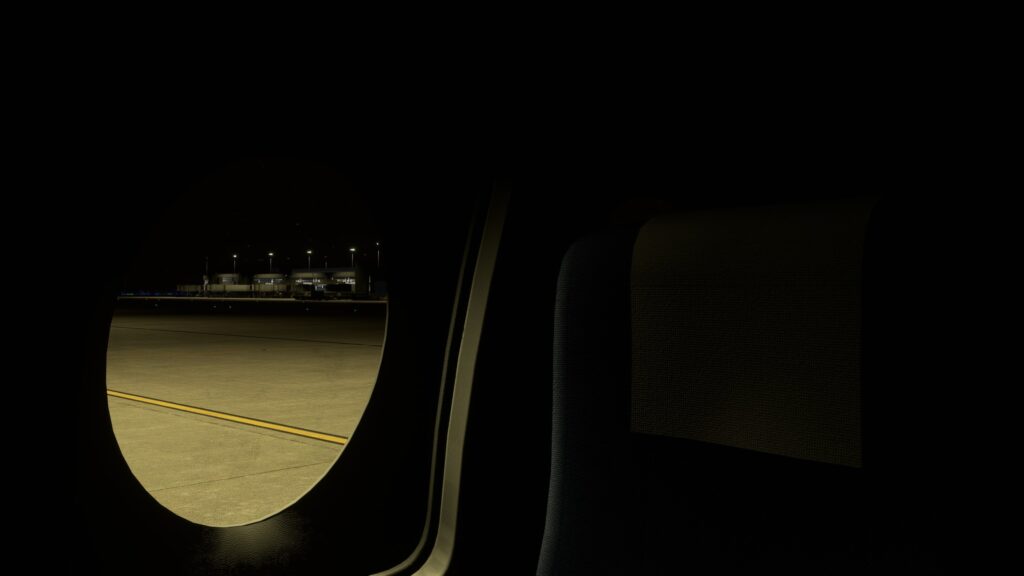 Cabin lighting options are extensive and can be controlled from the galley switches. Seatbelt & No Smoking signs light up per their cockpit switches, and even the Steward Call button lights up in the galley if the cockpit button is pressed. However, Just Flight has not modeled a lavatory, which is an unacceptable omission. Some might subscribe to the theory that pilots never see the cabin in flight, only the cockpit, and therefore it need not be modeled. However, I have personally witnessed pilots going in and out of the bathroom during the flight, so I know that theory is wrong. Just Flight, please.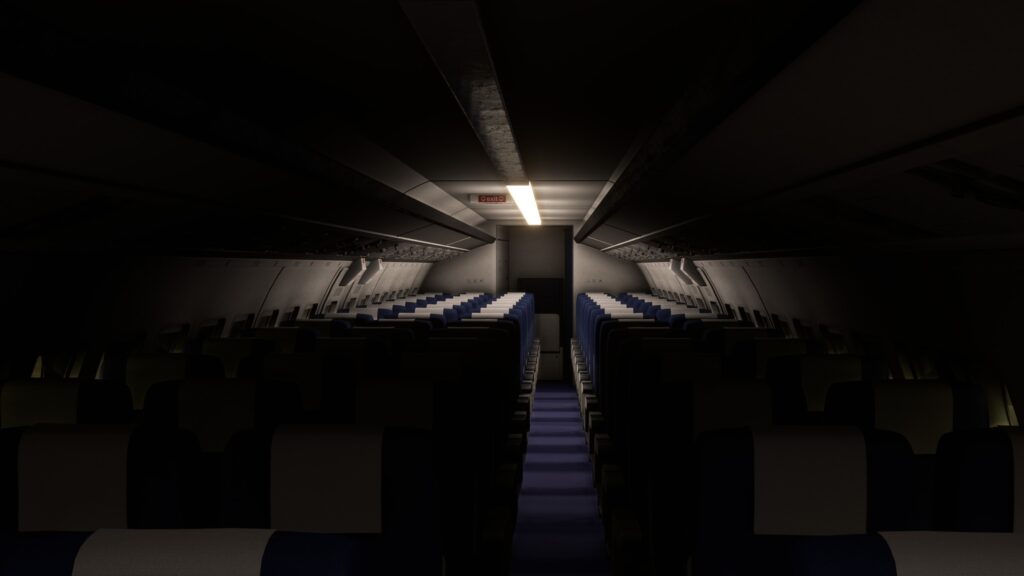 External Textures and Modeling
I'm going to end up repeating myself here, as the story on the outside is basically identical to the cockpit: The Just Flight Fokker F28 Professional for MSFS looks great from the typical view but has weaknesses that become apparent on close inspection. However, the difference is that the shortcomings become more obvious from a further distance, and the omissions, where they are present, are more jarring than in the cockpit.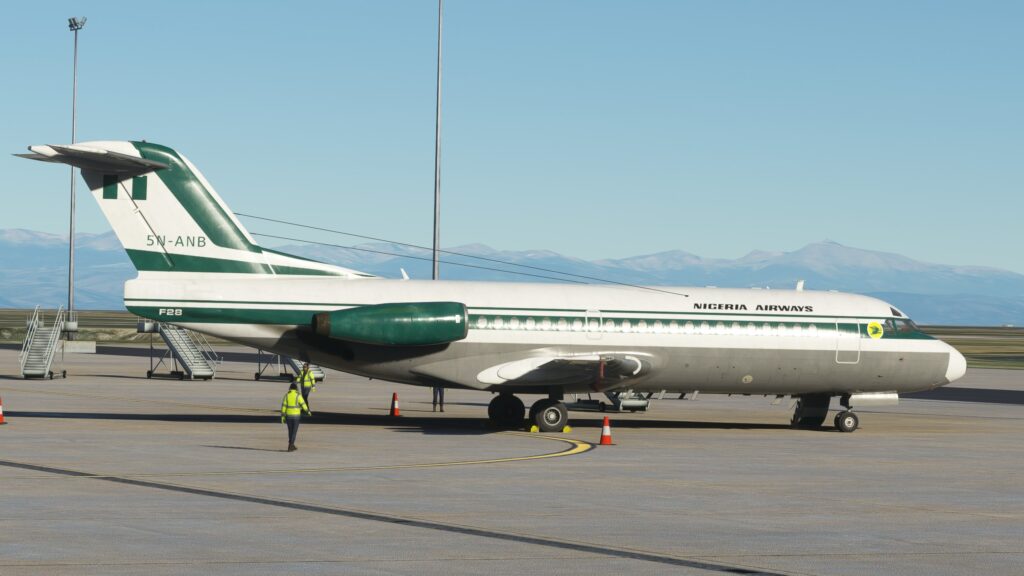 The aircraft is nicely weathered and feels like a typical regional airliner – well-used, but not always loved enough to keep it spotless. Streaks of oil, grime, and chipped paint are used judiciously and are not overwhelming. It's clear that Just Flight has spent time around the actual aircraft because all the textures look accurate and believable. All text and placards on the aircraft are readable and crisp.
The landing gear and bays look excellent. Full cargo compartments are modeled with cargo nets as well. MSFS's default ground equipment attaches nicely to the forward cargo doors as well as the cabin entry door. As has become the theme, I love Just Flight's little details on the F28, such as the rotating beacon lights that are composed of actual rotating, emissive light models inside a clear housing. Overall, the aircraft is nice to look at and fits well in the sim.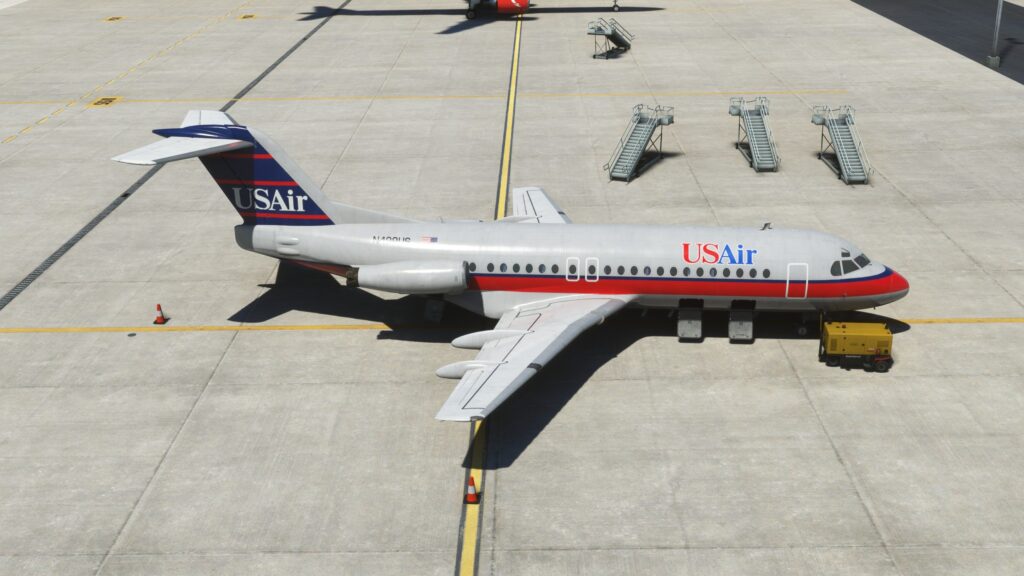 Unexpected Issues
Unfortunately, where shortcomings do exist, they are harder to overlook here. A couple of textures (in particular, the "metallic" texture on the leading edge of the wings and horizontal stabilizer) do not look as good as the rest of the airplane. Rivets, liveries, and paneling are not as sharp as other aircraft add-ons in this price range.
Most jarringly, Just Flight's impeccable detail falters for the first time on the external model: the wingtip lights are very simple models, and the internals of the engine are barely modeled at all beyond the low-pressure fan. In fact, with the hush kits removed, the exhaust of the Just Flight Fokker F28's engines is just a flat, barely-textured hole. Corners appear to be literally cut as well when it comes to the hinges of almost all the control surfaces, with less attention to the pivots and actuators than I know the sim is capable of displaying. Wing flex, too, can be very jerky when the wing loading changes rapidly – watch the Sound Example video from inside the cabin for an example.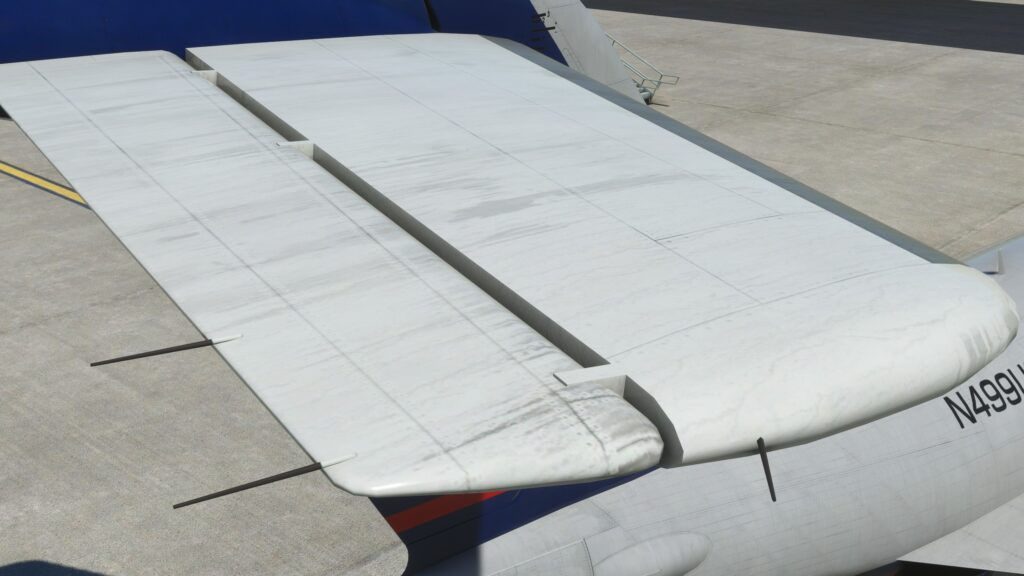 These are only issues in the larger context of Just Flight's numerous successes in this product, and the price tag that it commands. I could guess that if the external work was indeed largely completed in 2021, it's simply a case of the bar being raised in the two years since. In my opinion, Just Flight should have done one more pass on the externals before release to match how well they've done in the cockpit. It still looks great, but if you're purchasing the Just Flight Fokker F28 for its eye-candy potential, you're going to want to be mindful of the angles where its flaws are present.
In-Sim Performance
The Just Flight Fokker F28 Professional is a well-balanced add-on that performs well in the sim. Generally, it is on par or better with other high-fidelity airliners I own, although generally still too slow for my eye tracker to be useful. This is not unique to the Fokker F28, however, as I find that only GA aircraft are light enough on my system for me to use my eye tracker effectively. If you want to increase performance, there is an option to fully toggle the cabin off via the EFB.
I criticized some aspects of the textures and modeling, but if these compromises were in service of the smooth performance that I was able to achieve, then I think they are worthwhile. Nobody likes piloting a slideshow, and a flight model as dynamic as the Just Flight Fokker F28's certainly benefits from high framerates. Additionally, I tend to run a few Google Chrome tabs, Volanta for tracking, and Discord at the same time as the sim – in addition to add-ons like FlightRecorder and FSLTL.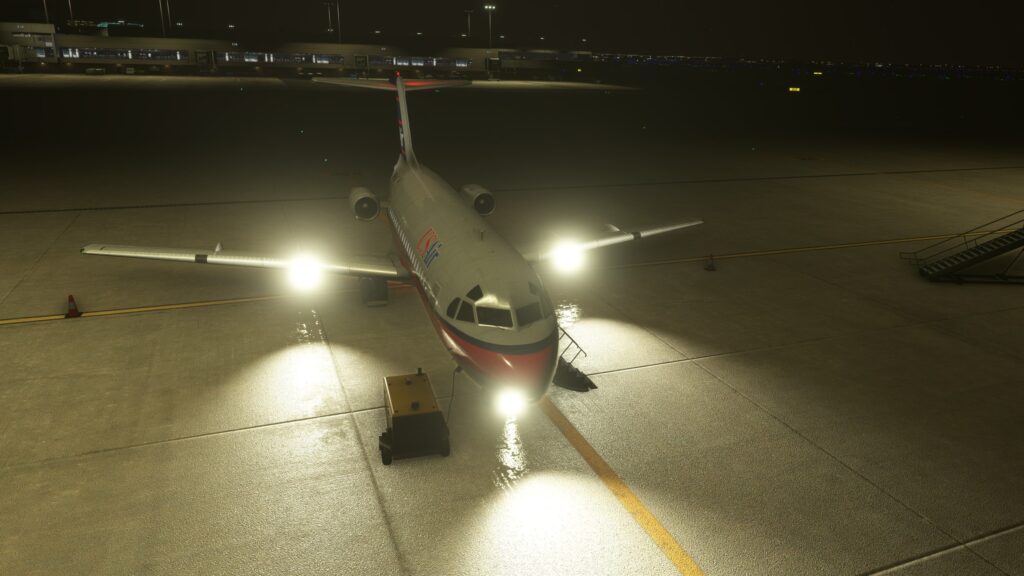 Sounds
These are the best sounds for a turbojet airliner in MSFS. Sure, there is not a long list – but my god, the Just Flight Fokker F28 Professional delivers a sonic delight, setting the bar incredibly high for any other add-on to follow. Well… maybe delight is a strong word, but I have never heard an airliner add-on so accurately recreate the screaming, angry tearing of low-bypass turbojets. You know what, I will go one step further: The Just Flight Fokker F28 Professional has one of the best airliner sound suites in the simulator today.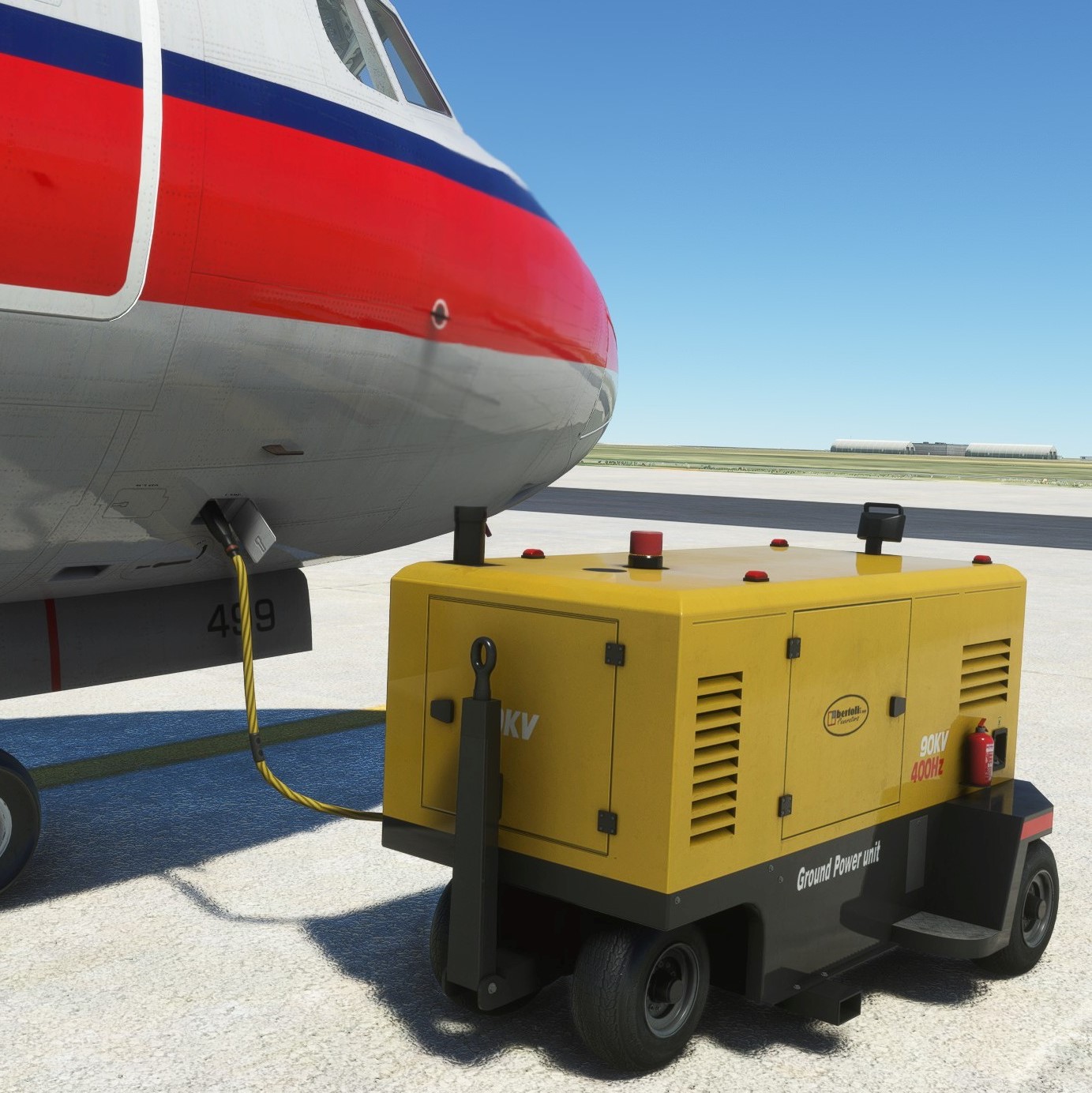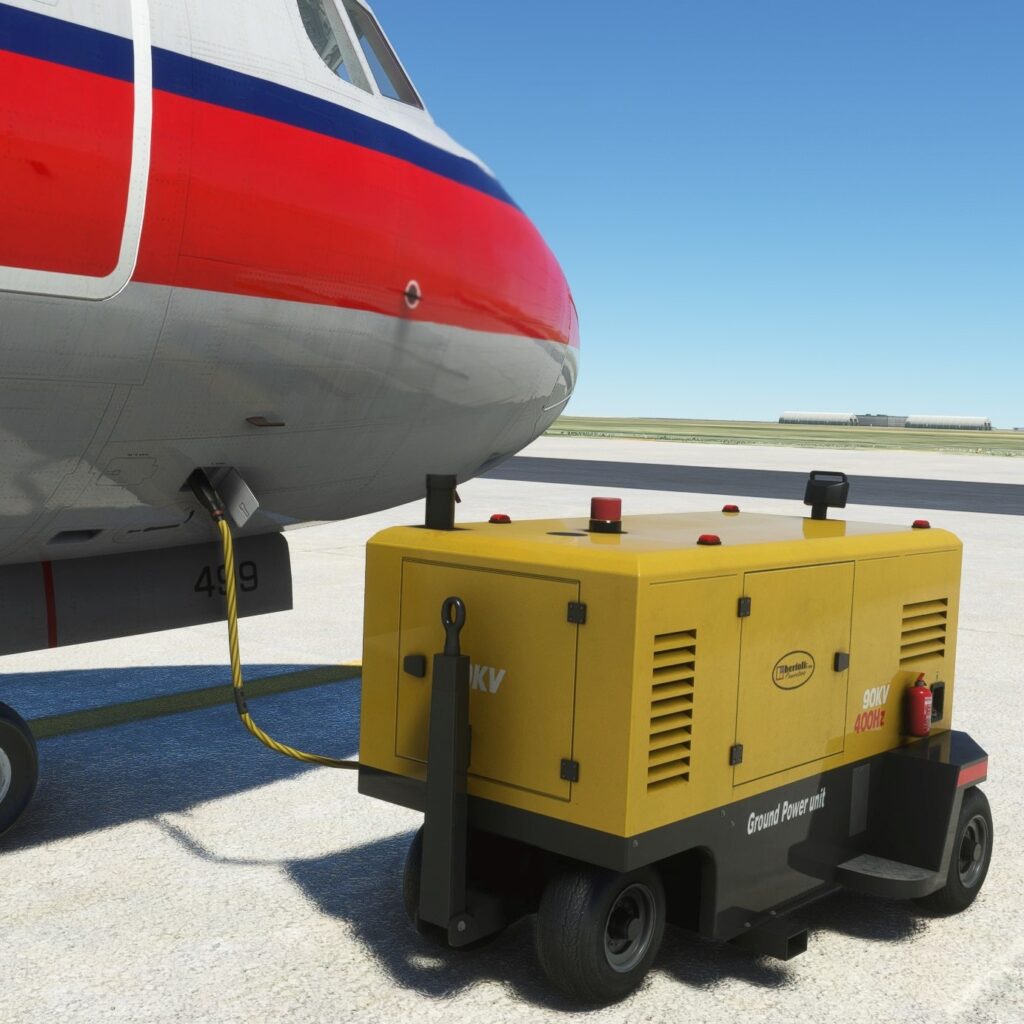 Additionally, nobody has created such an excellent APU soundscape, or distant soundscape in general. Just Flight accurately replicates the sound of being on a ramp and listening to jets' APUs and watching them pass by: The bass is gone and the dominating sound is the high-pitched rush of air phasing in and out as the air currents move between you and the aircraft. It sounds like a picky thing, but Just Flight has done this better than any other jetliner add-on in my hangar, and I just love listening to it.
It's not just the turbine sounds that are excellent. The internal sounds are sublime as well, with each switch having its own unique audio feel. The sound of valves opening and closing and t'click'ing into place with the overhead indicators just tickles a certain part of my brain, and you can bet your bottom dollar I put some Weird Al on for my passengers to enjoy while boarding a flight to a certain city in New Mexico.
Sound Examples
You're going to see some awful flying since my replay software stopped cooperating when it came time to record the external sounds. I had to fly the plane and work the camera and get angles at the same time to show how the sounds change – please ignore that and just focus on the sounds. I promise I put actual effort into learning to fly the Just Flight Fokker F28.
Next-Level systems
It is not an exaggeration to say that I have not found a button I couldn't press, a switch I couldn't flick, or a knob I couldn't turn. Everything works. The Just Flight Fokker F28 Professional for MSFS has some of the deepest systems simulation of any airliner in my hangar, providing rich opportunities for any simmer who enjoys digging into the details.
For the casual simmer, this deep level of systems simulation manifests in the small, unique details that add liveliness to normal operations. Electrical transients when switching generators (from engines to APU, for example) cause electrical hiccups and flashing lights, and new loads can cause the grounding circuits to trigger intermittently. Leave the parking brake on for too long and the pressure will bleed out of the system, requiring a manual re-pressurization before you turn on the engines. The autopilot has quirks that can keep you on your toes, but it is consistent – indicating a well-modeled system rather than a buggy implementation.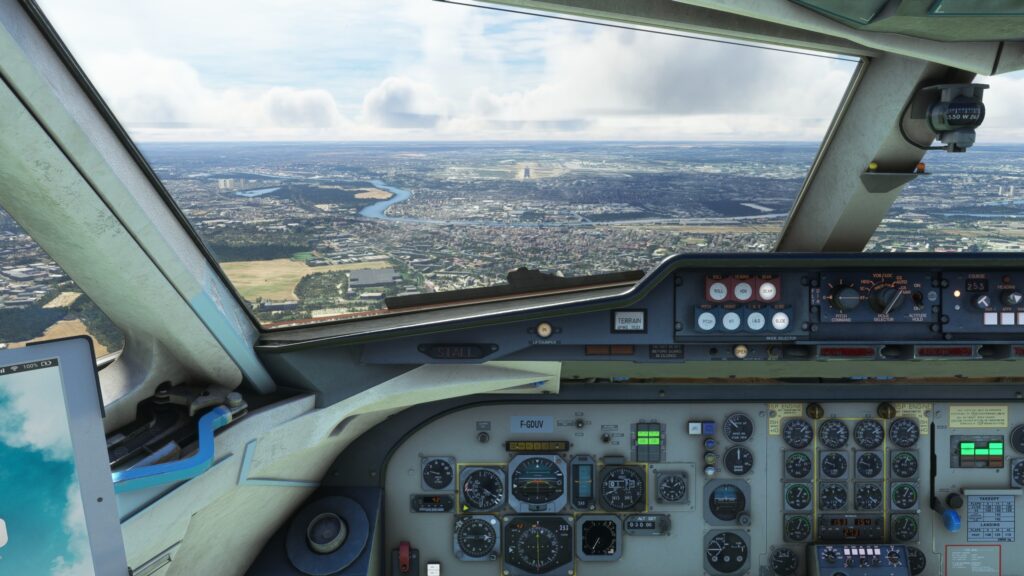 Read the manual, and it becomes clear that every system behaves as it should (except the weather radar, which Just Flight, like other developers, justifiably puts on Asobo for their barebones implementation). The hardcore simmer will be pleased with the learning process, unlocking the potential of the autopilot, manually calculating de-rated thrust figures, balancing fuel, and much, much more. "Old school" navigation by VOR and ADF is extremely rewarding. I performed my first real NDB approach in IMC which was hard work, but worth the time investment. The Just Flight Fokker F28 has motivated me to learn these procedures.
I don't want to insinuate that simulating "old school" navigation is in any way superior to modern methods; however, if you purchase a vintage airliner like this, I think that you'd be leaving a lot of enjoyment on the table by just treating it like another magenta-line follower. With that said, the GNS530W is very unobtrusive should you choose to include it, and even if still navigating by VOR you can use it to increase your situational awareness. Plus, I fully acknowledge that navigation by VOR/NDB is hard work, and sometimes you just want the plane to fly itself for a while to take a few pictures. Regardless, the Just Flight Fokker F28 Professional is "VATSIM Complete" – although some controllers might balk when you're only able to fly by VORs.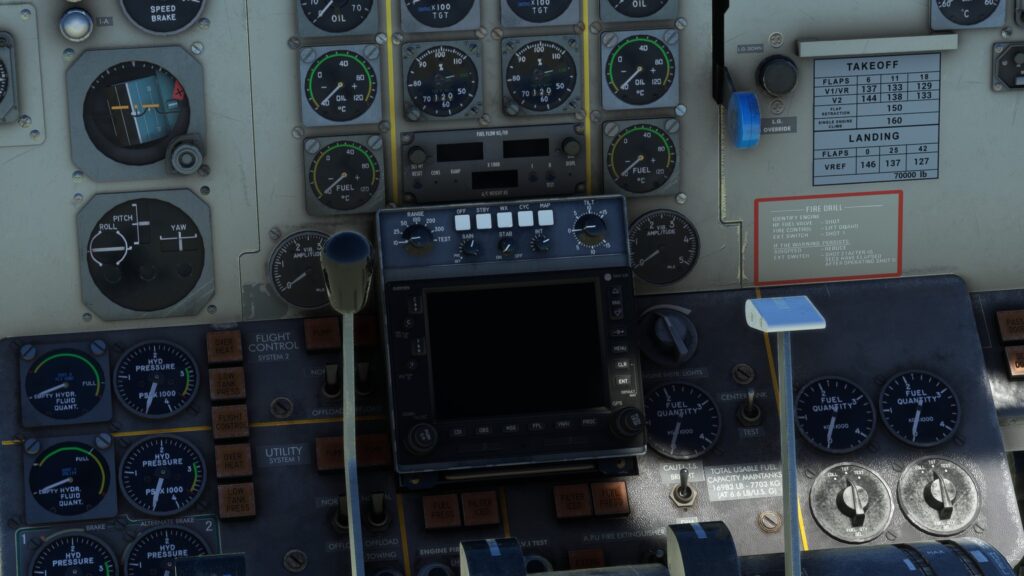 The Failure Failure
For all of these exquisitely detailed systems, it is slightly disappointing that the Just Flight Fokker F28 does not have proper failure simulation. I am not the general audience for non-normal simulation (I get mad at myself even when I forget to put the gear up fast enough), but I actually found myself wanting failures in the Just Flight Fokker F28 Professional for MSFS. I have a sort of soft spot for flying old, "broken-in" aircraft with some inoperative bits – living the life of a pilot nursing a good ol' bird into the air. When the systems are this detailed, it seems a shame to not have a system built-in to put your knowledge and flying skills to the test.
Sure, you can "fail" a system by turning it off (and I definitely experimented with that, to the great displeasure of my virtual passengers) and everything works (or doesn't) as you'd expect. In my opinion, not including failures might put the Just Flight Fokker F28 into an odd spot: perhaps too intimidating for simmers who don't want to learn the unique systems, but maybe not rewarding enough for the "hardcore" simmers who do. It would be a shame to pass on this for not having failure simulations because it's such a wonderful experience in normal ops – but $70 is nothing to sneeze at, and can certainly bring you that dynamic experience through failures with other add-ons.
Just Flight, Just Right
Many people are intimidated by the idea of hand-flying airliners, but the Just Flight Fokker F28 Professional is a sublime experience in the air. Of course, I have never flown one myself (Being limited to Cessna 172s so far), so I can only comment based on my expectations and the characteristics that Just Flight lays out in their manual. I was not able to detect many noticeable differences based on variants (e.g., -1000 vs. -4000) beyond slightly different speeds, so the commentary in this section will be generalized.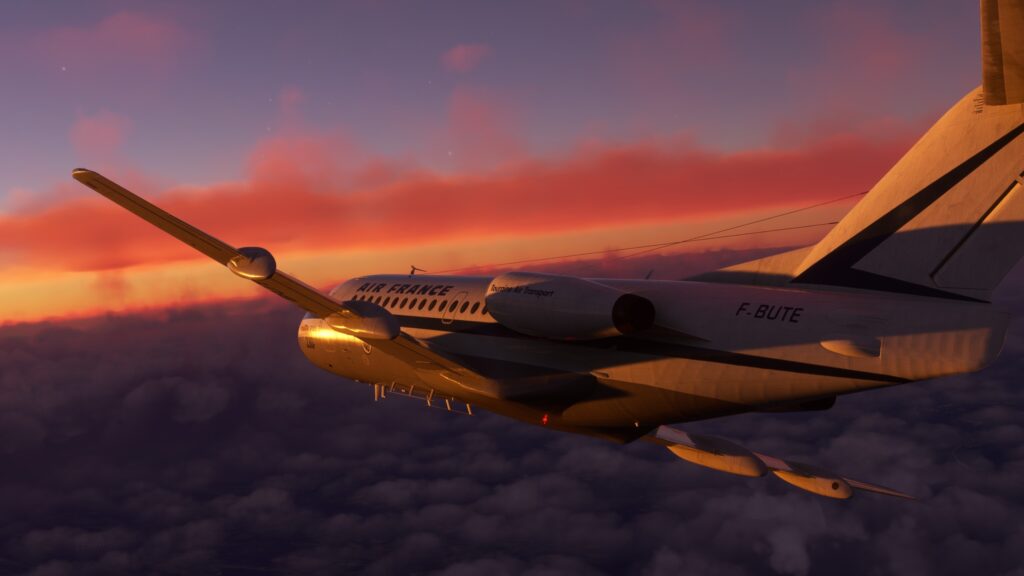 The Just Flight Fokker F28 for MSFS feels quite true to life based on its design and the period in which it was built. Starting with performance, it feels to be just a touch underpowered compared to its modern regional brethren, such as the CRJs. This is accurate: the typical Rolls-Royce Spey Junior engine produced approximately 54kN (kilonewtons) of thrust, compared to the 64kN produced by each CF34 engine on a modern CRJ-700. Since they have similar Maximum Takeoff Weights (73,000lb for the F28-4000 vs. 75,000lb for the CRJ-700), this is an apt comparison – and though they fulfill similar roles, the Fokker F28 accurately shows its age by not flying as fast or as high, and requiring longer takeoff rolls to achieve liftoff.
This performance is also reflected in engine-out scenarios: "fail" an engine just after takeoff and the Just Flight Fokker F28 struggles to climb in a flaps-out configuration. In fact, the flaps (especially beyond Flaps 11) produce a significant amount of drag, as does the landing gear. The modeling of this drag is wonderful and keeps exactly to Just Flight's performance notes in the manual: for example, when landing at high-altitude runways, Just Flight recommends using Flaps 25 to avoid excessive power settings. Indeed, on a hot afternoon at KDEN, I was just barely able to maintain the proper glide path with full flaps extended.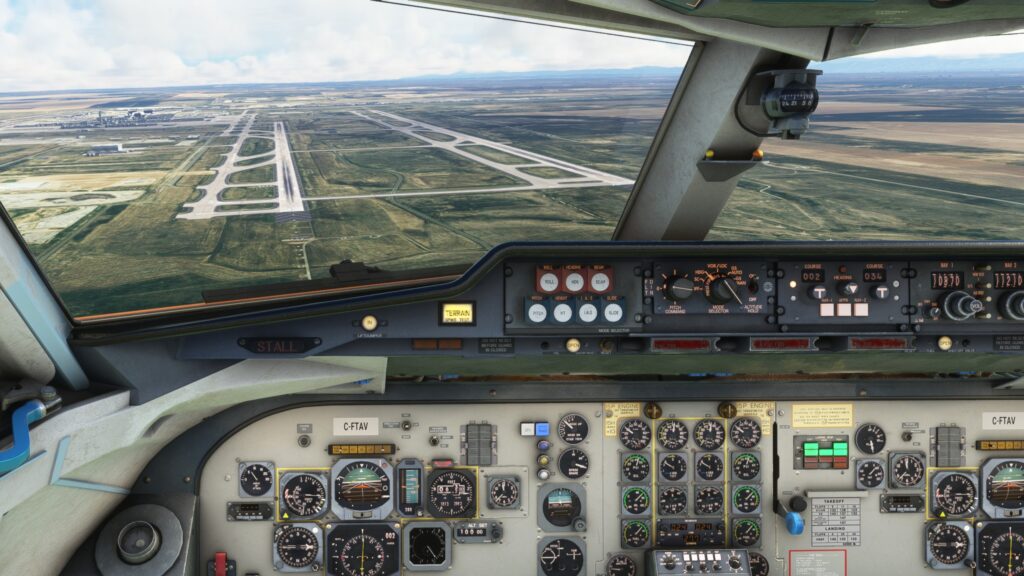 If you fly this aircraft by the book, you will hit the book numbers. Just Flight has done a great job of making these numbers easily accessible, both via the manual as well as the takeoff/landing cards in the cockpit. By default, these adjust dynamically as you change the aircraft's weight, making it easy to set the right flaps and select the right speeds. Thrust Index settings are also set automatically, but if you are up for a challenge and have a long runway you can experiment and manually calculate de-rated thrust. The manual generally recommends maintaining fairly high high-pressure stage RPM during most phases of flight, and I was able to hit the recommended power settings and speeds for approaches (as stated in the manual) accurately.
But what about abnormal flight regimes? The Just Flight Fokker F28 Professional handles these well – although it is important to note that I typically leave crash/stress damage turned off in MSFS due to general issues with many add-ons. Stalls and accelerated stalls are modeled accurately, and the Angle of Attack sensor on the instrument panel accurately reflects the increasing load factor. I was not able to put the Just Flight Fokker F28 into a deep stall (a stalled state unique to T-Tail aircraft where the wings "shadow" the horizontal stabilizer, making the elevators ineffective and recovery impossible), but I am unsure if MSFS' flight modeling is accurate enough for this. "Fail" the hydraulic systems and the aircraft quickly starts to lose precision, but remains controllable – an accurate testament to the fail-safe nature of its design and mechanical, wire-driven "backup" control surfaces.
My one point of criticism on Just Flight's flight modeling is landing behavior. The manual states that the Fokker F28 is very sensitive in the flare and easy to float, but I believe this behavior is perhaps over-exaggerated. It wasn't uncommon to have full flaps out, idle power, and air brake open, crossing the threshold at exactly the speed on the card only to float halfway down the runway and touch down at 75 knots simply because I flared 2 degrees instead of 1.5. When it does settle, it does so softly and it's actually pretty tricky to "pancake" the Just Flight Fokker F28 into the runway. Ground effect is generally too effective throughout the sim, but I think Just Flight could work around this at least somewhat, as other developers have done.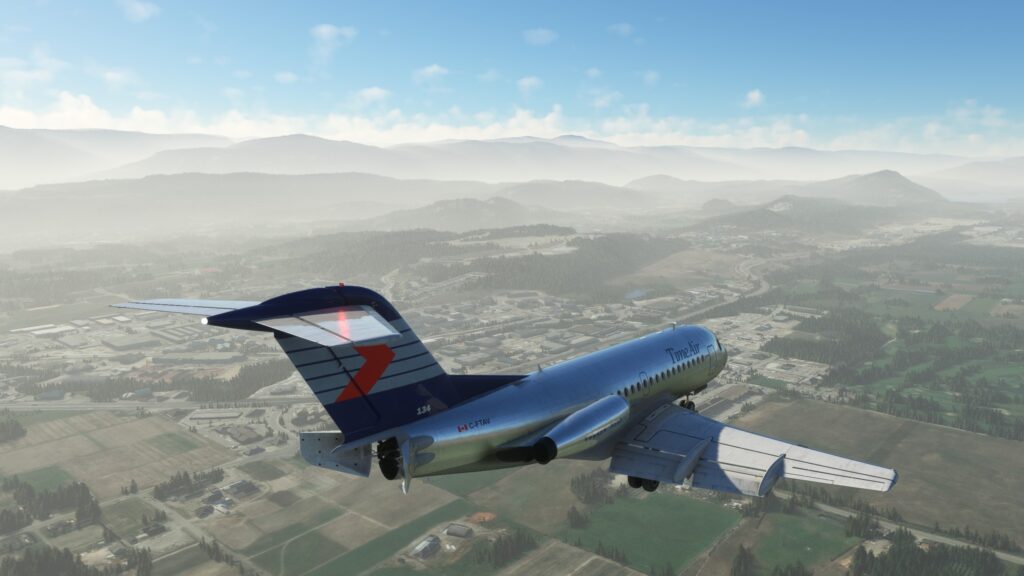 Conclusion
The Just Flight Fokker F28 Professional for MSFS is a $70 add-on, which puts it right in line with some of the other best airliner add-ons for MSFS. Arguably, though, it offers less value – it's difficult to feel like the different variants are much more than different liveries since they don't change the experience as much as, say, a cargo variant would (and yes, I do understand that there was one special "combi"-esque variant of the F28 produced, which would not make much sense for Just Flight to add as a one-off). Unlike others in this price range, it does not offer failure simulation.
The old-school navigation suite, coupled with the unfamiliar autopilot, can be intimidating for simmers either new to the hobby or coming from more modern airliners. If you are one of those people, I say: Do not fear. The experience is part of the fun, but know what you are getting into, and be prepared to put the time into learning the Fokker F28 so that you can best enjoy the Fokker F28. If you don't see yourself being able to dedicate that time, then it might be best to put this one on the shelf and revisit it later. But do revisit it, because the Just Flight Fokker F28 is an incredible reward when you give it its due.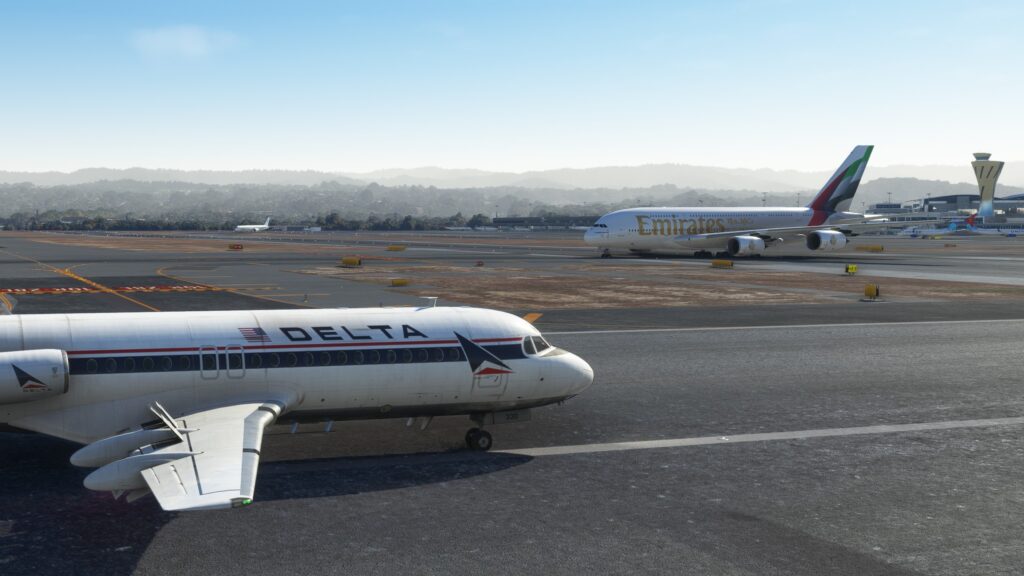 I can feel Just Flight's hand on every inch of this aircraft, and it shows off their nigh-unmatched passion for the hobby of flight simulation. The company is carving itself a niche in "old school" airliners between the F28, BAe 146, their upcoming 747-200, the recently announced A300, and more. They are settling into this niche very well, with an exacting eye for the smallest detail in the cockpit, to give you and me the most authentic experience that they possibly can.
Although it was before my time, I have a soft spot for these hard-working, old-school jets, and the Just Flight Fokker F28 Professional is the best rendition of an old regional jet that we have seen thus far in MSFS. Not only that, but they have set the bar so high that a competitor would have to be truly special to knock them off of this throne. I highly recommend the Just Flight Fokker F28 Professional for Microsoft Flight Simulator to anyone who wants a rich, nostalgic experience in a bygone era of aviation – or if you just want to sit by the runway and listen to it scream up, off, and away into the sunset.